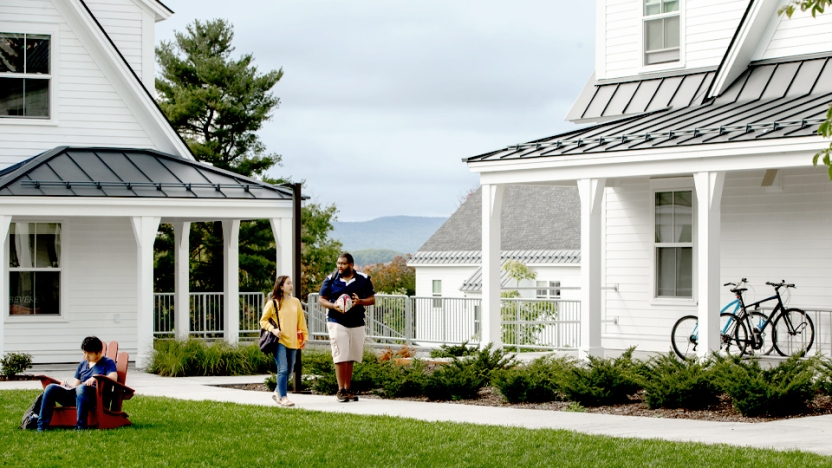 Compass
Compass is Middlebury College's residential model that focuses on helping each student get the most from their Middlebury experience while developing a deep sense of belonging and having a great time. We want you to have fun while you explore interests, plan for your future, and take advantage of our vast resources! We do this through mentoring and providing students with the tools to create their own Insider's Guide to Middlebury. 
Compass Mentoring  
As you get to know your orientation group, you are going to be developing relationships with a cohort of students that will be a part of a larger mentoring group. You'll be paired with a college employee who will serve as your mentor. Compass Mentors are selected from around the College and represent some of the College's best of the best. Your mentor will work one-on-one with you to help you as you articulate your values, interests, and goals. With the help of your mentor you will learn more about the vast opportunities available to Middlebury students and begin charting a path to take advantage of resources that help you explore your interests and achieve your dreams. 
Compass Programs
The Compass team has put together a set of co-curricular (out of class) programs, activities and events we think you'll love! These programs provide important skills to help you make the most of your college experience, while having fun and meeting new people. There are different tracks available for you to explore, including sustainability, mindfulness, leadership, social justice, innovation & entrepreneurship, and community engagement to name a few. Dive in! College is all about exploring interests, trying new things and having fun.  In addition to providing some amazing opportunities to gain skills, have fun, and move closer to your dreams, participating in Compass programs is a great way to earn exclusive college swag. Check out go/Compass for more information. 
Compass Track for First-Year Students
Navigate Midd- Your guide to exploring everything Middlebury has to offer
Navigate Midd makes the first year experience a little easier- it is a curated list of events, activities, and opportunities designed to increase connection across the campus community, heighten awareness of self & others, affirm your sense of personal agency, enhance community well-being, and support your growth by building the skillset and mindset needed to flourish at Midd and beyond!
All of the Compass activities are listed in Presence.
Apply to become a Compass Mentor at  go/compassmentor
Building on a Strong Foundation
Residential life at Middlebury will retain the features that students have said they value, including first-year seminars and the housing organized around them. 
Deans, First-Year Seminars, Staff in Residence Halls
First-year students will live in two clusters in four first-year dorms: Stewart, Hepburn, Allen and Battell. Based on feedback from Feb students, Febs starting in 2020 will be housed in closer proximity to first-year and sophomore students.
There will be a dean's office in each of the two clusters of first-year residence halls, and each office will be staffed by two deans and a coordinator. Either a dean or an area director will be located in each FY residence hall. Deans and professional residential life staff will continue to be an important component of the new system. Student staff will also continue as indispensable members of the residential life team, and Middlebury will keep working to improve upon the training, stipends, and support they receive.
The deans will each work with one of four equal-sized student cohorts (of about the size of Brainerd now) assigned via first-year seminars, and the four-year relationship students enjoy with their deans will continue into the future.
Students have said they value interaction with faculty outside of the classroom. Dean of Faculty Sujata Moorti will work with other faculty colleagues during this academic year to create a plan for how best to enhance faculty engagement. She will also review the role of the Commons houses.
Social Life
Planning for a renovation/replacement of Battell Hall and construction of a new student center has been formally undertaken as a response to student and staff feedback about space on campus. 
Based on student input and its overwhelming success, Middlebury will fund Nocturne as a new tradition. Similarly, new funds will continue to be available for ski lessons during winter term so that this activity is accessible to more students.
Additional funding will support more social life programming.
Community, Education, and Support
Office of Residential Life
Supervision and programming for residential life has been consolidated into a new Office of Residential Life. Moving supervision of Commons residence directors to one person will allow deans to have more time to focus on building strong relationships with students and helping them navigate the ups and downs of life at Middlebury.
The role of residential life staff continues to be critical in the development and success of healthy and supportive communities on campus. In recognition of their important contribution, Middlebury will work to increase their compensation. 
The Office of Residential Life is committed to reviewing and clarifying the housing processes and developing the residential education program. Its goal is to streamline and create transparent housing processes and communication, and to provide housing that supports the unique needs of students.
Housing Processes
Housing will become more open for sophomores so that they can choose to live anywhere within sophomore housing options. The residential education program will support sophomores in new and creative ways, aiding in their success at Middlebury. 
Starting this spring, all specialty housing on campus (social houses, academic houses, etc.) will be reviewed to address the following two main questions: 
How do, or should, these houses contribute to a robust, varied, and inclusive campus social life? 
Do we have the policies, processes, funding, and advising in place to effectively support them in pursuit of their charges?
We expect to enact recommendations from the review during the spring 2021 room draw process. 
Residential Education
The new system features a residential education program that emphasizes personal health, connected communities, and the practical life skills that help students thrive at Middlebury and beyond.
Fall 2020: First-year students across campus are participating in a pilot residential education program called Life@Midd that emphasizes life skills and builds on current health and wellness offerings.
Fall 2021: A comprehensive program will follow a four-year arc tailored to students as they progress through their time at Middlebury. Topics will range from financial literacy and cultivating healthy relationships to leadership development.
A number of schools have adopted similar programs with good results. The initial response to Life@Midd has been positive. Assistant Director Kristy Carpenter is developing this program in partnership with different campus collaborators, including the Innovation Hub, Center for Careers and Internships, Center for Health and Wellness, and Center for Community Engagement. One of the program's goals is to bring these resources to residential spaces so all students have access to the many student resources and opportunities available on campus.
Restorative Practices 
To help foster a strong sense of community, residential life staff and students have expanded their use of restorative practices. Students initially learn about these practices during orientation week, and they are an integral part of training for residential life staff, who are adopting restorative practices when student conflicts arise. Additionally, residential life is using the practices as a framework for how we, as a community, make decisions and provide leadership. 
In collaboration with the Office of Community Standards and the Center for Health and Wellness, students found in violation of alcohol and other drug policies will participate in educational sanctioning. Moving from a punitive conduct model to one focusing on growth and education provides students an opportunity to reflect on their decision-making and, beyond that, how those decisions have an impact on others.
Student Support
Over the next few years, Middlebury will implement a student support system that will continue to support students who experience crises while also building capacity to provide help earlier to more students who need it. This shift from a reactive, crisis-intervention model to a more proactive, prevention-based one will include enhanced care plans and skills development. A new assistant director for student success has been hired to manage the improved student support efforts, and the recently expanded Center for Health and Wellness will be a critical partner in this work.
Counseling has also revised its appointment protocol so students at risk or in crisis have access to a counselor quickly. The staff has expanded the telephone support line to 24/7/365, ensuring access to support any time of day or night, on or off campus, and anywhere they happen to be studying or traveling, including during breaks, over the summer, and during study abroad. They also offer SilverCloud, an online counseling platform to support students struggling with mental health issues. SilverCloud can be accessed from anywhere in the world with an internet connection. A search is currently under way as well to recruit a counselor to serve historically marginalized groups.
Student Affairs staff are also seeking ways to enhance the experience of the increasing number of students who remain on campus over breaks and working on how best to support them. Making more campus food resources available during breaks will be the first priority.
Additional Information
Below are a number of links to additional information about the changes to residential life and the evaluation process.
In partnership with our Community Council, a steering committee of faculty, staff, and students conducted the first comprehensive review of student residential life and the Commons since 1998. The committee was led by Senior Associate Dean of Students Derek Doucet, Assistant Professor of Psychology Rob Moeller, and Peter Dykeman-Bermingham '18.
How We Got Here
Much has changed at Middlebury since 1998, including the diversity and size of each class, which has grown from about 400 to about 700 students. Residential life must continue to evolve and adapt with the rest of the institution.
The changes to a post-Commons model described below will improve residential life and reflect Middlebury's core commitment to a community that welcomes everyone and prepares our students to lead engaged and consequential lives. Some of the new initiatives are already under way, while others will begin in the fall of 2020. 
The "How Will We Live Together" (HWWLT) Steering Committee gathered extensive data and feedback from students, faculty, and staff through surveys, focus groups, in-person interviews, group interviews, online forms, past reports, town hall meetings, and peer schools. The committee also invited a panel of reviewers from other schools to campus and incorporated their findings into its final recommendations.
The committee produced its recommendations from listening deeply to the student feedback provided. The majority of our students said that they want to live in a close-knit community, with a strong sense of belonging to their class and to the student body at Middlebury. They appreciate the support of residential life staff and deans, and they want a more engaged and fun social life. Many of these recommendations are the same ones also shared in the Enhanced Residential Plan from 1998, six years after the Commons began.