Coddling of the American Mind: How Good Intentions and Bad Ideas Are Setting Up a Generation for Failure
–
McCardell Bicentennial Hall 216
276 Bicentennial Way
Middlebury, VT 05753
View in Campus Map
Open to the Public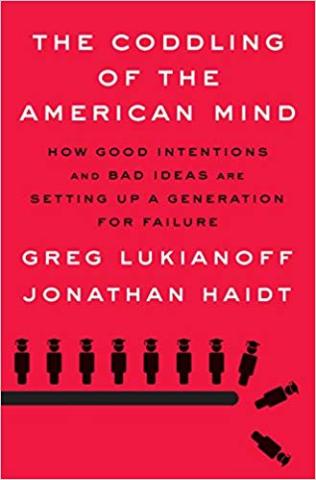 A talk by Greg Lukianoff (FIRE), with Q & A
Something has been going wrong on many college campuses in the last few years. Speakers are shouted down. Students and professors say they are walking on eggshells and are afraid to speak honestly. Rates of anxiety, depression, and suicide are rising—on campus as well as nationally. How did this happen?
In his recent New York Times bestseller, co-authored with Jonathan Haidt, First Amendment expert Greg Lukianoff maintains that the new problems on campus have their origins in three terrible ideas that have become increasingly woven into American childhood and education: What doesn't kill you makes you weaker; always trust your feelings; and life is a battle between good people and evil people. These three Great Untruths contradict basic psychological principles about well-being and ancient wisdom from many cultures. Embracing these untruths—and the resulting culture of safetyism—interferes with young people's social, emotional, and intellectual development. It makes it harder for them to become autonomous adults who are able to navigate life.
Greg Lukianoff is an attorney, New York Times best-selling author, and the President and CEO of the Foundation for Individual Rights in Education (FIRE). He is the author of Unlearning Liberty: Campus Censorship and the End of American Debate, Freedom From Speech, and most recently The Coddling of the American Mind (with Jonathan Haidt). This New York Times best-seller expands on their Atlantic cover story of the same name. Lukianoff has been published in The New York Times, The Wall Street Journal, The Washington Post, Los Angeles Times, The Boston Globe, and numerous other publications. He frequently appears on TV shows and radio programs, including the CBS Evening News, The Today Show, and NPR's Morning Edition.
Sponsored by:

Political Science