Hepburn Zoo Performance Jane: Abortion and the Underground
–
Hepburn Zoo
121 Hepburn Road
Middlebury, VT 05753
View in Campus Map
https://sa1.seatadvisor.com/sabo/servlets/TicketRequest?eventId=1298335&presente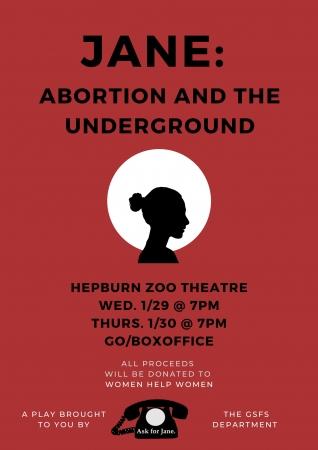 As a culmination of our classwork this J-term, GSFS 203 is performing and producing an adaptation of Paula Kamen's play "Jane: Abortion and the Underground." Come learn about abortion, reproductive justice, and badass 1960s housewives through the lens of the Jane Collective — an underground provider of safe (illegal) abortions in Chicago in the years before Roe v. Wade.
 All funds from ticket sales will be donated to the organization Women Help Women. https://womenhelp.org/
Approximate running time: 1.5 hours including intermission.
Sponsored by:

Hepburn Zoo Theatre