"Language: The Missing Link in Discussions of Privilege and Prejudice" A discussion with Shawna Shapiro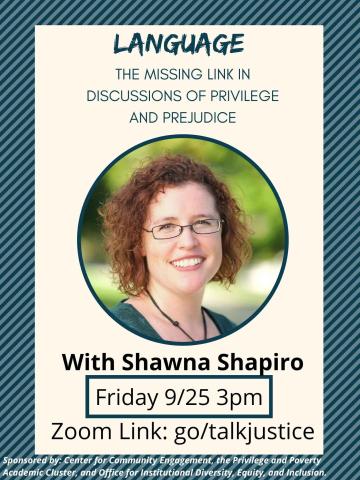 In this interactive presentation, we will consider the role that language plays in perpetuating social inequality, including at Middlebury. We will also reflect on how we can change our linguistic practices in order to shift the power dynamics on our campus and in the classroom. I will first introduce several concepts from sociolinguistics that help us understand how language and privilege/power are interconnected. We will then explore how those concepts apply to a variety of communicative situations, including our own interpersonal interactions. Finally, we will discuss how we might be more intentional in our use and interpretation of language, in order to increase equity and sense of belonging within our institution and beyond.
Please use go/talkjustice to zoom in (or the link provided).
Sponsored by Privilege and Poverty Academic Cluster, Center for Community Engagement, Office of Institutional Diversity, Equity, and Inclusion.
Sponsored by:

Office of Institutional Diversity Equity & Inclusion; The Center for Community Engagement