Mobilizing for a Just Transition - Global Conference on Sustainability in Higher Ed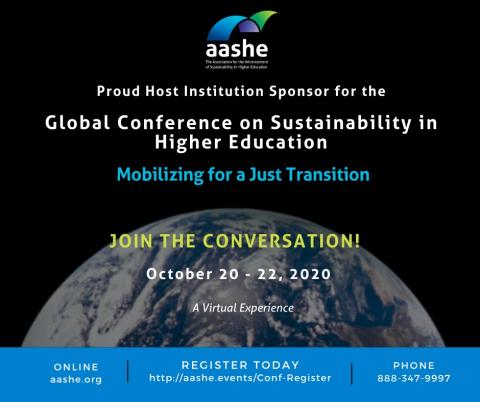 Middlebury is a Host Institution for this virtual three-day conference offered by AASHE (Association for Advancement of Sustainability in Higher Ed), October 20-22. 
FREE REGISTRATION is available for Midd students/faculty/staff and includes access to all sessions and events during and for 30 days after the conference. REGISTER NOW at go/AASHE2020 
Humanity faces a series of intensifying and interrelated social and ecological crises. Solving these crises requires a holistic transformation: a shift from an extractive economy to a regenerative economy. With the theme of "Mobilizing for a Just Transition," this AASHE conference will focus on centering justice within this transformation and ensuring that it leaves no one behind. We seek to encourage higher education leaders to reflect and act on the Just Transition Principles articulated by the Climate Justice Alliance and to spotlight inspirational examples of institutions championing this work. 
Many sessions and keynotes will be offered, both live and on demand. Check out the schedules:
Live Schedule, https://www.aashe.org/conference/program/live-schedule/
On-demand Schedule, https://www.aashe.org/conference/program/on-demand-schedule/
Some Keynote Events (full listing at https://www.aashe.org/conference/):
Tuesday, October 20, 10:30 - 11:15a ET
Colette Pichon Battle, Executive Director, Gulf Coast Center for Law & Policy, will address need for a just recovery from COVID -19 pandemic and associated impacts.
Tuesday, Oct. 20, 1:30- 2:15p ET
#GCSHE Truth and Reconciliation in Higher Education keynote panel will discuss how higher ed will need to acknowledge and atone for historical and ongoing ways in which it perpetuates racial injustice in order to effectively support a just transition.
Sponsored by:

Environmental Affairs

Related URL: