Talk by Benjamin Boas: "How I Published My Own Manga In Japan"
–
Franklin Environmental Center, The Orchard-Hillcrest 103
531 College Street
Middlebury, VT 05753
View in Campus Map
Open to the Public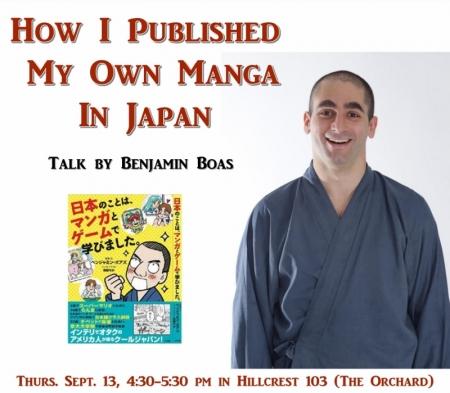 In this talk, Benjamin will discuss how an early love of Japanese popular culture led him to study Japanese, move to Japan, and eventually publish a manga with the major Japanese publishing house, Shogakukan. He will describe his journey along the way including competing in international mahjong championships, turning his research on the Japanese gaming world into a Fulbright Fellowship and being appointed the official tourism ambassador for Tokyo's Nakano Ward. Benjamin will also talk about how his personal experiences as an author and Japanese government "Cool Japan Ambassador" have impacted his impressions of Japanese organizational behavior.
Sponsored by the Departments of Japanese and East Asian Studies
Sponsored by:

Japanese; East Asian Studies