Under the Covers: The Hidden Art of Endpapers
–
Davis Family Library Atrium
110 Storrs Road
Middlebury, VT 05753
View in Campus Map
FREE
Open to the Public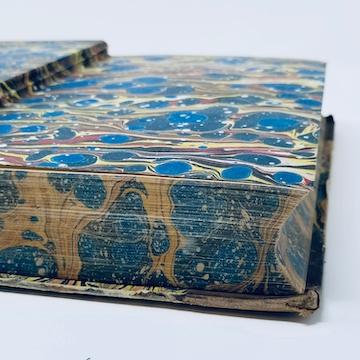 Endpapers - sheets of paper pasted onto a book's inside covers - were first employed in the 15th century to serve practical purposes: they protected a book's first and last pages from harm and formed a hinge, easing the strain of opening and closing the covers.
Over the centuries, endpaper materials have included everything from waste paper (quite literally, whatever a bookbinder had lying around), to scraps of parchment or animal skin, to more lavish marbled and gold-printed papers. By the 20th century, endpapers were decorated with intricate patterns, illustrations, maps, and landscapes. Hidden in plain sight, these occasionally unassuming but often spectacular endpapers envelop our texts, yet so often escape our notice.
The current exhibit in the library atrium and on the lower level invites you to notice - and, we hope, appreciate - what's under the covers.
Sponsored by:

Library