Global Partnerships for Sustainability Summer 2021 Team: August 6
Irkutsk, Russia: Nature Education in Lake Baikal
Our first project has been working with an Eco-center in Russia whose goal is to connect people in the area with nature, especially the nearby Lake Baikal which is both the world's largest freshwater and deepest lake.
We first heard from our Russian contact about the current progress of the Eco-center in a new partnership, Ecosystems Without Borders, focusing on the study of birds and marine mammals in the areas. Next, we were told our task: to develop a resource that can be given to both informal and formal educators of elementary and middle school-aged children regarding nature and getting people outside. After some research and deliberation, we decided to produce a guidebook with several sections, allowing us to focus on both topics that were important for educators and interesting to us. 
In our guidebook "An Educator's Introduction to Teaching With Nature," we decided to emphasize the importance of nature exposure to children and provide tools for developing environmentally engaged and intelligent students. Thus, in the guidebook we 1) explain the benefits of exposing children to nature, which impacts both the mental and physical health of kids and the degree to which kids grow up with a concern for the climate crisis; 2) explain systems thinking and interconnectedness and how these ideas can improve connection with and understanding of nature; and 3) provide examples of nature-related activities as well as success stories. 
It is our hope that our guidebook will inform educators about the value of nature for children and convince them to adopt some of our recommended practices through the facts of the matter as well as the success stories.
This has been a great opportunity for us to learn more about environmental education as well as methods of communicating information, even if it is to people across the globe, and to learn about a different part of the world.
Karukinka Park, Chile: Conservation in Tierra del Fuego
We have also been working with the Wildlife Conservation Society in Chile (WCS-C) to help them translate a series of passages written by the park rangers in Karukinka Natural Park in Tierra del Fuego, Chile. These passages, or narratives, are trail guides that provide information on the three hiking trails in Karukinka Park such as the flora and fauna that can be found in the area and make the region unique in its biodiversity. From condors to invasive beavers, from a remarkably useful plant called "the gummy ball" to the critical peat bog ecosystems, this region of the world holds incredible treasures to both observe and learn from. 
The WCS is an international organization whose mission is to "save wildlife and wild spaces via science, conservation action, education and inspiring people to value nature." They consider the park a place of public use rather than tourism, as those who visit the park become actively involved in the conservation of Tierra del Fuego. For WCS, public use and education are both critical tools of conservation. 
After the translation of the park trail was completed, we decided with our supervisors in Chile that the best way to disseminate this information was to eventually create audio guides that can be listened to at various stations throughout the three hiking trails. However, as Karukinka Natural Park does not come with wifi or cell reception for the majority of visitors, we also had to find a platform that would allow for the most visitors to download the audio guide ahead of time onto their smartphones. 
In our translations and creation of a prototype for one of the audio guides, we learned not only about the natural environment of Tierra del Fuego, but also about the Selk'nam people. The Selk'nam are an indigenous group that originally inhabited the island of Tierra del Fuego. Due to a genocide against them in the late 1800s, led by ranchers and the Chilean and Argentinian governments, the tribe is now legally considered extinct. However, there are a small number of remaining members who are fighting for legal recognition of their existence as an indigenous ethnic group and preservation of their culture and language. 
By learning about the space they once inhabited along with the plants and animals they used to sustain themselves, we attempt to bear witness to their genocide by remembering their culture and recounting their role in preserving the lands now used as an educational source for us and others globally. Avoiding their erasure and supporting their efforts for recognition from the government is essential. Please visit their facebook (https://www.facebook.com/corporacionselknamchile/) for more details about the group and their ongoing fight. 
How our projects connect: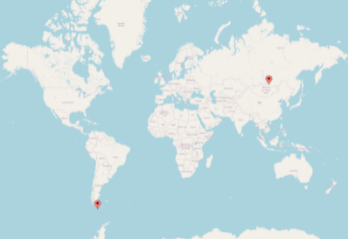 Our two projects work with drastically different areas of the world, on entirely opposite sides of the globe. Lake Baikal is a well-visited site offering many activities for a wide range of people, while Karukinka Park is much more isolated, appealing more to adventure seekers and those who truly want to experience its wildness. 
Even despite these clear differences, the locations and our two projects overlap in some ways. People in both areas need encouragement to connect with nature, and both locations are home to unique flora and fauna that require conservation efforts to maintain adequate environmental quality and preserve these resources for future generations.
Both our Russian and Chilean projects are thus within the field of environmental education. We worked with our partners to develop ways to share knowledge. With the ultimate goal of encouraging the conservation of the world's nature, both projects aim to promote knowledge surrounding the environment in order to encourage public interaction with these natural resources.
Meet the team…
Hi! I'm Becca, an incoming junior from Chapel Hill, NC majoring in Environmental Policy and minoring in Mathematics. I'm super interested in the nuances of conservation and was excited to get to work in that field with our partnership in Chile, as well as explore the newer topic of environmental education through our work in Russia.
Hi! I'm Hannah, a literary studies major and Spanish minor from Charleston, South Carolina. I decided to come back for my second summer at the SSL because of how much I was able to learn last year, even via Zoom. In my free time I love reading, writing, playing board games and visiting waterfalls all over Vermont and the world. 
I'm Kylie, a rising sophomore from Colorado. I love hiking and spending time in nature, so these projects were perfect for me! Our GPS project has been a great opportunity to practice my Spanish and explore the field of Environmental Education. I'm proud of the work that our team has done and hopeful that our final products will impact people's connection to nature in both parts of the world.
Energy and Waste Summer 2021 Team: July 30
Anna
Hi! I'm Anna, a rising senior majoring in Environmental Economics and minoring in French. I'm from Northampton, MA but am spending the summer in the East Village, NYC. I've really enjoyed being a part of the Waste and Energy Team and working to make our campus more sustainable. I've been collaborating with the College Store on an extensive outreach campaign to increase the sustainability of textbook purchasing, designing a local purchasing guide, and developing the SSL's sustainability consultancy program. I also created a Sustainability Media Series on our Instagram - check it out for recommendations!
Lexi
Hi all! I'm Lexi, a junior feb (class of 2022.5) majoring in Economics and considering a minor in Classics. I'm from Short Hills, NJ but have been traveling around the east coast and midwest for much of the past month. I'm an avid runner who enjoys birding (fun fact: my two favorite birds are the rose-breasted grosbeak and the northern cardinal) and crazy socks. Much of my focus with the SSL this summer has been working with compiled data regarding the college's locally-sourced food along with Emmanuel.
Emmanuel
Hi everyone! I'm Emmanuel, a rising senior and Environmental Policy major from Alexandria, VA. I'm passionate about photography and love spending time outdoors (even in the DC area's hot and humid summers). This summer, I've enjoyed collaborating with my team members and different departments at Midd to help reduce energy usage and tell stories with data, from disabling automatic receipts at on-campus retail outlets to creating a map of where our dining hall food comes from (and learning how to use QGIS in the process). 
John
Hello there, my name is John and I'm a computer science major, graduating in February 2022, from Paris, France. I've recently picked up an interest in the intersections of technology and environmental work. This summer, I've collaborated with the psychology department to research the potential effectiveness of visual feedback tools at reducing consumption in school buildings, as well as brainstorming data collection & visualization methods, in line with storytelling practices. I love to play soccer, play board games with friends and go for long hikes.
Our team's overarching mission this summer has been to promote sustainable engagement amongst students, campus clubs and departments, and the surrounding town community. We've studied effective ways to communicate environmental data, promoted shopping and eating locally, campaigned for sustainable textbook purchasing practices, laid the groundwork to continue providing sustainability consulting to campus groups, and even encouraged individual sustainability media engagement. 
Many of our summer SSL guest speakers have emphasized the importance of effective storytelling in advancing environmental causes. One project we've begun laying the groundwork for this summer consists in facilitating accessibility and transparency to Middlebury data on the school's consumption. To achieve this, we are collaborating with Middlebury data scientists and librarians to improve access and readability of this data. Environmental data collection & retrieval can be highly useful for a number of projects and data visualization campaigns, including the design of a new dormitory on campus that seeks to comply with the Living Building Challenge (LBC) standards: the LBC policies encourage monitoring the building's consumption data.
In addition, one initiative has consisted in working with the Psychology department to research the effectiveness and possible implementation of visual feedback tools. These can consist of digital monitors, colorful lights, or ecological posters that provide feedback on current building consumption. Our long-term hope is that these tools may be implemented on the Middlebury campus to reduce the school's overall electricity and water consumption.
Another initiative the Waste and Energy team has taken on this summer is promoting local shopping. Previous SSL members had begun developing a Local & Sustainable Purchasing guide made available to students. We've spent time updating and finalizing this guide, translating it into a visually appealing format, as well as brainstorming ways to integrate the guide in Middlebury's orientation week and share it with the campus community. 
Another project promoting local shopping involves data of where the college's dining hall sources their food. We are working to compile a map highlighting where all the college's local food vendors are located. We hope that this map can be put in the dining halls around campus, so students and visitors can easily see where their food actually comes from, and possibly learn just how close some of these vendors are. It is our intention that future SSL interns continue to update this map with future data as local vendors change and hopefully expand.
Our communications campaign with the college store focused on sustainable textbook purchasing practices, from shipping to resale to distribution. Highlights of the campaign include drafting a faculty-wide email and student body email blubs about choosing consolidated shipping, social media promotions, and co-authoring a new sustainability section for the bookstore's website including numerous best practices for both profs and students and emphasizing the bookstore's commitment to sustainable practices. 
Finally, our team aimed to ensure the continuation of the sustainability consultancy program  that was piloted this past academic year and created last summer by SSL interns. We first conducted a comprehensive review of existing materials for consultants which led us to draft a new master document compiling old and new trainings, resources and guidance for incoming student consultants. We then advertised the program in hopes of attaining new clients and developed a shareable graphic for participants. 
Energy2028 Summer 2021 Team: July 23
Energy 2028 is one of the most promising initiatives that Middlebury College is undergoing. Even if you're not involved with sustainability at Midd, you've almost certainly heard of it. Our ambitious energy-based goals are boasted during tours for prospective students, on the website, and introduced to students in their very first week of orientation. So, when our team was assigned to begin to explore how themes of equity and justice can be considered, implemented, and maintained within the College's goals for Energy 2028, we were excited. For each member of the team, justice and equity are such wide-ranging yet ever-present concepts that we were eager to jump into, each of us for the various causes we are passionate about, such as racial justice, gender parity, human rights, land ownership, and species biodiversity, just to name a few. So, when we began our work this summer, each of us were shocked to discover just how limited the information available to the general public about the details of Energy 2028 was and how decisions surrounding it are made. There is a delightful website with some fun details and quirky infographics, but we quickly realized that there is still much work to be done by way of transparency surrounding what exactly Energy 2028 is and how we will achieve it. So, we spent much of the beginning of our summer, and still continuing, doing some pretty substantial behind-the-scenes research, since we believed that transparency to the College community was one of our first steps in the journey to ensuring equity and justice is achieved for all of those whom Middlebury College seeks to serve.
 One of the first issues we came to discover is quite opaque, especially for students, is the decision-making structure for Energy 2028. Who are the stakeholders invested in Middlebury's endowment, and how can we know that their values are aligned with ours? From whom are we sourcing our products like food and energy, and how do we decide that? Should there be an issue with one of the college's partners, how would we rectify it? Would most of us even know about it? These were many of the questions we began to ask ourselves.
So, we jumped in. Head first, with a bit of fear and reluctance to begin something that could have been headed in any direction. But somehow, we have made it over halfway through the summer and are extremely excited about what's to come. We're researching VT labor laws, equity standards at other institutions and have done a deep dive into the first pillar of E2028, which is to use entirely renewable energy sources by the year 2028. Currently, we're creating a spectrum with the college's equity and justice ideals on one end and the VT laws on the other to see where our partners line up on this spectrum, and developing criteria for partnerships to align with the ideals we're seeking. We're also analyzing partnership stakeholders and their equity and justice standards.
To do this, we had to first establish a set of key values to guide decision-making. We held meetings with those involved in this work, and have been analyzing the supply chain to be sure we are maintaining equity and justice principles at every step of the way.
We are strongly pushing for data transparency for Energy 2028, and we hope to come away with an easy-to-navigate renewable energy tour and infographics to make all of this information accessible for everyone. We also hope to develop a solid framework for all current and prospective partnerships with which to guide Middlebury's decision making process, much of which happens at the executive level.
Who are we you may be wondering? I would be wondering that too, since we're doing some great work here and we know you are dying to ask us some questions. Well, let us introduce ourselves.
I'll go first! My name is Eric Burchill and I'm an incoming junior, studying psychology and Japanese studies. I'm from South Florida and in addition to promoting sustainability this summer, I have another job based in South Korea and am working on my YouTube channel to discuss another one of my passions, pop music. I use he/him pronouns. Here is a picture of me, sitting and being casually photographed. I feel like my fingernails look weird, but honestly why would any judge my fingernails. Life is short.
Hi everyone! I'm Ayusha Gautam (she/her), and I'm an incoming sophomore studying environmental policy and anything of interest. I call Stamford, CT home, and this summer, I have been spending my time on the water, in my garden, reading, or working on asset mapping and developing professional development skills as a lucky member of this year's MiddCOREx cohort. Being both an SSL member and member of the MCx cohort, I've been fortunate given the opportunity to both work on self-development skills and life paths and also on a framework that instills values of supporting and uplifting others, reciprocity, and more into E2028 decision-making. My summer opportunities have helped align what is important to me with what I enjoy- environmental work that centers equity is that sweet spot and the path I hope to pursue. In addition, I've enjoyed hearing from SSL Wednesday speakers, all of whom have been incredibly inspiring and insightful.
Hello everyone. My name is Ryan Devine. I use he/him pronouns. I am from Deerfield, New Hampshire and I love wearing hats! Also glasses for vision. My hobbies include running, hiking, fishing, or anything outdoors. One fun fact about me is that I was actually born in the same town Adam Sandler was raised in. Below you will find a picture of me.
Athletics Summer 2021 Team: July 16
Personal Introductions
Robby Ward: Hey Middlebury! I am Robby Ward, and I am a rising junior Feb studying economics and conservation biology. I am from Wilmington, Delaware (I do not live far from Joe Biden!) and I spend most of my time between Delaware, Middlebury and Maine. I became interested in the Sustainable Solutions Lab (SSL) internship created by the Middlebury Sustainability department because I wanted to become a bigger part of a college and campus that has given so much to me. As I am a member of the Midd Men's tennis team, I wanted to be a part of the SSL Athletics group which allowed me to work in the two different parts of campus life that I am most involved in. I am excited to work on different projects and initiatives like the Green Panther Challenge and learning more about the sustainability practices behind Middlebury's athletic field maintenance.
Lucie Rochat: Hi! My name is Lucie Rochat, and I am a rising senior with a major in political science and a minor in mathematics. I am from Rye, NY, and I am living in Middlebury this summer. At the Sustainability Solutions Lab, I am part of the Athletics team. We are trying to green the athletic department and sports teams by providing resources and instruction to each team. This is my second time working with the SSL, and I'm excited to bring some new environmental practices to the Athletic Department at Middlebury!
Johnny LaFortune: Hello! My name is Johnny LaFortune and I'm a rising junior studying neuroscience. I am from Tulsa, Oklahoma and I've been spending my summer in Cornwall, Vermont right outside of Middlebury. I'm a member of the cross country and track teams at Middlebury so I've been living and training in Vermont with my teammates. Aside from running and jumping in cold water this summer I've been contacting coaches at Middlebury and working with my team to make Midd athletics a greener space. All of us are excited for the fall and the incorporation of sustainability within athletics!
Projects We are Pursuing
Hello everyone! We are Johnny, Lucie and Robby and we make up the Sustainable Solutions Lab (SSL) athletics team. The athletics team has been working to green-ify the Middlebury athletic department and the sports teams. Athletics and sustainability have always been two of the biggest groups at Middlebury, yet the collaboration between the two fields can improve. In order to continue towards a sustainable future, Middlebury will need to further Bridge environmentalism and athleticism for increased positive change for the campus at large.
The Green Panther program is an initiative where each team will have a green liaison that works to bring environmental practices to their team. In the past, this position has focused on composting and recycling after away games. In the revamp of this program, the green liaison will bring back composting and recycling to their team, as well as take on a few new responsibilities. Green liaisons can calculate the carbon footprint of their team and use community engagement resources to offset these emissions. They also can take charge of where their old gear is disposed of; as opposed to sending it off to the equipment room, gear can be donated to be reused by other teams.
In talking to the varsity sports coaches, we found that lots of the teams are taking sustainable actions already. The volleyball players are committed to never driving to practice at the athletic center. The field hockey team donates their old sticks to "Beyond Sticks," an organization working to make field hockey more accessible to lower-income athletes. Many of the teams try to buy local food for games, give their old gear to the junior varsity teams, and reuse their team uniforms each year. Middlebury athletes are doing great work in sustainability already, and the green liaisons can help to build on this groundwork.
Another project we have been working on is analyzing the sustainability practices behind Middlebury sports field management and figuring out how much water runoff comes from our fields. Unsurprisingly, Tim Parsons and the rest of the landscape maintenance team already implement the most sustainable practices possible. When talking to Tim Parsons, we found out that Middlebury uses no phosphorus fertilizer, the landscaping team only uses nitrogen fertilizer twice a year, Middlebury has thought of moving towards electric lawn care equipment (but the technology is not there yet for campus wide maintenance), and the athletic fields already has a natural buffer zone (a forest!) separating the 300-yard soccer fields and the stormwater pond by the athletic center.
As there is little we could do to help improve these already sustainable practices, we believe it would be important to publicize the amazing work our landscaping crew already does. We hope that by the end of our internship, we will have a page or excerpt in our Midd sustainability website that educates any readers on these best practices Middlebury already implements.
At the end of our summer, we plan to come away with a detailed infrastructure for our goals we plan to achieve in the fall. This will consist of the new and improved Green Panther Challenge and effective way of educating students about sustainability at Middlebury. The reach of work will go beyond athletics and help us all kindle a healthy relationship with the land we live on. As we alter our travel habits and change the way we dispose of waste we will all make a meaningful difference at Middlebury. As our internships come to a close, we hope the Middlebury community embraces sustainability in athletics and in the greater community as a whole. Help is always appreciated, and we'd love to hear any ideas on how we can make Middlebury athletics more sustainable. Thank you for following along on our journey this summer!
 Living Building Challenge Summer 2021 Team: July 9
Hi everyone!
We're the SSL's Living Building Challenge team. Our internship this summer centers on comparing two sustainable building standards: LEED Gold and the Living Building Challenge (LBC). Middlebury college is building a new First Year Residence Hall on Battell Beach to meet the sustainability requirements of LEED Gold. We as interns think that the Living Building Challenge, a more holistic green building certification, better aligns with Middlebury's integrated goals of environmental stewardship, social justice, and campus health and happiness. We are using the construction of the new dorm as a case study for how the Living Building Challenge might be implemented in future Middlebury buildings. 
Middlebury College operates 50 football fields worth of academic, administrative, and residential buildings on campus (2017 Operations Fact Book). When making decisions about how to add new, retire old, or modify existing spaces on campus, the college considers everything from accessibility to zoning (literally a to z!). The page count of campus planning documents is astounding. Just because a lot of planning goes into college decisions doesn't mean that we never miss the mark (we do), but even with our shortcomings we are a leader among our peers when it comes to environmental considerations. 
Thus, when the college decided to build a new first year residence hall to replace Battell (love it or hate it, that's big shoes to fill!), they knew they would need sustainability guidelines to integrate into the design process. After making headlines in 2008 when the Hillcrest Environmental Center became the first LEED Platinum building in Vermont, Middlebury decided to build on that success and design the new dorm to meet LEED Gold standards. 
As all of this was happening, a group of students at the Architecture Table began investigating a different sustainability certification: the Living Building Challenge. Taking a holistic, performance-based approach (a building actually has to be net zero if it says it will), this certification integrates traditional environmental considerations such as water and energy use with social considerations like universal access, sense of place, and occupant health and happiness. When the Architecture Table students saw how harmoniously the Living Building Challenge requirements aligned with the college's long term goals, they biked over to President Patton's house the very next morning at sunrise to discuss their findings over a victory banquet of ross bars and tater tots… Just kidding. Over many months, they compiled a thorough report and presented it to President Patton and David Provost, who agreed that adopting the Living Building Challenge as standard building practice merited further study. 
So, here we are, the SSL's Living Building Challenge Team, conducting that very study. The new first year residence hall is too far along in the design process to be fully certified under the Living Building Challenge, but we are working closely with college administrators and project engineers to bring it into compliance where possible, and to understand what exactly it would take to bring future projects into compliance! 
To learn more about the seven petals of the Living Building Challenge click here: https://env-center.williams.edu/a-living-building/ 
A little more about us…
Hi! I'm Lauren, a conservation biology major from Norwich, Vermont. I became involved in the Living Building Challenge because of my interest in environmental justice and activism. LBC is unique among most green building standards because of their dedication to both the environment and the community the building serves. My work so far on LBC has shown that the built environment of Middlebury's campus is vitally important to creating a more equitable college.  
Hi! I'm Grace Sokolow, an intended geography major from Brookline, Massachusetts. Working with the Living Building Challenge team has given me so much hope for the future because environmental and socially responsible design features that felt impossible to implement just a few years ago are now being seriously considered by our college. This summer, I'm diving deep into the parts of the certification that focus on water and health and happiness!
Hello Middlebury! My name is Isabelle Gay, and I am an architectural studies major and French minor from Hingham, Massachusetts (just outside of Boston, shocker) and I am so excited to share what our wonderful team has been collaborating on this summer. What started as mutual interest at the crossroads of fostering an equitable, healthy community in the built environment of our little corner of Vermont has sparked a journey into the environmental construction world that will shape Middlebury's present and future. The Living Building Challenge is just that, a challenge. One that requires careful planning, attention to detail, and creative thinking from those who want to push the boundaries of the field. I hope there are others thinking similar to how we are, hoping to get in on the ground floor of such groundbreaking projects, and to help them grow. LBC's influence on our campus will be far from over after our start this summer!
The International Living Future Institute, the brains behind the Living Building Challenge, excels at graphic design and organization. They have neatly divided all of the nitty gritty details concerning which waste materials go where and what percentage of the walls must release natural light into lovely petals, forming one cohesive puzzle of healthy building construction and operation practice. My focus has been on the materials petal, which outlines the process for execution and documentation of literally every single thing that goes into the project. From strategies for the adaptive reuse of any infrastructure formerly on the site to the diversion of waste materials and proper recycling during operation, a deep dive into this petal has given me a new appreciation for building management, especially for the environmentally conscious ones. The materials petal also emphasizes a sense of place and advocacy, sourcing locally and patronizing nearby manufacturers to encourage fair and environmentally friendly practices.
And last but not least, Eliza Broughton, a geography major from Blue Hill, Maine. She's on a backpacking trip at the moment, but has been working on the energy and beauty petals this summer!
Fun Garden
Hi everyone!
We are Theresa and Tina, and this semester we are designing experimental semi-mobile permaculture gardens. 
Permaculture is an ecological design framework that draws inspiration from the surrounding environment to develop an ecosystem that is sustainable, self-sufficient, and harmonious with nature. The concept revolves around 12 principles for ecologically sound and productive landscape designs.
Although frequently discussed in conjunction with agriculture, permaculture's principles have also been used to design buildings, energy and wastewater systems, villages, businesses, and decision making processes.
With regards to our project's focus, native foodway systems, such as food forests, were early forms of permaculture and can be traced back thousands of years. These systems worked closely with nature, and promoted sustainable land use. For instance, indigenous communities in New England had cyclical patterns of subsistence activities, which varied seasonally. They migrated with animals and harvested at peak times, and this cyclical format prevented the depletion of natural resources. 
While planning this project, some challenges arose. Middlebury's landscape changes frequently, and with construction projects on the horizon, the possibility of having a permaculture garden in the long-term is affected by short-term changes. That's why we are pursuing the idea of having a semi-mobile permaculture garden. Since many fruits and vegetables require annual planting, it would be easier to make beds for them and manage their care accordingly. In contrast, certain flowers have regenerative properties that are not easily threatened by soil interference, allowing more flexibility with potential land influences. So far, our bed is planned to be at Hillcrest.
One exciting aspect of our project is its close connection with the Energy 2028 initiatives and the land acknowledgement projects on campus. An immersive and experiential education is one of the essential parts of Energy 2028. A permaculture garden on campus expands opportunities for cross-disciplinary experiences in the field and with local community partners, which offers a stepping stone for students to understand the intersectionality between sustainable agriculture and indigenous knowledge. Local indigenous communities such as the Abenaki provide input and feedback throughout the planning process for the permaculture garden initiative. Students will be provided with the opportunities to learn about indigenous agricultural methods and to make connections with local communities through a variety of hands-on experiences. On the other hand, this project creates many opportunities for collaborations amongst the Middlebury student body, faculty and staff, along with the Abenaki community. 
Stay tuned:)
Additional resources
Berton-Reilly, E. (2016). Our Corn is Still Standing: Indigenous Foodways and Identity in New England. Digest: a Journal of Foodways and Culture, 5(1). http://digest.champlain.edu/vol5_issue1/PDFS/BertonReilly_PDF.pdf 

Introduction to native foodways, cultural significance, food sovereignty, etc.

Hemenway, T. (2009). Gaia's Garden: A Guide to Home-Scale Permaculture, 2nd Edition. United States: Chelsea Green Publishing.

Introduction to backyard ecosystems. This book is a guide for how to incorporate plants that work cooperatively with each other and perform a variety of functions.

Masanobu Fukuoka's Natural Farming and Permaculture

An awesome story with visualizations of natural farming

Power, M. W., Haviland, W. A. (1994). The original Vermonters : native inhabitants past and present. Lebanon: University Press of New England [for] University of Vermont.

For more background information about Abenaki history

Wiseman, Frederick. (2018). Seven Sisters: Ancient Seeds and Food Systems of the Wabanaki People and the Chesapeake Bay Region. Earth Haven Learning Centre Incorporated.

A source outlining indigenous seed saving, the reclamation of heritage and culture of the Wabanaki people, and historical agricultural practices.

We are this semester's waste team! From left to right:
Hi! I'm Anna, an environmental economics major from Northampton, Massachusetts. This is  my first semester working with the SSL, and I'm so excited to be a part of the team, even virtually. Aside from being interested in intersectional environmental activism, policy and investment, I'm a rock climber and older sister, and enjoy road trips and cafés.  
I'm Essi, a joint environmental studies and geography major from the D.C. area. I've had a great experience with the SSL so far and look forward to continuing to make Middlebury a more sustainable, more equitable place. In my free time, I love writing, running on the TAM, eating Annie's Mac and Cheese, and hiking! 
Hi, I'm Sahalie and I'm a conservation biology major from Eugene, Oregon. I am excited to work for the SSL this fall and tackle some of the pressing waste challenges we are currently facing. When not working for the SSL, I enjoy canoeing, hiking, taking photos, and playing board games. 
As the waste team, we are working towards creative ways to minimize waste on campus and engage the student body with waste reduction efforts. 
Waste on campus looks completely different this semester under COVID-19 regulations. The college is taking many precautions to limit the spread of germs. These precautions have included huge changes to the operation of the dining halls, such as no self-serve food. Unfortunately, this has led to increases in the use of disposable items and resulting dining hall waste. Earlier this semester, we met with the staff members in charge of dining and facilities to understand these challenges better ourselves. We are now focused on informational campaigns to re-educate students on waste disposal and on this semester's changes specifically. We hope to decrease the quantity of trash we produce and redirect waste from the landfill to recycling and compost. Currently, our main project is to design and hang posters above all of the disposal stations in dining halls and dorms to help inform students about proper waste sorting. To protect the health of facilities workers, the recycling center cannot sort through our waste this semester to separate improperly sorted items. It is more important than ever that students put waste in the right bins since incorrectly sorted recycling and compost will end up in the landfill.
This pandemic-influenced semester also means that students will be boxing up their belongings at the end of fall semester. We are anticipating an increase in the number of items being thrown out during November move-out. We are currently brainstorming solutions to this waste challenge including on how best to encourage and facilitate donation of unwanted items to the recycling center and local businesses.

We are this semester's communications team! From left to right:
Hi I'm Van, a senior Political Science major from Los Angeles, CA. My focus is on environmental policy and local level change. I have been with the SSL for three years now and on the Communications Team since June. I enjoy reading the newspaper, running and taking landscape photos.
I am Assadou, a junior majoring in computer science. I was born and raised in Rwanda. I joined SSL this semester and I am working on the communication team. Some of my hobbies include bike riding, hiking, and playing Go (also known as baduk). 
My name is Valerie, I'm a senior Economics major from south central Los Angeles, California with a passion for intersectional environmentalism with a critical lens on class and race. This is my second semester working at the SSL, where I'm overseeing the Sustainability Consultancy - currently in our pilot stage - and also in comms team! Some hobbies of interest are photography, baking, dancing, and traveling.
As the Comms team, our main goal is to help everyone else in the Sustainability Solutions Lab effectively share their ideas and messages across Instagram, blogs, the website and more. 
This is the first of the weekly blogs that will highlight each group's work. The exciting part about being involved with communications is that you get to learn and write about work that is happening across the field of sustainability. We are looking at not only different departments at Middlebury, but also different colleges and universities involved with sustainability.
Our main challenge this semester is going to be updating and reorganizing the Office of Sustainability's website. While this may sound straightforward, it is actually very complicated. The Office's site has over 120 different pages and subpages that all need to be evaluated. Then, our team is going to find a way to effectively organize all those webpages in order to reduce dead ends and improve user experience. We will be working closely with the College's web-design team to get this done as soon as possible.