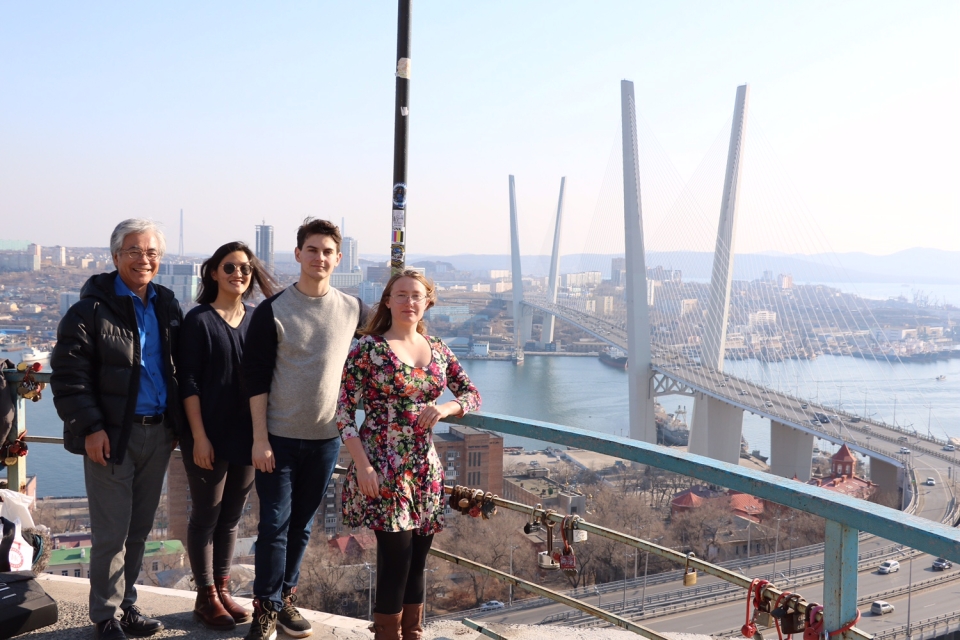 A fully funded experience, the research trip takes successful applicants to Vladivostok, Khabarovsk, and other cities in the Russian Far East.
Students meet with high-ranking international affairs officials and journalists, as well as researchers and professors at prestigious academic institutions. Participants use these unique resources to complete large-scale research projects relating to this key region.
March 6, 2018
Four students to conduct field research in Vladivostok and Khabarovsk in March 2018.
Research Trip 2017
Professor Akaha and four Institute students—Aleksandra Evert, Matthew Levie, Tracy Lyon, and Rory Roccio—traveled to the Russian Far East from March 24 to April 1. They conducted field research on regional developments in energy, migration, ecology, and international education and their impact on Russia's relations with the neighboring countries of China, Japan, and Korea. After two months of pre-departure preparation, the group visited Vladivostok and Khabarovsk, the two largest cities in the Russian Far East, and engaged in one-on-one and small-group meetings with university professors and students, researchers, administrators, community leaders, and other local experts on the students' selected topics.
In Vladivostok the group stayed at the Far Eastern Federal University on Russky Island, the site of the APEC (Asian Pacific Economic Cooperation) summit hosted by President Putin in 2012. In Khabarovsk they were hosted by the Economic Research Institute, which is a part of the Russian Academy of Sciences' Far Eastern Branch. The students were able to use their Russian language skills in their formal and informal discussions, which immensely added to their vocabulary.
With the recent deterioration of Russian-U.S. relations, the conversations with the local people often touched on U.S. policy toward Russia and Russia's views, with plenty of room for disagreements. However, the Institute group was warmly welcomed by local hosts. Their side-trips took them to a pre-WWII fort on Russky Island, a history and archaeology museum in Khabarovsk, and a Nanai village in Sikachi-Alyan about a 90-minute drive from Khabarovsk. Upon return, the students pored through their numerous notes, recorded interviews, and photos to complete their research papers by early May.
See more information about previous trips on our blog.