Research and Travel Grants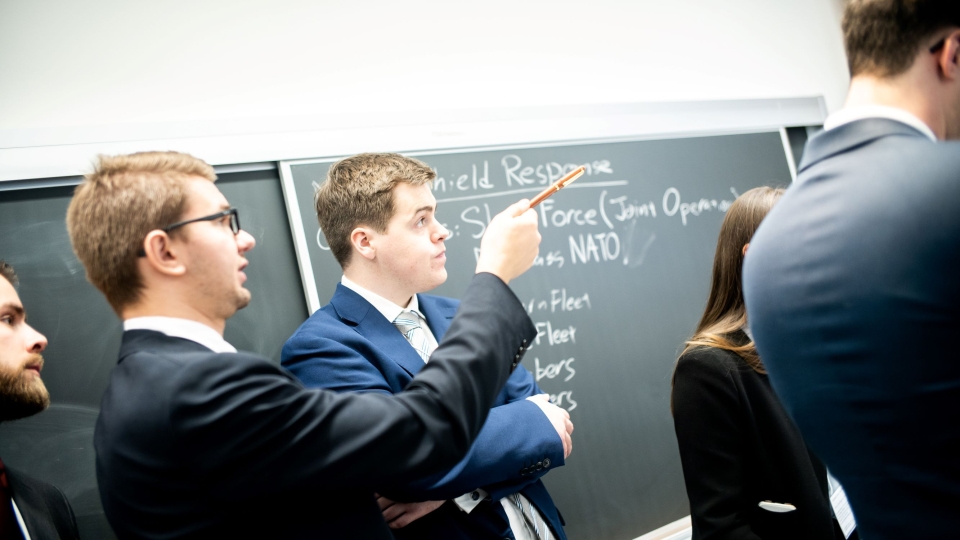 The Monterey Initiative in Russian Studies (MIR) sponsors student research and internships in Russia. In the past, MIR also organized fully funded group research trips to the Russian Far East.
Featured Stories
In December 2019, nine MIIS students traveled to Harvard University to participate in the immersive global crisis exercise, "Red Horizon: Force and Diplomacy in Eurasia." The three-day simulation was hosted by The Negotiation Task Force (NTF) at the Davis Center for Russian and Eurasian Studies. Read the full story.
---
MIR

Research and Travel Grants
---
2019 Grant Recipients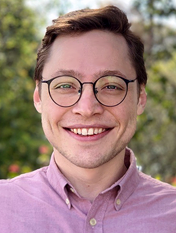 Boris Boukhonine
During the Fall 2019 semester, I embarked on an exchange in Russia to attend courses at the Moscow State Institute of International Relations (MGIMO University) and Moscow State Linguistic University (MGLU). The courses covered a range of topics including translation, interpretation, and various content courses, all of which directly relate to my studies at the Middlebury Institute of International Studies. The TI curricula at these leading Russian institutions largely focus on translating and interpreting from English into Russian. The opportunities for cooperation with Russian students and immersion into local academic life will prove to be a boon to my work, the work of my classmates, and the work of students at the Russian institutions.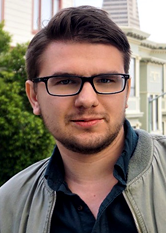 Vladislav Chernavskikh
Vladislav Chernavskikh is a Dual Degree student in Nonproliferation Studies at the Middlebury Institute of International Studies at Monterey (MIIS) and the Moscow State Institute of International Relations (MGIMO). During his time in Monterey, he worked as a graduate assistant at MIR and a  research assistant at the James Martin Center for Nonproliferation Studies (CNS). As part of his degree, he went on to intern at the United Nations Office for Disarmament Affairs as a political intern in the WMD Branch. His research interests include strategic relations and arms control processes between Russia and the United States, the Nuclear Nonproliferation Treaty Review mechanism, and issues related to the implementation of Article VI of the NPT.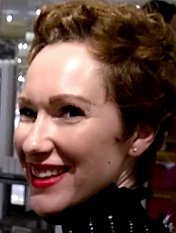 Megan McCullough
Building upon my already established body of work on the post-Soviet films of Kira Muratova, my research seeks to explore her films through the lens of post-Soviet trauma as a means of integrating my areas of specialization here at MIIS—both in Conflict Resolution and Russian language—with my previous work in Film Criticism. It is a multi-disciplined and multi-theoretical approach that brings together the disparate fields of Russian Area Studies, Film Studies, Political Science, Sociology, Psychoanalysis, Semiotics and Conflict Resolution in order to explore the role of art as both a means of reflecting, as well as healing, societal trauma. I conducted archival research both in Moscow, at The Gerasimov Institute of Cinematography (VGIK), and in Odessa, at the Odessa Film Studio. In addition, I conducted interviews with industry experts—including film historians and directors who worked in the immediate post-Soviet period.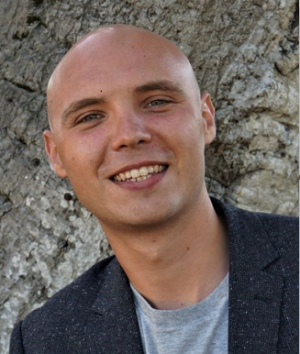 Yury Medvedev
MIR Research Assistant and second year MGIMO-MIIS Dual Degree NPTS Program graduate student Yury Medvedev was accepted to the Stanford US-Russia Forum, dedicated to bringing students at leading Russian and American universities together for research. During the academic year, SURF delegates conduct a Collaborative Research Project and meet twice during two conferences held in Russia and the United States. The capstone conference, held at Stanford University and in Washington, D.C., gathers the groups together to present their results to other delegates, professors, and professionals in the field.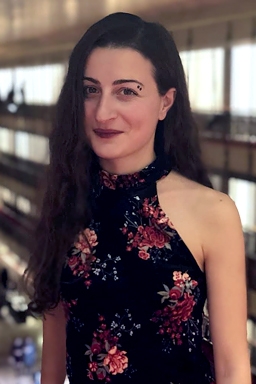 Salome Pachkoria
I am a second-year IPD & ITED student. I received the MIR scholarship to spend two weeks in Tbilisi, Georgia, and Moscow, Russia in November 2019. This was a semester-long project that included pre-departure research, on-site research in Georgia and Russia over the course of two weeks, and the completion of a follow-up research paper. My topic explored the implementation process of the 2011 trade agreement between the Russian Federation and Georgia that was reached during the negotiations of Russia's WTO membership. The trade agreement involved creating three trade corridors, two of which cross the occupied territories of Georgia. More than nine years passed after the agreement was signed but there are no clear signs that it will be implemented in the near future. This agreement remains the subject of great discussion, as there are several controversial components. In order to better understand different interpretations of the agreement, as well as variables that could influence the process of its implementation, I conducted interviews with Georgian, Russian, and Armenian experts, professors, and politicians, including the former Minister of Foreign Affairs of Georgia and the head of the Georgian delegation during the 2011 negotiations. This scholarship gave me the opportunity not only to challenge myself, but to test my knowledge of Russian and visit Russia for the first time.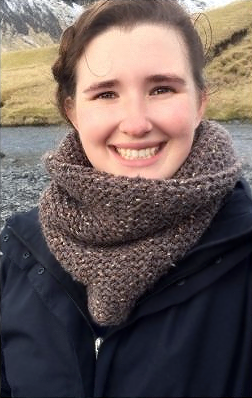 Margo Poda
I conducted research related to academic-level start up incubators and accelerators in Russia and the US, entities which I hypothesize facilitate innovation in both countries and support a move towards a global entrepreneurial network. With support from the Monterey Initiative in Russian Studies (MIR), I was able to further develop my ideas through in-person interviews as well as visit a nascent incubator at Vladivostok's Far Eastern Federal University.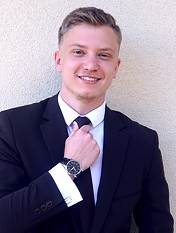 Alexey Polyakov
Alexey Polyakov is a student in the Dual Degree in Nonproliferation Studies program at the Middlebury Institute of International Studies at Monterey (MIIS) and the Moscow State Institute of International Relations (MGIMO). Alexey works as Graduate Assistant for the Monterey Initiative in Russian Studies at the Institute. He is also a Research Assistant at the James Martin Center for Nonproliferation Studies where he contributes to the NTI/CNS Global Incidents and Trafficking Database. Alexey interned at the Russian Ministry of Foreign Affairs Department for Nonproliferation and Arms Control and gained experience in international marketing while working as Project Manager at Messe Frankfurt Rus. Alexey's interests include US-Russian strategic relations, nuclear nonproliferation, arms control, and nuclear security. Alexey holds a B.A. in International Relations from MGIMO and speaks Russian, English, Portuguese, and Spanish.
Elaha Rahmani
My research examined the Afghan community residing in Moscow, Russia through ethnographic research. Specifically, I examined the effects of immigration across generations of Afghans on their sense of culture or identity; examined the policies placed by the Russian Federation in an attempt to decipher the Russian New State Migration Policy and the understanding of a diaspora via Sevastopol; and to determine any possible lessons or recommendations applicable across the many immigration crises erupting across the world, as war, economies and climate continue to drive massive human movement across borders. The Afghan Diaspora in Russia is a unique case study into the life of a diverse and unified community. This study, through personal interviews and data analysis, helps shed some light on the main driving forces governments and states should consider when setting immigration policies, to lessen the social and economic burdens on host countries while still fulfilling their moral obligations towards those seeking refuge.
Lennox Atkinson & Annelise Plooster
Moscow,
US

-Russian Cooperation

Lennox Atkinson (left) and Annelise Plooster traveled to Moscow to research the state of the US-Russia private sector, university-to-university cooperation and effects on multitrack diplomacy.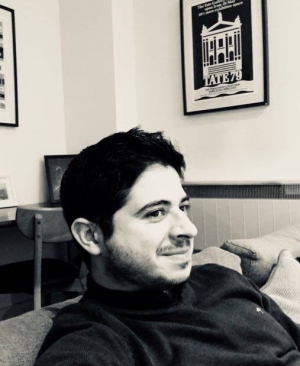 Panayiotis Xenophontos
Panayiotis Xenophontos, a DPhil student at the University of Oxford and MSSR 2018 fellow, spent two weeks in summer 2018 conducting research in the archives at the Hoover Institution and the Cecil H. Green Library at Stanford University.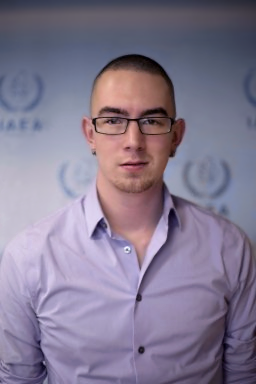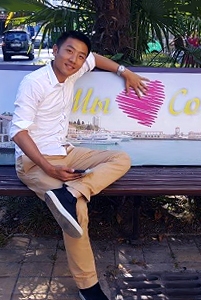 Libiao Pan
Moscow, Nonproliferation Issues
In summer 2017, Libiao undertook an internship at the PIR Center in Moscow, focusing on Russian-Chinese cooperation on the DPRK's nuclear program.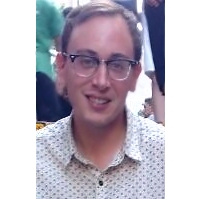 John Nunes
Moscow, Translation/Interpretation
John Nunes participated in translation and interpretation training at the Moscow State Institute of International Relations (MGIMO) by attending graduate-level classes and lectures in simultaneous & consecutive interpretation and written translation.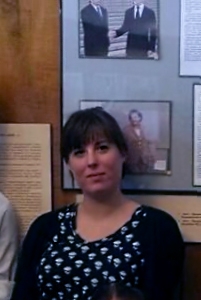 Katie Boynton
Moscow, Russian
NGO

s

Katie Boynton traveled to Moscow to participate as one of only two Americans in the summer program of the Diplomatic Academy of the Ministry of Foreign Affairs of the Russian Federation.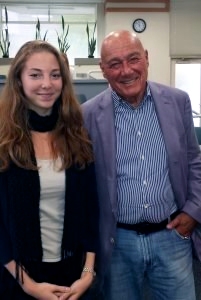 Julia Diamond and Sarah Bidgood
Abramtsevo, Nonproliferation Issues
Julia Diamond and fellow MIR student Sarah Bidgood participated in a Nuclear Workshop co-organized by the Nuclear Risk Reduction Project (NRR) and the Stanford US-Russia Forum (SURF) in collaboration with National Research Nuclear University (MEPhI). After working with their respective peer research groups, Julia and Sarah presented their projects at Stanford University. Julia also served as a participant in PIR Center's International School on Global Security in Abramtsevo, Russia. She was the only American in the 2016 program.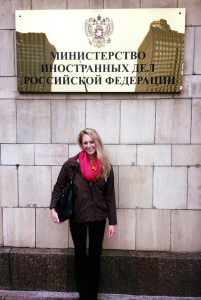 Sarah Bidgood
Moscow, Nonproliferation Issues
Sarah Bidgood attended the PIR Center's International School on Global Security for Young Specialists in Abramtsevo, Russia, where she was the only American of 24 participants. She then traveled to Moscow for the opening conference of the Stanford US-Russia Forum (SURF), a program that facilitates collaborative research projects in critical areas between young experts from both countries.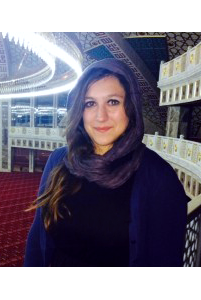 Kathryn Smart
Grozny, Chechen Studies
Kathryn Smart studied with the history department at Grozny State University researching the role of women in Chechen culture and Islam.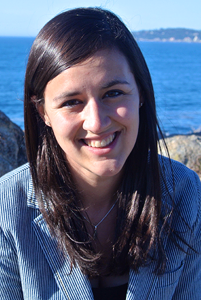 Meagan Braun
Tankhoy, Environmental Issues
Meagan Braun spent summer 2012 participating in the Tahoe-Baikal Institute's Summer Environmental Exchange, where students compared development and conservation at Lake Tahoe and Lake Baikal.