Students complete remote practicum positions around the world
Despite the full year of a global pandemic and lockdowns, practicum students successfully secured internships and field projects they could complete remotely for the spring 2021 semester. Students joined the massive "working from home" movement primed with skills to make an impact. 

With many borders closed but hope on the horizon, students secured virtual opportunities within the U.S. and as far as Australia. This article celebrates many of the immersive professional learning achievements of MIIS students during the spring 2021 semester. 
This spring, 62 students are completing internships, jobs, and consultancies around the country and globe through Middlebury Institute courses and programs. 
In the United States, students worked with organizations as close as Monterey and as far away as Washington, DC. 
Internationally, students are working virtually for organizations on five continents and in 16 countries: (Uganda, Zambia, Australia, France, Spain, Austria, Switzerland, Russia, Papua New Guinea, Vanuatu, Honduras, El Salvador, Belize, China, Japan, and Canada).
With half of the spring semester gone, we want to take a moment to congratulate all the students who have earned a virtual position in these historically tough times. The following section highlights students who have earned internships, jobs, and consultancies through Middlebury Institute Degree programs. 
Name

Placement

Location

Sarah Biser

Cal State Fullerton Study Abroad & Global Engagement

Fullerton, CA

Grace Davis

Advance

Lake Tahoe, CA

Charlotte Ennen

The Cambridge School of Weston

Weston, MA

Sura Fadel

Defense Language Institute MSA  Iraqi Dialect Program

Monterey, CA

Joshua Ferry

Wayne State University

Wayne, Nebraska

Kellee Fletcher

Cabrillo College

Santa Cruz, CA

Madison Lucero

UCSC Study Abroad Office

Santa Cruz, CA

Angela Luedke

UC Riverside

Riverside, CA

Nancy Matsukama

CSU San Marcos Global Programs & Services

San Marcos, CA

Stephen Mockler

UC Davis

Davis,

CA

Rachel Salay

Sitka Tribe of Alaska & Global SF

Sitka, Alaska
Emma Schultz

Middlebury School Abroad Spain

Madrid, Spain

Jenny Velez

UC

Davis Learning Center

Davis, CA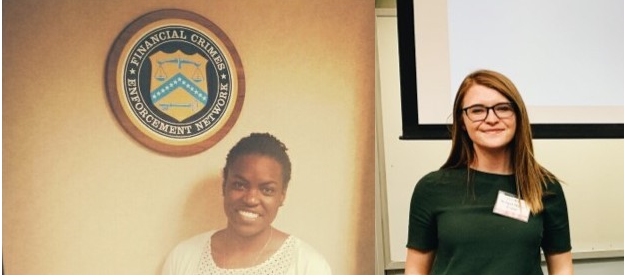 Applied Professional Practicum (

APP

)
Name

Placement
Location

Trang Tranh

Port of San Diego Natural Resources Data Exploration
San Diego,

CA

Andrew White

DRIVE

Model for Understanding & Responding to Climate Migration
New York,

NY

(various locations)
Katrina von Burg
California Farmlink Regenerative Agriculture Lending Program 
Aptos,

CA

Amelia Xia

ECOPA

Clear Fishing Program
Lower Lempa Region, El Salvador
Seth Small
World Wildlife Fund

KAZA

Transboundary Program

Livingstone, Zambia
*See additional positions in MGIMO section below. 
Name

Placement

Location

Eleanor Krabill

United Nations Institute for Disarmament Research (

UNIDIR

)
Geneva, Switzerland

Sam Whitefield

Biological Weapons Convention - Implementation Support Unit (

BWC

-

ISU

)
Geneva, Switzerland
*Indicates CNS Internship placement
Name

Placement

Location

Erica Barbarossa 
Center on Terrorism, Extremism, and Counterterrorism (

CTEC

at

MIIS

)

Monterey, CA

Nikita Degtyarev*

Vienna Center for Disarmament & Non-Proliferation (

VCDNP

)
Vienna, Austria

Collin McDowell*

United Nations Office for Disarmament Affairs (

UNODA

)

WMD

Geneva, Switzerland

Allison Owen*

IAEA

Safeguards
Vienna, Austria

Inna Rodina*

Vienna Center for Disarmament & Non-Proliferation (

VCDNP

)
Vienna, Austria
Sergey Semenov

PIR

Center

Moscow, Russia

Greg Yoo*
United Nations Office for Disarmament Affairs (

UNODA

)

WMD

Geneva, Switzerland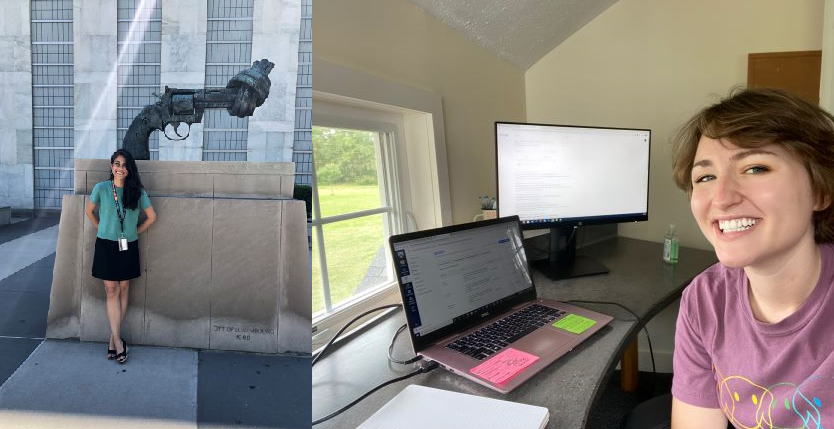 Name

Placement

Location

Illeana Alexander

Meridian Institute

Washington, DC

Thomas Apostle

Canada Revenue Agency

Ottawa, Canada

Brenna Brown

Children's Chance International and Care Impact Partners

Lira, Uganda and Atlanta, GA

Miya Burke

Columbia Riverkeeper 

Hood River, OR

Shannon Casey

CARE Impact Partners and World Compass Foundation

Atlanta, GA and El Progresso, Honduras

Jane Eklund

United Nations Office of Disarmament Affairs CAB

New York City, NY

Mariana Filip

WildAid

San Francisco, CA

Elizabeth Francis

IUCN Global Marine & Polar Program 

Gland, Switzerland

Lawrence Garber

Building Decarbonization Coalition

California, USA

Stone Goethe

Naval Postgraduate School

Monterey, CA

Alexander Karmin

American Enterprise Institute

Washington, DC

Walden Kiker

San Diego Unified Port District and California Farmlink

San Diego, CA and Aptos, CA

Anissa Monteon

CARE Impact Partners and Via

Washington, DC

Eric Mora

Santa Cruz Museum of Art & History and Monterey County 

Santa Cruz & Monterey, CA

Ellie Oliver

Santa Lucia Conservancy

Carmel, CA

Anna Ondracek

Alliance for Global Water Adaptation

Corvallis, OR

Cora Panturad

Sonders Inc.

San Francisco,

CA

Gabriel Pike

Engie Impact and Conservation International
New York,

NY

and Washington,

DC

Keily Ramirez

United Nations Development Program
Belmopan, Belize

Oceane Ringuette

CA

State Parks: Natural Resources Division
Sacramento,

CA

Sydney Samples

Environmental Incentives
Washington,

DC

Fatima Sayeh

UC

Irvine Study Abroad Center
Irvine,

CA

Kelsey Shoup

Good Food Institute

Washington, DC

Miranda Schwabauer

FinClusive
New York,

NY

Kiera Welch

Financial Crimes Enforcement Network (FinCEN)
Vienna,

VA

Rafal Wilson

Its Commonsense Pty. Ltd. 
New South Wales, Australia

Heather Smith

United States State Department
Papua New Guinea and Vanuatu
| | | |
| --- | --- | --- |
| Name | Placement | Location |
| Sara Spencer | United Nations Population Fund (UNFPA) | New York, NY |
Name
Placement(s)

Location(s)

Cassandra Agyemang

Morningside Translations,

WL

-Assistant, and

TLM

Mentorship Program
New York,

NY

& Monterey,

CA

Lenny Chen

TigerGraph
Redwood City,

CA

Xiaofan Chen

Lilt, LocReady, and CampLoc
San Francisco & Monterey,

CA

Xinyang Chen

MediaLocate and

TLM

Mentorship Program
Pacific Grove & Monterey,

CA

Geirrlon Dunn

Monterey Language Services
Monterey,

CA

Bianca Duvall

LAI

,

TBX

, and

WIPO

Terminology Collaboration
Provo,

UT

, San Mateo,

CA

, & Geneva, Switzerland

Cynthia Gong

ByteDance
Beijing, China

Yang He

Translation by Design
Pacific Grove,

CA

Yuxin He

Renren and Knight Throde
Beijing, China

Jessy Nguyen

LinkedIn, CampLoc, and

TLM

Mentorship Program
Mountain View & Monterey,

CA

Fangxi Qin

Leiting Games and Endangered Alphabets Project
Shenzhen, China & Vermont,

USA

Sailee Rangole

MasterWord, LocReady,

MQM

, and

TLM

Mentorship Program
Houston,

TX

& Monterey,

CA

Sachi Salehi

Automation/Active Gaming Media
Osaka, Japan

Xinyue Sun

ByteDance
Beijing, China

Ziqi Wang

Pactera Technology and

TLM

Mentorship Program

Dalian, China & Monterey, CA

Ren Yi

Aviagames and LocReady
Mountain View & Monterey,

CA

Jingyuan Zhang

Global Talen Link and LocReady 
Stoughton,

MA

& Monterey,

CA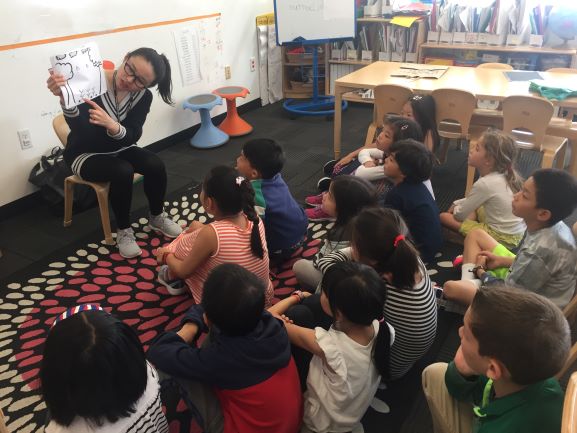 *Also on IEM Practicum
Oliver Block

University of New Orleans

New Orleans, LA

Grace Davis*

English Center

California, USA

Miranda Doremus

Hartnell Community College
Salinas,

CA

Aram Guptil

Atlanta Adult Education
Atlanta,

GA

Maya Sykes

Chicago Public Schools
Chicago,

IL
Caleb Powers

Middlebury Institute (

TFL

French)
Monterey,

CA

Keyue Song

Middlebury Institute (

TFL

Chinese)
Monterey,

CA