Welcome to the Spring 2022 Middlebury Institute of International Studies at Monterey Commencement!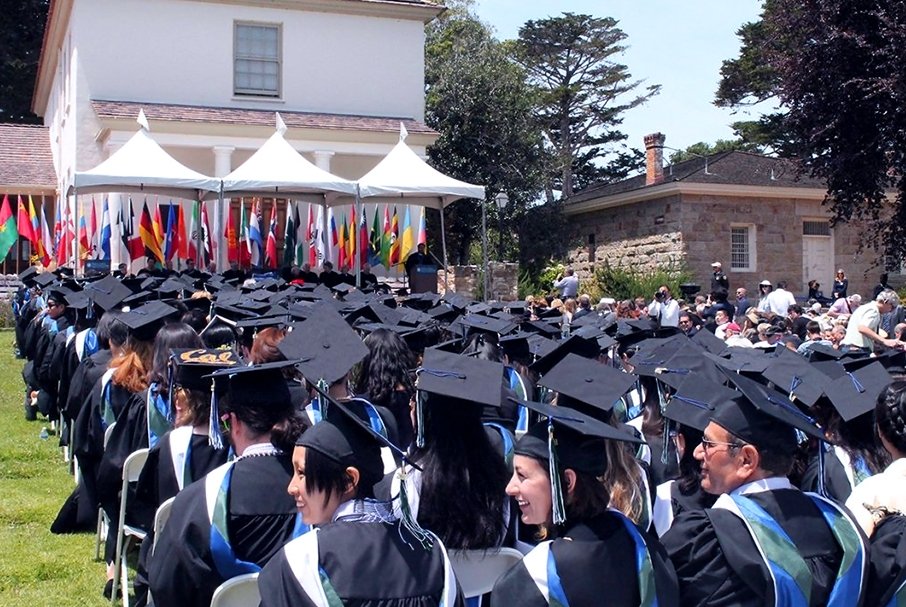 Photos
Photos taken by professional photographer Robert Ellis, courtesy of the Communications department are free to download. Visit to view images: https://www.robertellis.com/f1027530699
Video
MIIS 2022 Commencement video (edited version): https://vimeo.com/712854250
Guest Links to Ceremony
General Guest Zoom Link https://middlebury.zoom.us/j/98789779890?pwd=VmNFd3cyWEtkL2QvNWM0d3hGQXFuUT09  Passcode: 175001
Alternative live stream link: www.middlebury.edu/stream2
Graduate Information Sheet
A detailed sheet outlining important details for graduation may be found here.
Date and Location 
Spring Commencement 2022 will be held on Saturday, May 21, 2022 at 1:00PM Pacific Time. The in-person ceremony will be held outdoors at Colton Hall Lawn, Pacific Street between Madison and Jefferson Streets, Monterey, CA. The ceremony will be accessible in an online format with livestream for graduates, families and friends around the globe. A reception will be held at the Samson Student Center on campus immediately following the ceremony. 
In Person COVID Guidelines
Due to the outdoor location of both the ceremony and the reception, masks are not required for this event. Masks are optional in any common area, such as inside of McCone for the line-up.
Mandatory Graduating Student Information Meeting
A graduating student information meeting was held on Thursday, April 14, 2022. This meeting discussed details about commencement and graduating student speaker nominees presented their summaries of their speeches. A link to the recording may be found here. 
Interpretation
Interpretation will be available on Zoom into Chinese, Japanese, Korean, and Spanish. Thanks to our student interpreters for volunteering their time.
Guests with Special Needs
If you have a guest that has a special seating need, i.e., guests in a wheelchair or walker, please send an email to rsvp@middlebury.edu no later than May 16th so seating arrangements may be made for them. 
Commencement Announcements
Digital announcements to share with guests may be found here. 
Regalia
Caps and gowns are NOT required to participate in the commencement ceremony. In lieu of regalia, we encourage graduates to wear traditional cultural dress or appropriate business attire. Details surrounding regalia may be found here. 
Celebration Kit
Enjoy this downloadable celebration kit to commemorate the occasion in your emails, texts, social media, or Zoom. You can also print, cut, and use the ready-made printable signs to decorate your home as you celebrate your virtual Commencement ceremony. 
Please share your images, celebrations, and messages of congratulations with us on Social Media using the hashtag #MIISGradSpring2022
To download the Zoom Backgrounds below, right click an image and choose 'Save Image As.' Be aware that you may have to mirror your Zoom video if the logo is backwards to correct this.
View the gallery in a new window.
Zoom Backgrounds
Alumni Message
As you embark on this next chapter of your life remember that the Alumni Office is here for you. If you have not done so yet, please provide us with your personal email address so we can keep you informed of MIIS alumni news and events! You can update your contact information online  at go.middlebury.edu/update.
Questions
If you have additional questions, please email rsvp@middlebury.edu