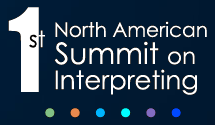 Interpreters play a vital role in both the public and the private sector, enabling thousands of courts, hospitals, schools and businesses – not to mention international organizations and heads of state -- to bridge language barriers daily. A recent market study conducted by the independent research and analysis firm Common Sense Advisory found that interpreters earn between $43.14 and $65.96 per hour on average, and that although many interpreters work only part-time, more than a quarter of the 1,135 surveyed earned more than $50,000 per year. This makes interpreting "an attractive profession," according to the study's lead author, Nataly Kelly. "Our research has shown that the interpreting market is growing at a fast pace, fueled by legislation and increased awareness of the need for interpreting services."
The study, which was commissioned for the upcoming 1st North American Summit on Interpreting, also found that interpreters are a highly educated group. Nearly half of survey participants had a master's or doctoral degree, although only 28.9 percent of respondents reported having a degree in interpreting and 7.6 percent said they had no formal training in interpreting. The Monterey Institute of International Studies – a founding co-sponsor of the June 17 Summit on Interpreting-- offers graduate degree programs in interpretation and related fields such as translation and localization management that are regarded as among the best in the world.
"Training and education for interpreters are critical regardless of where or how they work, and the core skills of interpreting are quite similar across all sectors," said Barry Slaughter Olsen, professor of Translation and Interpretation at the Monterey Institute and co-founder of InterpretAmerica, host of the June 17 summit. "This is one of the primary reasons we decided to gather leaders from all areas of interpreting at a single event, to discuss these common interests."
The report, which was commissioned by InterpretAmerica, also found that the interpreting profession is quickly aging, with close to half of the participants in the survey having worked in the field for 15 years or more. "Interpreting is a vastly under-marketed, underpublicized profession, especially with younger generations," explained Katharine Allen, co-founder of InterpretAmerica.
The full findings of the study will be presented at the 1st North American Summit on Interpreting on June 17 in Washington, D.C. For more information on the summit, visit www.interpretamerica.net.