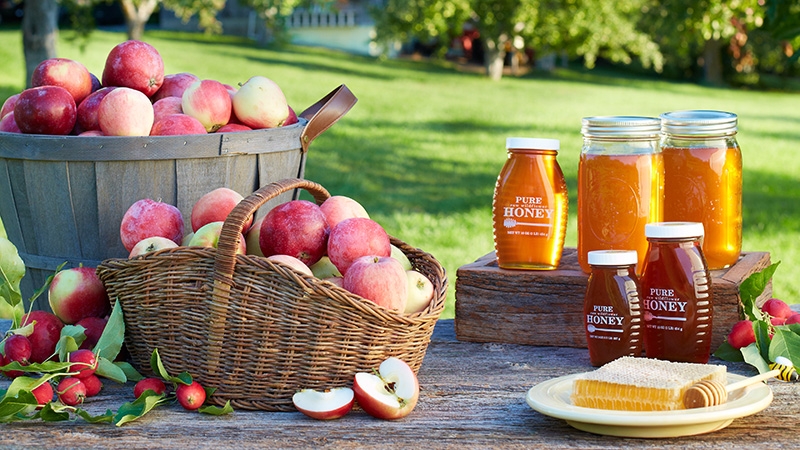 Welcome to the landing page for everything High Holidays at Middlebury College.
Rabbi Danielle Stillman and alumnus cantor Aaron Mendelsohn '95 wish you and your families a sweet new year, and we eagerly anticipate seeing you all at services this year, in person or on-line.
This page is where you will find what you need for a reflective, connected, and joyous High Holiday season.  
Important update as of 8/27/21
We are working to create services where we can gather in person, but in the safest way possible, and following the guidelines of Middlebury College.  Right now we are planning for a hybrid service where students, staff and faculty who have uploaded their vaccination cards may gather together on campus, Havurah and community members may gather together at the Champlain Valley Unitarian Universalist Society (CVUUS), and anyone can access the services on Zoom. All those in person will be masked and physically distant.  
The Zoom link is below—no need to register in advance.  If you will be joining us from home and are local, you may request to borrow a High Holiday prayerbook by contacting Sarit Katzew if you are a Havurah member, and Danielle Stillman (dastillman@middlebury.edu) if you are a student, staff or faculty member.  Prayerbooks will be available on site for those attending in person.
Please visit this site often, as we will be updating it frequently with new content, opportunities, and any COVID related changes.
Students, Please register for the Break the Fast using the button within the schedule.
Zoom Link for All Services
You can access all of our High Holiday services this year via zoom.

There is no need to register in advance!
Request to borrow a prayer book by clicking here
High Holiday Nature Walk
On the Trail Around Middlebury, parallel to the Golf Course

This nature pilgrimage will lead you through a series of reflections and experiences related to Rosh Hashanah.  Twelve signs are posted along the TAM section of the woods that runs from near the College Track, up along the golf course and toward Route 30.  As you walk at your own pace, each sign will invite you to pause and reflect on a different aspect of the holiday.  This pilgrimage will be up from Monday, September 6 through Yom Kippur.  Special thanks to Living Tree Alliance for creating it. This section of campus is open to the public at this time, so all are welcome!
Yom Kippur, September 15-16, 2021
Kol Nidre
Join us for the moving melodies of Kol Nidre, sung by Super Senior Feb Eva Ury and Tevan Goldberg '18.
President Laurie Patton will be offering the sermon.
Yizkor - Memorial Service
Anyone is welcome to Yizkor, whether you are remembering someone specific this year, or would just like to take a moment to acknowledge the enormous loss of life our country, and the world, has experienced recently.  This year, during the Yizkor service, we will be reading the names of those loved ones who have passed away in the last few years.  If you have a name you would like read, please fill out this short form.
Musaf and Eileh Ezk'rah
This section contains some of the key moments of the Yom Kippur liturgy.
Zoom, email joanna@ottercreekyoga.com for the link
Gentle Yoga for Yom Kippur Afternoon
Joanna Colwell, a beloved local yoga teacher, will be leading us through a gentle practice that supports both fasting and reflection as we prepare ourselves for the final prayers of this day. Joanna teaches in the Iyengar Style is experienced in teaching remotely on Zoom.  Wear comfortable clothes, and clear a space where you can do some moving, lay a mat if you have one, and focus on your yoga practice.  Please email Joanna at joanna@ottercreekyoga.com to receive the Zoom link for this session.
Minchah – Afternoon Service, and Ne'ilah – Concluding Services
The closing of the gates.  This is our last opportunity on Yom Kippur to turn toward a new approach for the new year. 
Mead Chapel and CVUUS, we will go outside to hear the shofar
Shofar Blowing and Havdalah
Hearing the sound of the shofar for the last time of the season, and re-entering regular time through the havdalah ceremony.
Redfield Proctor Dining Room
Break-the-Fast
This event is for Middlebury students, staff and faculty only this year
Rosh Hashanah, September 6-8, 2021
Pick up food in Redfield Proctor Dining Hall, eat in McCullough Tent
Rosh Hashanah Dinner for Students and Families
Students and their families are invited to attend a Rosh Hashanah Dinner.  We will get our food in Redfield Proctor (upstairs in Proctor Dining Hall) and bring it to the McCullough tent to eat, with services following.
Erev Rosh Hashanah Services
Welcome the New Year with our Erev Rosh Hashanah service, and a sermon from Rabbi Danielle.
Shacharit, morning service
This service will sing us into a prayer space where we can begin to reflect on the themes of the New Year.
Outside the Jewish Center at the FIC (next to Bi-Hall)
Lunch for students and their families
Join us for a light lunch cooked by returning students.  We will be eating outside. The Jewish Center is in the Freeman International Center (FIC), to the right of Bi-Hall if you are facing it from the campus side. We can all walk over there from Mead Chapel together following services, or just show up at the lunch!
Marbleworks side of Otter Creek footbridge
Tashlich and Shofar Service for Havurah
This service is for local community members and their children.
Havurah Education Director Sarit Katzew and Rabbi Danielle will lead the service.
(possible rain date on Wednesday, Sept. 8, TBD)
 
Pond behind the Mahaney Center for the Arts
Tashlich and Shofar Service
This service is for students and their family members
(Rain date Wednesday, Sept. 8)
Shacharit, morning service
For the second day of Rosh Hashanah we will hold services at the Champlain Valley Unitarian Universalist Society. This service is for anyone who wants to attend.  Contact Rabbi Danielle (dastillman@middlebury.edu) for directions.