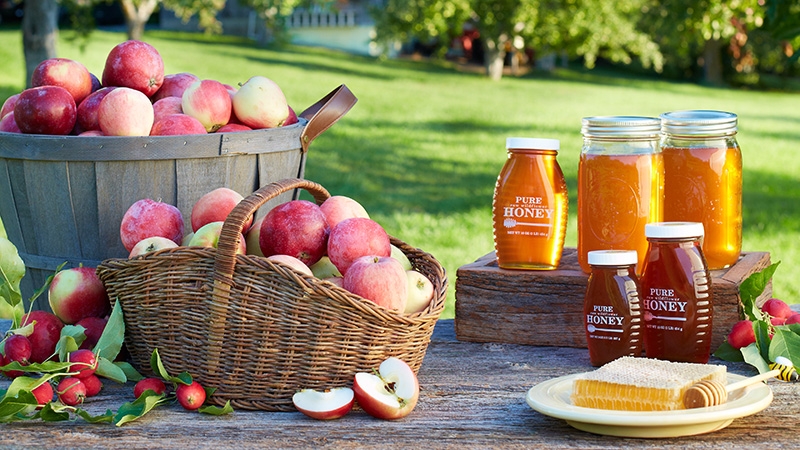 Welcome to the landing page for everything High Holidays at Middlebury College and the Havurah of Addison County. This page is where you will find what you need for a reflective, connected, and joyous High Holiday season.
Rabbi Ira Schiffer and alumnus cantor Aaron Mendelsohn '95 will be leading in-person services this year, while Rabbi Danielle Stillman is on leave in Jerusalem. Rabbi Yitzhak (Yitz) Nates will be filling in for Danielle while she is away.  We all send our best wishes for a sweet and healthy new year!
We request that everyone in attendance at indoor services wear a mask. We are an intergenerational congregation for the High Holidays and we want to be sensitive to different health needs.
Please visit this site often, as we will be updating it frequently with new content, opportunities, and any COVID related changes.
Students, please register for Rosh Hashanah Dinner and the Break-the-Fast meal using the buttons within the schedule.
Zoom Link for All Services
You can access all of our High Holiday services this year via zoom webinar here.

There is no need to register in advance!
Rosh Hashanah, September 25-27, 2022
Redfield Proctor Dining Hall
Rosh Hashanah Dinner for Students 
Please join us for a festive meal before services to welcome the New Year.  Proctor dining staff are preparing a special menu for the holiday; we'll go through the line and dine together upstairs in Redfield Proctor dining room.
Erev Rosh Hashanah Services
Welcome the New Year with our Erev Rosh Hashanah service, and a sermon from Rabbi Ira Schiffer.
Apples and Honey Reception
Please join us for the Ashkenazi tradition of dipping apples in honey for a sweet new year, along with honey cake and apple cider.  All are welcome.
Shacharit, morning service
This service will sing us into a prayer space where we can begin to reflect on the themes of the New Year.  Leora Segal '23 will offer the sermon.
Outside the Jewish Center at the FIC (next to Bicentennial Hall)
Lunch for students
After services please feel free to bring your lunch from the dining halls to the Jewish Center at the Freeman International Center (FIC).  Cookies and pastries from Otter Creek Bakery will be provided.
Pond behind the Mahaney Center for the Arts
Tashlich — Casting the Old Away  RESCHEDULED FOR TUESDAY AT 5:00; SAME LOCATION
This is a short, outdoor service where we cast our old ways into the water to make room for the new. Rabbi Ira will lead a few Israeli dances, followed by Rabbi Yitz Nates leading the Tashlich service.  All are welcome.   (Update 9-25: this has been rescheduled because of the forecast for rain on Monday.)
Havurah of Addison County
Shacharit, morning service
For the second day of Rosh Hashanah we will hold services at the Havurah of Addison County at 56 North Pleasant St. All are welcome to attend.  Contact Ellen McKay Jewett (emckay@middlebury.edu) for directions.
Potluck Lunch at Havurah
Join Havurah for a lunch following Second Day Rosh Hashanah Services, at the Havurah House. Please bring a dish to share, but if that is not possible please come anyway!  All are invited.
High Holiday Nature Walk
Based at The Knoll and adjacent section of the Trail Around Middlebury

This nature pilgrimage will lead you through a series of reflections and experiences related to Rosh Hashanah.  Twelve signs are posted along the TAM section adjacent to The Knoll. As you walk at your own pace, each sign will invite you to pause and reflect on a different aspect of the holiday.  This pilgrimage will be up from Rosh Hashanah through Yom Kippur.  Special thanks to Living Tree Alliance for creating it. 
Yom Kippur, October 4-5, 2022
Kol Nidre
Join us for the moving melodies of Kol Nidre and a sermon offered by President Laurie Patton.
 
Shacharit – Morning Service
Rabbi Yitz Nates will be giving the Yom Kippur sermon this year.

 
Yizkor - Memorial Service
Anyone is welcome to Yizkor, whether you are remembering someone specific this year, or would just like to take a moment to acknowledge the enormous loss of life our country, and the world, has experienced recently.  
Discussion: The Power and Light of Yom Kippur
A discussion led by Rabbi Yitz based on the morning sermon.
Goldsmith Lounge, Field House
Gentle Yoga for Yom Kippur Afternoon
Joanna Colwell, a beloved local yoga teacher, will be leading us through a gentle practice that supports both fasting and reflection as we prepare ourselves for the final prayers of this day. Joanna teaches in the Iyengar style; please wear comfortable clothes and bring a mat.
Minchah – Afternoon Service, and Ne'ilah – Concluding Services
The closing of the gates.  This is our last opportunity on Yom Kippur to turn toward a new approach for the new year. 
Shofar Blowing and Havdalah
We'll hear the sound of the shofar for the last time of the season, and re-enter regular time through the havdalah ceremony.  Bring a shofar to blow if you have one!
Redfield Proctor Dining Room
Break-the-Fast
Please join us for a festive Break-The-Fast upstairs at Proctor.