Middlebury Students Take on Food Insecurity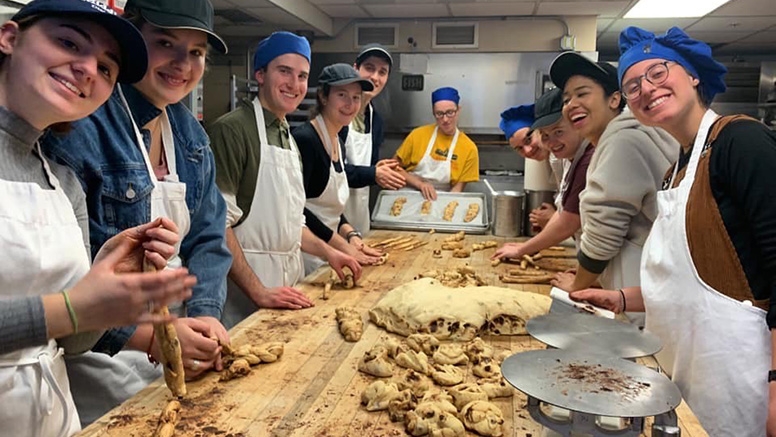 By Molly Babbin '22
Last fall, about 25 Hillel volunteers, through the nationwide organization Challah for Hunger, baked more than 400 loaves of challah to raise money for anti-hunger organizations. In the nine hours of challah baking and selling, I was heartened by the way religion, culture, and our love of freshly baked bread could bring us together to think about the pervasive and multifaceted issue of food insecurity.
We ended up donating more than $1,360 to HOPE, a local food shelf, and Swipe Out Hunger, a national organization that works to eliminate food insecurity on college campuses, and this led me to think more deeply about the concept of charity.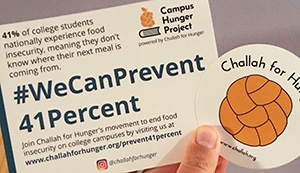 In Judaism, the term tzedakah is commonly used to signify philanthropy or charitable giving. However, tzedakah also comes from the word tzedek, which translates to "justice," and as Rabbi Jill Jacobs notes in her book There Shall Be No Needy, support for those in need of resources should be seen as an "obligation and as a means of restoring justice to the world, and not as an altruistic or voluntary gesture." A well-known critique of charity is that it often addresses the symptoms of a problem and not the causes, and that those giving money are often valued over those receiving it. After reading Rabbi Jill Jacobs's words, I wondered, How can we be more intentional about combating systemic injustices? How can we ensure that our work is reparative and not self-serving? 
So this summer, Middlebury Hillel organized a four-part discussion group to engage with readings about systemic racism and the responsibility of Jewish people to be actively anti-racist. In these conversations, we unpacked that racism is not always obvious and immediately visible. Instead, it is an underlying system that is deeply rooted in many of our individual assumptions and Jewish communities, and it is further perpetuated by our overarching social and economic structures. As we continue to better understand that inequality is a result of historical and current systems, as opposed to individual actions, the "obligation" that Rabbi Jill Jacobs references becomes clearer.
Rather than viewing charitable endeavors as "heroic" or voluntary, it is expected that those with resources understand that they often have those resources because of the way that social systems privilege some and disadvantage others. It is imperative that they work with a sense of redistribution toward those who are harmed by those same social systems. It is through this analytical and reflective lens that we hope to continue our work with Challah for Hunger, transforming the once-a-semester fundraiser into a justice-focused initiative; we must ensure that students do not forget about the issue they are raising money for once they leave the challah-baking kitchen. 
As we dove deeper into the issue of food insecurity, we realized that we could not donate money to off-campus organizations without also addressing food access among our own student body. Food insecurity is not something to be intellectualized, as it currently affects and/or has affected many of the lives of our peers and Challah for Hunger volunteers. According to the Hope Center, four out of 10 college students experience food insecurity, and that percentage is increasing due to COVID-19. College food insecurity also disproportionately impacts students of color. Middlebury is not immune to this issue: a survey conducted in Professor Molly Anderson's course Hunger, Food Security, and Food Sovereignty found that nearly 10 percent of Middlebury student respondents either sometimes or often did not have enough food to eat when at school, with half of those respondents also reporting food insecurity over breaks.
In an effort to see the structural reasons behind campus food insecurity, we asked ourselves, Why aren't students' basic needs being met? We realized that there was no clear place for students experiencing food insecurity to learn where they could access support, food, and other resources. In response, Melanie Leider '23, Bella Pucker '21, Elsa Soderstrom '22, and I developed a resource guide this spring, consolidating contact information for on-campus resources, food pantries, discounted grocery options, SNAP application resources, public transportation, and securing food over breaks. We publicized the guide though student organizations, College centers, and an op-ed in the Middlebury Campus (you can read it here). The resource guide was updated to support students who remained on campus after COVID-19–related closures, and it will be updated again in the fall of 2020. It can be accessed at go.middlebury.edu/foodresources/. 
As the pandemic created a spike in the use of food pantries, we in Challah for Hunger felt the need to continue our fundraiser throughout the spring. Without the ability to bake and sell challah together, we transformed our typical bake sale into an at-home localized version in which we each baked loaves of challah and donated either to a local food pantry or to HOPE in Middlebury. Rabbi Danielle added an incentive to donate by deciding to match our donations, and in total we raised $640. We learned that our work did not have to end with Middlebury's closure, and that we would have to break with tradition to confront the new barriers to food access created by the pandemic.
In addition to donating to community food pantries, we also understood the challenges unique to college students during this time. When we were evacuated from the College, I was amazed by the ways that many students put their community first, creating mutual aid spreadsheets and dedicating themselves to the fight for students' basic food, housing, and mental health needs. In this spirit, and as student food insecurity began to climb, Melanie Leider and I decided to apply for the Campus Hunger Project Cohort for the 2020–2021 academic year. We completed training this summer and will conduct a project to support Middlebury student food access this upcoming year.
A list of resources is a good starting point, but looking forward, we hope to inquire deeper into why the resource guide was necessary in the first place. As colleges like Middlebury work to diversify their student bodies, they cannot expect academic success if they do not also take responsibility for meeting students' basic needs. Just as COVID-19 revealed the food-access and wealth disparities in our society, it also exposed the inequities within university student bodies. Now, institutions must act on this knowledge and take responsibility for ensuring that all of their students have what they need to thrive.
Kneading Challah
by Lila Sternberg-Sher '21.5
"What was the highlight of your week?" This question was a favorite in the various Middlebury clubs and groups I was a part of during the first COVID college semester. With most of us at home struggling to find the motivation to continue with schoolwork, missing our friends, and grieving the loss of a semester on campus or abroad, identifying a good part of the past week could be a challenge. While sometimes my highlight was a FaceTime call, a phone call, or a Netflix Party with friends, there was one activity that became a treasured part of my Fridays in quarantine even if it wasn't the one I chose to share: challah baking.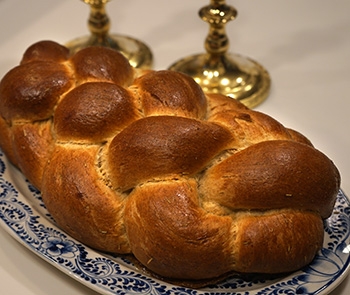 If you ask my friends and family, they'll all tell you that I'm an avid baker. Before 2020, I was mostly interested in desserts. Nothing fancy, but I always enjoyed experimenting with recipes to create the most delicious brownies or chocolate chip cookies. I had baked challah before, as the Hillel co–meals chair and often at home over the summer. I'd played around with a few different recipes and had settled on a favorite. I'd also become a decent braider. However, calling myself an expert would have been a stretch, and I rarely got creative with my loaves.
My dream since early high school had been to spend time making my way through a cookbook: to essentially pull a Julie & Julia. When I realized that I would have several weeks between finishing J-term and departing for my semester abroad, I decided that this would be the perfect time to live out my plan. During those weeks, almost none of my friends from high school would be home, my brother would be away at school, and my friends from college would be busy starting their new semesters. Working my way through a bread book would give me purpose and keep me from loneliness. 
To me, bread is one of the most magical things you can make. Although I don't know all the chemistry behind it, I've watched enough of The Great British Baking Show to appreciate the importance of each step. Whereas with cooking, adding too much or too little of an ingredient at the wrong time probably won't ruin your recipe, bread baking is more sensitive. Many professionals recommend using a scale to weigh the ingredients instead of using volume measures because it's impossible to know how tightly things like flour are packed (i.e., one cup from one brand could be much denser than another, leading you to have significantly more flour in the first cup than the second). Kneading is also essential, to break down the gluten and give the finished product a softer texture. And, of course, rising. Although the layperson won't notice an overproofed loaf, when my bread has risen too much, I joke with my family that Paul Hollywood would be very upset. 
Excited about my plans for February, I dug up a yellowing copy of Beard on Bread that my mom had baked from as a teenager. Throughout those few weeks I made five or six loaves, not quite as many as I would have liked, but enough to keep me satisfied.
The process of making food, as well as the community that it brings together, has always been an important part of my Judaism. Whenever I'm introducing people to my Jewish identity, I like to do it with food. During my short time overseas, I was able to make two loaves of challah for my host family. Upon seeing me add more than a quarter cup of sugar, my Chilean brother asked, "Is that a sweet bread?" I had no idea how to respond. How can one possibly explain what challah is? It can be savory, sweet, or somewhere in between, and all of it is still challah. The two loaves I made for my host family were certainly not my best attempt, but they were appreciated nonetheless. While my stay with my host family ended abruptly with the closing of both the American and Chilean borders, and the cancellation and evacuation of my program, I left having shared a special part of my people's heritage and tradition.
After arriving home, I began to grieve. Attending Zoom classes in Spanish at the dining room table in my childhood home was not the adventure abroad I'd worked so hard for the past year and a half to make happen. I knew that what I needed at the start of this incredibly tumultuous and destabilizing time was some sort of constant. So I began making challah. It soon became something that I had to do, an activity required to maintain my mental health. Every Friday at noon when I would get out the flour, the sugar, the water, the yeast, the honey, the eggs, I knew that by that evening I would have kneaded my stress away. 
In the beginning, I would make two large loaves every Friday. We'd eat half of one (maybe a whole one if we were feeling hungry) and the rest would be tucked in the freezer for later. Soon the freezer was overflowing, so I gifted loaves to friends and extended family. By mid-April, it was clear that many others had caught on to the virtues of bread making, leaving yeast in short supply. Luckily, my Beard on Bread endeavor meant we were still stocked up. 
Before long, my Fridays involved experimenting with new recipes. Each week, Middlebury Hillel's Jews News would include a challah recipe sent in by a member. There were variations on regular loaves, cinnamon sugar loaves, Rabbi Danielle's whole wheat rosemary loaves, cheesy garlic loaves. If I saw a recipe that intrigued me, I would bookmark it for later. On the Fridays when I had more time and was feeling adventurous, I turned to these for inspiration.
I love the ritual that goes along with making and eating challah, as well as the room that is left for improvisation. On weeks when I'm feeling more audacious, I might put an exciting filling inside each strand (maybe chocolate chips—a Hillel favorite—or sundried tomatoes), add a fun spice to the dough (will it be Jordanian za'atar brought back for me by a close friend after her semester abroad?), or switch out a cup of all-purpose flour for a cup of whole wheat. Sometimes, instead of doing my typical six-strand braid, I try my hand at four strands or even a double-decker design. 
In a time filled with so much uncertainty and instability, I feel grounded by the structure and creativity of my weekly challah-making practice. I know that whatever I attempt, I'll always be able to put a golden-brown, homemade loaf on the table and share my creation with loved ones. Now if you'll excuse me, I've got some bread that needs braiding. 
Challah Recipe
Interested in baking challah at home? Here's a terrific recipe frequently used by Hillel when we bake at Middlebury. Let us know how it turns out!
Charles P. Scott Center for Spiritual and Religious Life
46 South Street
Middlebury, VT 05753