Inside Out Wisdom and Action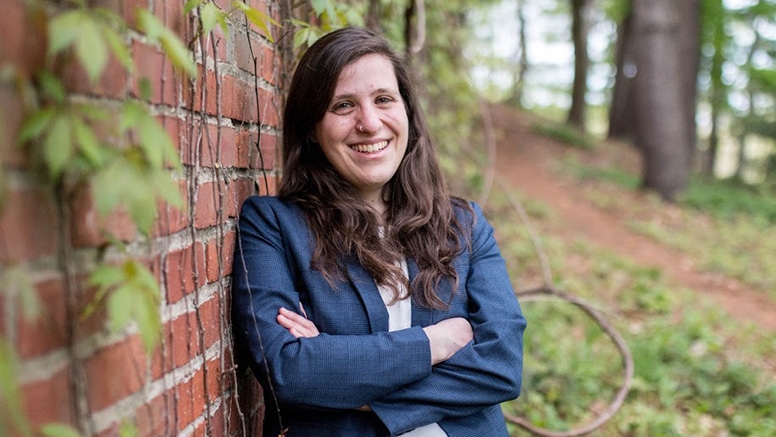 By Danielle Stillman
Mimi (Michal) Micner '10 and I met last fall when Professor Rebecca Gould and I attended a training for the Inside Out Wisdom and Action (IOWA) curriculum in Boston. After a round of introductions, she shared that she was a Midd alum who was finishing her last year of rabbinical school at Hebrew College in Boston. Professor Gould and I already knew that this curriculum in teaching Jewish spiritual practices to help support social justice work would be a good match for our campus, and meeting Mimi there just confirmed it. I caught up with her over the summer to hear more about her work with IOWA and what she is doing now. If you want to read even more about her approach to change and spiritual practice, check out this longer interview she gave for the IOWA website.
Can you tell me about your connection to IOWA and how you got involved in it?
I got involved in the IOWA Project after meeting Rabbi David Jaffe through the JOIN for Justice Community Organizing Fellowship, which I did the year after I graduated from Middlebury. During the fellowship, I began to see the ways that Torah and the social justice issues of our time speak to each other, and I was curious to learn more. This brought me to a class that David was teaching about the relationship between our inner life and social justice work, and also brought me to learning with David one-on-one. We learned a Mussar (applied Jewish ethics) book called To Turn the Many to Righteousness, which was about some of the questions that those teaching Torah faced in their work, questions about responsibility, burnout, and relationships. I was so moved to read Torah that wrestled with the same questions I was wrestling with as an activist and organizer. That got me hooked into learning with David, and I have been learning and working with him since, and now with the IOWA Project.
How are spiritual practice and social justice work connected for you, personally?
Spiritual practice and social justice work are inextricably connected for me. The kind of transformation I want to be part of creating in the world lives not only at the policy level, but at the soul level. The work of opening and unburdening our hearts and changing culture are required for the success of the kind of policies many of us are advocating for. This kind of soul work can help expand our sense of imagination, and help us envision and reach for a world we might be otherwise too timid or constrained to imagine. There is something impossible about achieving a just, compassionate, and healed world in the absence of real spiritual work.
You just received rabbinic ordination this past spring from Hebrew College. Mazel tov! What are you up to now?
Thank you! Following our Zoom ordination, I began working as the rabbi of Temple Beth Torah, a small Conservative synagogue in Holliston, Massachusetts.
Did you imagine yourself pursuing the rabbinical path when you were at Middlebury? How did your time at Middlebury contribute to where you are today?
It wasn't something I really considered at Middlebury. I was involved in the Jewish community and very engaged as a leader of J Street U, and I anticipated that my path would be more conventionally political. It was after Middlebury that I began to find a nourishing and powerful blend of spiritual and political work, and this is what pulled me to rabbinical school.
Any particular wisdom you would like to share from your journey so far? What would you say to any of us—current Middlebury students, alums, or parents—who are working toward a more just society right now?
My greatest spiritual advice would be to not give up on the world you want to see. We live in a status quo that makes itself out to be inevitable and unstoppable. This is far from the truth. The truth is that we are immensely powerful in our ability to shape our political and social reality, even though it may take a long time to see the results of our work, if at all. A lot of my spiritual work has been around hope and despair, and with the help of a lot of brilliant writers, I have come to see hope as being about leaning into the creative potential of uncertainty (thank you, Joanna Macy and Rebecca Solnit). We are always in the place of "maybe," that maybe things could be otherwise if we do something. The fight for Middlebury to divest its endowment from fossil fuels began while I was a student, and it is amazing to see it finally happening a decade later. Imagine if people had given up. We just have to cultivate the capacity to tap into our yearning—our love for the world, our vision for the world—and allow ourselves to be sustained by that in the long fight for change.
Grounding Social Action in Spiritual Practice
By Danielle Stillman
We started our group in the living room of the Scott Center for Spiritual and Religious Life. It was J-term, and it was cold, so we poured hot tea as we settled into our places in front of a lit fireplace and began the session with a chant about gratitude. We were 11 students and one faculty member, with Professor Rebecca Gould and myself as leaders. While we came from a variety of spiritual backgrounds, we were there to learn from one another and ourselves about how spiritual practice could help ground and sustain social action, and we were using the wisdom of the Jewish tradition to do it.
Social justice and action have always been a huge part of college life. These days, they feel as urgent as they ever have, with multiple issues at hand, from systemic racism to the climate crisis to immigrant rights. With so much urgency, and with a sometimes-caustic culture within activist circles of "callouts" and egos, it is all too easy to feel burned out, rather than inspired, by one's activism. Those challenging cultures can also derail the effectiveness of the activism itself. Organizers may want immediate results, when the situation may actually call for more patience. An uncompromising opponent may be better swayed by close listening than by demands.
The Inside Out Wisdom and Action (IOWA) Project aims to address all of these conditions by using traditional Jewish practices to help ground and guide people who are working for change. Based on a book of the same name by Rabbi David Jaffe, the program offers a curriculum to teach to small groups of students who want to grow spiritually in order to support the effectiveness of their social change work. They are introduced to practices such as journaling, meditation, and deep listening with study partners. The group worked with one virtue, or "soul trait" each session—a practice adopted from the Jewish practice of Mussar, an ethical practice of going deeply into a virtue to increase your capacity to practice it in life. Humility, trust, finding good points in oneself and others, and the significance of rest were just some of the virtues we worked on over the course of J-term and the spring.
Our group welcomed any member of campus, regardless of their religious or nonreligious background; the practices we taught through IOWA may have been drawn from Judaism, but the virtues we were working on were universal. We read Jewish texts right alongside texts from Martin Luther King and other traditions. We debriefed the experiences some of the students were having organizing on campus, and we offered group wisdom for approaching challenges that were arising on campus and within individuals' lives.
Although the group ended on a Zoom call, with everyone in different locations rather than gathered cozily in the Hathaway House living room, the appreciation and gratitude were palpable through the ether. Professor Gould and I look forward to offering this group again to the next generation of students seeking change—for themselves and for their many communities.
Charles P. Scott Center for Spiritual and Religious Life
46 South Street
Middlebury, VT 05753