Enter Your Previous Pay Hours!

DEAR STUDENTS, STAFF, AND FACULTY,
Here's an important action you may need to take as we get ready to switch to our new human resources system, Oracle HCM.
If you're a non-exempt Middlebury employee—staff or student—with time from a previous pay period, YOU MUST ENTER that previous time in pay period #6, which ends 3/8/20.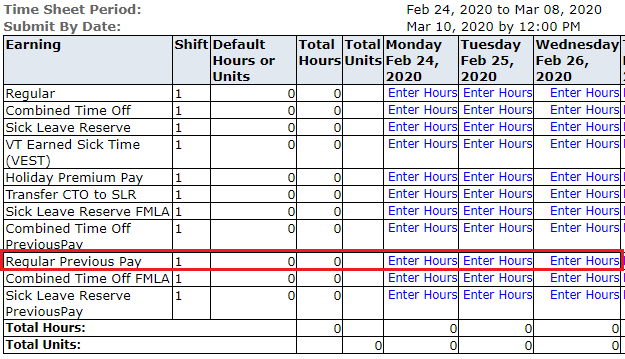 After HCM goes live on March 15, everyone will complete dual-entry in both Banner and Oracle HCM during the first pay period. If you still have time from a previous pay period after Oracle HCM launches, you will not be able to enter it in Oracle, which means a member of the Middlebury HR team would need to manually transfer your previous pay hours into the new system. We hope to avoid that task!
So, please enter your previous hours in your timesheet for pay period #6, which ends 3/8/20.
If you have any questions about this process, please email HR@middlebury.edu.
Thank you,
Middlebury HCM Team