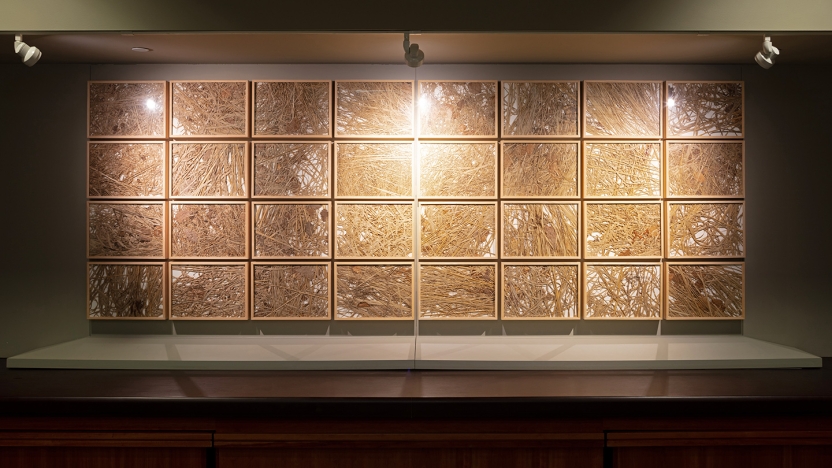 herman de vries (Dutch, born 1931)
wintergräser [winter grass], 2013
Dried grass, collected at random and mounted in frames, 32 pieces, each 9 7/8 x 13 3/4 inches
Collection of Middlebury College Museum of Art, Vermont. Purchase with funds provided by the Reva B. Seybolt '72 Art Acquisition Fund, the G. Crossan Seybolt '77 Art Acquisition Fund, and the Calvert H. Seybolt '80 Art Acquisition Fund, 2014.020. Copyright © herman de vries.
Acquired by the Committee on Art in Public Places in commemoration of the fiftieth anniversary of the Environmental Studies Program at Middlebury College.
Location: Lobby of the Franklin Environmental Center at Hillcrest
---
Trained as a botanist, herman de vries became active as an artist during the 1960s. By the early 1970s he increasingly sought aesthetic inspiration in nature, and the resulting body of work is situated poetically on the intersection of art and science.
For wintergräser, a work consisting of what de vries calls "vegetation-cuts," the artist ventured into the fields near his home in Eshenau, Bavaria, during early spring, 2013. There he collected sheaves of vegetation that had been pressed down by the winter snow. Without any particular order or orientation he then cut, dried, framed, and arranged the various grasses in a grid. The species contained in the frames are Purple Moor-Grass (Molinia Caerulea), Small-Reed or Bushgrass (Calamagrostis Epigeios), Reed Canary Grass (Phalaris Arundinacea), and at least one other unidentified species.