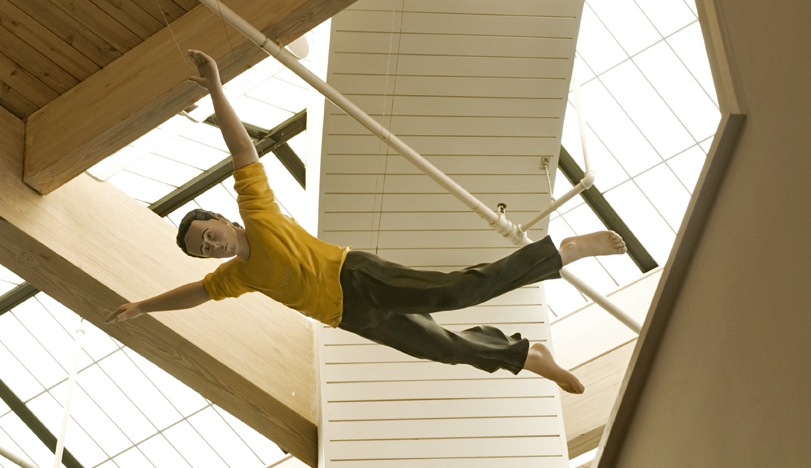 Jonathan Borofsky (American, born 1942)
I dreamed I could fly at 3,876,225, 1984–1992
Acrylic on urethane foam, 19 1/2 x 58 x 39 inches
Collection of Middlebury College Museum of Art, Vermont. Gift of the Overbrook Foundation, 1995.009.
Location: Above the North entrance of the Mahaney Arts Center
Although Jonathan Borofsky's I dreamed I could Fly at 3,876,225 may initially seem ominous—the sculpture of a human figure appears just to have leapt into space—the title confines this flying figure's mission to the realm of dreams.
Borofsky acknowledges that almost all of his art consists of self-portraits; he has explored the concept of dreaming in his work since the early 1970s. He often includes imagery culled from his dreams, as in I Dreamed I was taller than Picasso at 2,047,324 (1973). Counting systems, implied by the large numbers in the titles of many of his works, are also a recurring theme.
I dreamed I could Fly at 3,876,225 places the fantasy world of the dream in juxtaposition with the concrete and conceptual act of counting. In this whimsical sculpture, Borofsky seems to create a visual record of one moment in an endless series of moments, both real and imagined.