Chaos Reigns at Middlebury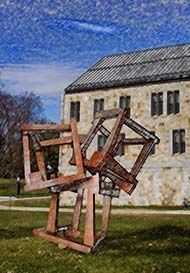 A New Sculpture, Chaos Xaxis by Jedd Novatt, to be Installed
For immediate release: 9/9/15
For further information contact: Douglas Perkins, Administrative Operations Manager, deperkin@middlebury.edu or (802) 443-5235
Middlebury, VT— On Thursday, September 17, a significant addition to Middlebury's burgeoning collection of public art will be unveiled. Chaos Xaxis, a non-representational sculpture by American artist Jedd Novatt that is part of his Chaos Series, is being installed on the lawn between Route 30 and the southeast façade of the Axinn Center for Literary and Cultural Studies at Starr Library.
The gift of an anonymous donor, Chaos Xaxis stands some 14 feet high by 13 feet wide. An architectonic composition consisting of three box-like, open forms that intersect in a dynamic configuration, the work exerts a strong dramatic presence. Its warm bronze formal elements, each individually tapered, create an intricate framework that affords myriad views of the surrounding lawns and buildings. And although its dimensions are large and its weight considerable—nearly four metric tons—the open composition allows one to see through it from every vantage point.
Other works in the Chaos series have been described as "in a process of being formed from the primordial state of disorder to which the series title alludes…[they seem to be] in a perpetual state of becoming…"
The public unveiling of Chaos Xaxis marks the conclusion of a 7-month series of deliberations by CAPP, the College's Committee on Art in Public Places, which oversees the acquisition, installation, and maintenance of public art on campus. Brought to Middlebury's attention by Ron Marks P'14, a member of the College's Arts Council, and subsequently previewed at the artist's studio in Paris, the work was presented as a possible gift to the college in May. At that time it was acquired for installation by fall 2015. The site, selected by the committee in consultation with the artist, was approved by the college in July.
In June the sculpture was shipped from its foundry near Bilbao, Spain, to New York, and from there trucked to Middlebury. Arriving in late July, it has been stored in a local facility while its site has been prepared. Overseen by Museum Designer Ken Pohlman, the creation of a concrete plinth to support the sculpture was completed in late August. The final phase of the installation, made possible with funds donated by Marks, will take place in early September.
Novatt was born in New York in 1958 and educated at Sarah Lawrence College. He pursued his study of art at L'École des Beaux-Arts Lacoste, in France, a school now associated with the Savannah [Georgia] College of Art and Design, and he has lived and maintained a studio in Paris for more than a decade. He creates his large-scale steel and bronze sculptures at a foundry in Spain.
Novatt's work is represented in numerous important private collections internationally, as well as public collections including the Cleveland Museum of Art, La Piscine—Musée d'Art et d'Industrie de Roubaix, the List Visual Arts Centre at MIT, the Art Museum at Princeton University, the David Winton Bell Gallery at Brown University, Boca Raton Museum of Art, and the Savannah College of Art and Design.
Two recent monumental works in the Chaos series were permanently acquired and installed in 2013 on the grounds of the new Herzon and de Meuron-designed Pérez Art Museum in Miami (PAMM). The city of Bilbao acquired Novatt's monumental sculpture Chaos Nervion to be placed permanently outside the Guggenheim Museum Bilbao. Beyond these public institutions, Novatt's sculpture has appeared at gallery exhibitions in New York, Hong Kong, London, Singapore, Paris, Moscow, Milan, Miami, and Los Angeles, among many other cities worldwide.
Novatt's works have been selected for the prestigious Sotheby's Beyond Limits exhibition at Chatsworth House in England. (2008–2013)
According to Pieter Broucke, Director of the Arts, Professor of History of Art and Architecture, and a member of CAPP, Novatt's Chaos series "plays against our expectations of rational, geometric order deployed by such Minimalist artists as Sol Lewitt, Donald Judd, or Tony Smith. In contrast, Novatt's building blocks are distended approximations of cubes in which the vertices do not come together at strict right angles. Neither are the ribs themselves straight beams: each of them is tapered in its own particular manner…the clearly legible but ostensibly unbalanced configurations appear to teeter on the verge of collapse, seemingly defying gravity. The resulting style invokes both stability and instability, rest and motion."
At Middlebury the Novatt complements two distinguished public sculptures conceived in a similarly architectonic and geometrically abstract vocabulary: Tony Smith's Smog, a tight composition of painted aluminum octahedrons that form a web hovering over the ground in front of McCardell Bicentennial Hall; and George Rickey's 1976 kinetic sculpture Two Open Rectangles, Excentric Variation VI, in front of the Christian A. Johnson Memorial Building.
The Committee on Public Art, founded at the College in 1994, oversees 23 public works of art on campus. Many of these were acquired by Middlebury's pioneering "one per cent for art" policy, enacted by the Trustees of the College for the purpose of designating a fraction of the cost of all capital projects in excess of one million dollars to works of art. Like the present sculpture, most of the additions to the collection in recent years have come as gifts to the College.
Director of the Middlebury College Museum of Art Richard Saunders chairs the Committee on Art in Public Places. Members include Trustees, museum staff, faculty, students, and members of the College administration. For additional information about CAPP and the collection it oversees, please visit the CAPP website or pick up a copy of the Art in Public Places brochure at the museum.
Associated Events
A Conversation with Artist Jedd Novatt
Wednesday, September 16, 4:30 p.m., Johnson Memorial Building, Room 304
Sponsored by the Johnson Visual Arts Residency Program Fund, the Middlebury College Museum of Art, and the Committee on Art in Public Places.
Career Panel—The Art Market Today: The Business of Collecting and Dealing
Thursday, September 17, 12:15 p.m., Axinn Center at Starr Library, Abernethy Room
Sponsored by CCI, the Department of the History of Art and Architecture, the Middlebury College Museum of Art, and the Committee on Art in Public Places.
Installation Celebration Ceremony for Chaos Xaxis
Thursday, September 17, 4:30 p.m., Axinn Center at Starr Library, Southeast Lawn
A reception in honor of the artist will follow the formal inauguration.
---
The Middlebury College Museum of Art, located in the Mahaney Center for the Arts on Rte. 30 on the southern edge of campus, is free and open to the public Tuesday through Friday from 10 a.m. to 5 p.m., and Saturday and Sunday from noon to 5 p.m. It is closed Mondays. The museum is physically accessible. Parking is available in the Mahaney Center for the Arts parking lot. For further information and to confirm dates and times of scheduled events, please call (802) 443–5007 or TTY (802) 443–3155, or visit the museum's website at museum.middlebury.edu.