Christian Cross with the Apostles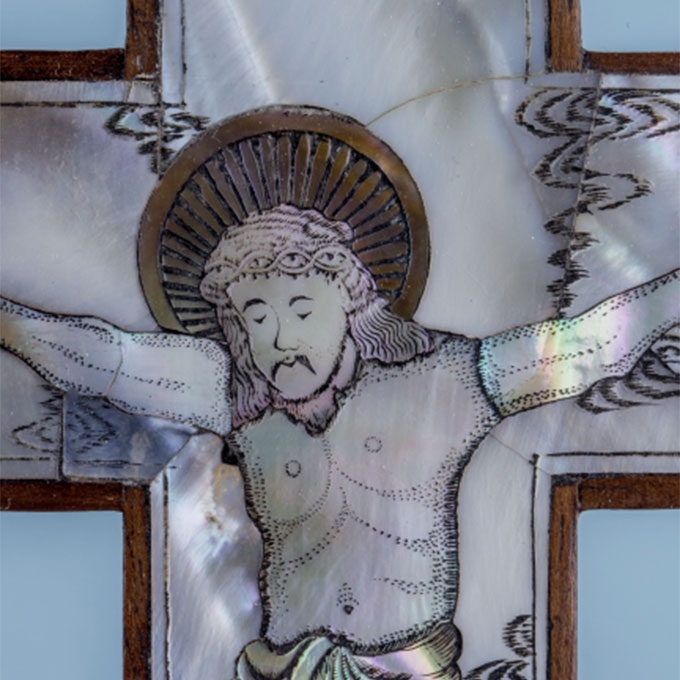 Christian Cross with the Apostles, Chinese, Macau, 17th–18th century, wood inlaid with mother-of-pearl. Collection of Middlebury College Museum of Art. Purchase with funds provided by the Walter Cerf Art Fund, 2018.038.
The Portuguese colony of Macau, near Hong Kong, sat at the center of three global trade routes during the seventeenth and eighteenth centuries. As it grew from a remote outpost into a trading and manufacturing hub, Jesuit missionaries began to accompany merchants to Asia to proselytize to the local populations. This apostles cross embodies the internationalism of Macau at this time and demonstrates how craftsmen merged European and Chinese imagery to create new forms. At the end of each of the three arms are trefoils reminiscent of the European cross bottonée, whose three buds represent the Holy Trinity—yet their shape also mimics the head of a Chinese ceremonial ruyi scepter. At the bottom of the cross, St. Peter and two unidentified apostles stand around what appear to be lotus flowers, perhaps alluding to the concept of rebirth in Buddhism. This cross reminds us that Christianity has deep roots in China—a similar intermingling of iconography is also seen earlier on 13th-century Nestorian tombstones excavated in Quanzhou—and that Macau was important later site of cultural synthesis between East and West.
Hunter Parkhill '21.5
Barbara P. and Robert P. Youngman Asian Curatorial Intern, 2018–2019