Edward Weston, North Shore, Point Lobos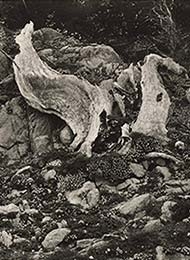 Edward Weston (American, 1886-1958), North Shore, Point Lobos, 1946, gelatin silver print, 7 1/2 x 9 5/8 inches. Collection of Middlebury College Museum of Art, Vermont. Purchase with funds provided by the Fine Arts Acquisition Fund, 2012.036.
As one of the most innovative and influential photographers of the 20th century, Edward Weston is largely responsible for having people see photography as an art form. A Chicago native, he traveled extensively and took many photographs along the way. One place in particular, Point Lobos, California, caught his eye. Weston always had a particular fixation on shooting nudes, but he often found that shooting landscapes at this serene, coastal area was irresistible. So in his final years, 1946–1958, Weston chose to reside in California at a small, unincorporated community called Carmel Highlands. Weston took many photos here, including this one, of the unusual rock formations on the beautiful Northern California coastline.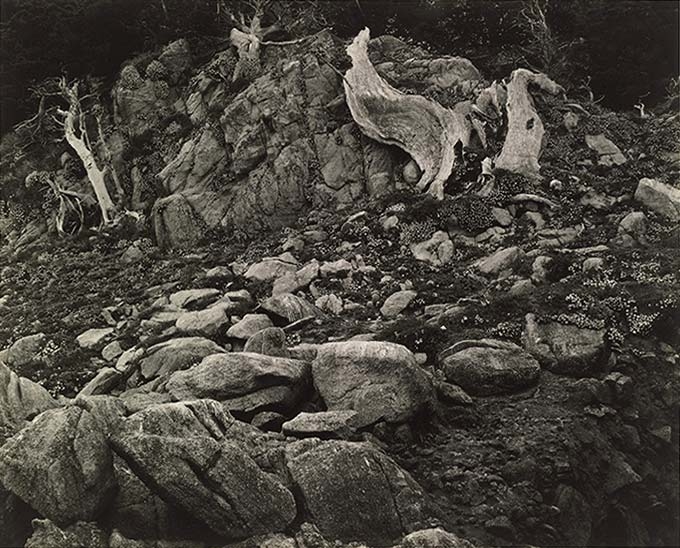 During the late 1940s when this image was taken, Weston's photography was becoming increasingly personal. He began to capture private picnics, trips in his car, and his family and friends—all of which were subjects he avoided in his earlier years. Stricken with Parkinson's disease in 1948, this photo is one of the last Weston took and developed on his own, before he was forced to abandon his career. The beauty in this image derives from Weston's overpowering sense of place at Point Lobos, the sharp lens focus, the flawlessness of a natural form, and the thorough attention to detail in his printing. This image, among many, illustrates how Weston often renounced the use of manipulation in his photographs in order to depict the realities of the world. This style of photography is referred to as "Pure and Straight Photography," a term coined in the late 1800s when photographers began to create photographic prints that were not manipulated in any way. Weston will always be recognized for the simple, yet emotionally charged, clarity of his pictures. In viewing this photograph we find that Weston's main goal was not to manipulate but rather merely to capture the beauty of Point Lobos.
Christine Ritter '16
Museum Intern