Photographer David Maisel to Speak at Middlebury
David Maisel will speak on Tuesday, November 7, at 4:30 p.m. in Room 125 of Middlebury College's Mahaney Center for the Arts. Maisel's work is featured in the current museum exhibition Land and Lens: Photographers Envision the Environment.
In his ongoing, multi-chaptered series Black Maps, David Maisel's aerial photographs of environmentally impacted sites explore the aesthetics and politics of radically human-altered environments, framing the issues of contemporary landscape with equal measures of documentation and metaphor. His series Lake Project depicts the desiccated Owens Lake in California. The lake, once approximately 200 square miles, now is the largest source of particulate pollution in the United States. The Owens River, the lake's source of water, was diverted in 1913 to feed the Los Angeles Aqueduct, and by 1926 the lake had been depleted, exposing vast mineral flats and transforming a fertile valley into an arid landscape. The exposed minerals, such as cadmium, chromium, arsenic, and others, produce toxic dust storms and give rise to blooms of microscopic bacteria in the water that remains in the lake, turning the liquid a deep, bloody red.
Maisel's photographs take the landscape and present it with little context—the scale is often difficult to interpret, leaving the viewer with a sense of looking on an abstract piece of art rather than the literal representation expected of photographs. The viewer looks down onto a landscape that has been radically altered by humanity. This is, as Maisel puts it, the apocalyptic sublime—a strange beauty born of environmental degradation. This contemporary twist of the 18th century aesthetic term brings humanity's impact into stark focus, highlighting the sites he photographs as beautiful and terrifying reminders of the power humans can hold over nature. His photographs are equally aesthetic and unsettling, leaving the viewer to grapple with the enormity of and the destruction that this power creates.
Land and Lens will remain on view at the Museum through December 10.
The Middlebury College Museum of Art, located in the Kevin P. Mahaney '84 Center for the Arts on Rte. 30 on the southern edge of campus, is free and open to the public Tues. through Fri. from 10 a.m. to 5 p.m., and Sat. and Sun. from noon to 5 p.m. It is closed Mondays. The museum is physically accessible. Parking is available in the Mahaney Center parking lot. For further information and to confirm dates and times of scheduled events, please call (802) 443–5007 or TTY (802) 443–3155, or visit the museum's website at museum.middlebury.edu.
Press Image
---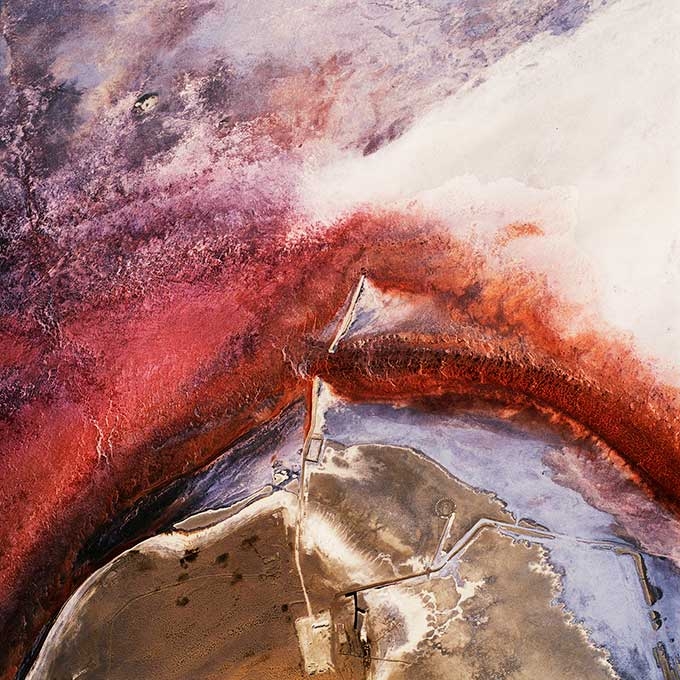 David Maisel (American, b. 1961), Lake Project 19, 2002, archival pigment print, 28 7/8 x 29 inches. Collection of Middlebury College Museum of Art. Purchase with funds provided by the Fine Arts Acquisition Fund, 2016.082.