Sabarsky Foundation Supports Museum Exhibits, Programs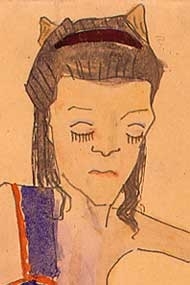 Middlebury College Museum of Art Receives Award from the Sabarsky Foundation for Exhibition and Program Support
For immediate release: 5/6/13
For further information contact: Douglas Perkins, Administrative Operations Manager, at deperkin@middlebury.edu or (802) 443-5235
Middlebury, VT—The Middlebury College Museum of Art has received a gift from the Serge and Vally Sabarsky Foundation in New York that will establish a three-year initiative to bring to Middlebury a series of exhibitions developed from the Foundation's extensive collections of German and Austrian art from the period 1890–1940.
The impetus for the gift was a wish by the Foundation to make its collections of drawings, watercolors, prints, paintings and sculpture accessible to students and faculty for academic courses and student-curated exhibitions. The gift provides funding for a series of three exhibits beginning in the fall 2014 that will be the outgrowth of courses taught by faculty in the German Department and the Department of History of Art and Architecture. The exhibits and related courses will focus on German art during the years of the Weimar Republic (1919–1933); depictions of the body in early 20th century Germany and Austria; and visual expression and reform in Vienna c. 1900.
In addition to exhibition support the gift will provide for the appointment of a Middlebury graduate to serve as a liaison between the Foundation and the Museum, along with related programs in the performing arts, as part of broader initiatives devoted to the study of German and Austrian culture.
Serge Sabarsky (1912–1996), who was born in Vienna into a wealthy family of Russian Jewish expatriates, became best-known as a New York dealer of German and Austrian art after opening a Madison Avenue gallery in 1968. Sabarsky was also a co-founder of the Neue Galerie (NY), along with his close friend and fellow collector Ronald Lauder, for whom he had served as a mentor. His appreciation of German and Austrian art emerged in the decade after World War II during which time he began to collect, eventually becoming one of the foremost collectors of the art of this period. Today, the Sabarsky Collection includes nearly 1,800 works from the major movements of the time—Der Blaue Reiter, Die Brücke, the Bauhaus, Die Neue Sachlichkeit—and specifically includes works by Gustav Klimt, Egon Schiele, Oskar Kokoschka, Paul Klee, August Macke, Ernst Ludwig Kirchner, Hermann Max Pechstein, Karl Schmidt-Rottluff, Lyonel Feininger, Otto Dix, and George Grosz among many others.
"This is a very exciting opportunity for Middlebury. We are thrilled to be able to collaborate with the Sabarsky Foundation on this program and give our students and faculty access to one of the finest collections of German and Austrian art in the United States," said Richard Saunders, Director of the Middlebury College Museum of Art and Walter Cerf Distinguished College Professor. "The ability to work with students taking courses in German language and literature is a great example of how a college art museum can expand its reach to students in an ever wider range of academic disciplines," he added.
"This grant and the access to some of the most exciting works of art from the early 20th century is a unique opportunity for our students and also for me as a faculty member," said Bettina Matthias, Professor of German at Middlebury. "Being able to work with artifacts about which we can normally only read or learn online will add a crucial experiential dimension to our understanding of the culture of the early 1900s, and being responsible for and able to present them to the public in a meaningful way through exhibits and related programing really is a once-in-a-lifetime opportunity for which we are truly grateful."
The Middlebury College Museum of Art, located in the Mahaney Center for the Arts on Rte. 30 on the southern edge of campus, is free and open to the public Tues. through Fri. from 10 a.m. to 5 p.m., and Sat. and Sun. from noon to 5 p.m. It is closed Mondays. The museum is physically accessible. Parking is available in the Mahaney Center for the Arts parking lot. For further information and to confirm dates and times of scheduled events, please call (802) 443–5007 or TTY (802) 443–3155, or visit the museum's website at museum.middlebury.edu.