Silent Auction of Chinese Kites to Benefit United Way July 8–August 10, 2008
For immediate release: 6/30/08
For further information contact: Douglas Perkins, (802) 443–5235
Middlebury, VT—The Middlebury College Museum of Art will hold a silent auction of hand-made Chinese kites to benefit the United Way of Addison County from Tues., July 8, through Sun., Aug. 10.
Most of the kites were acquired by Colin Mackenzie, the Robert P. Youngman Curator of Asian Art, in the small village of Yangjiabu, near Weifang, in Shandong province in eastern China, and they are currently on display in the museum's Christian A. Johnson Gallery as part of the exhibit Wafting on a Heavenly Breeze: Hand-Painted Kites from China.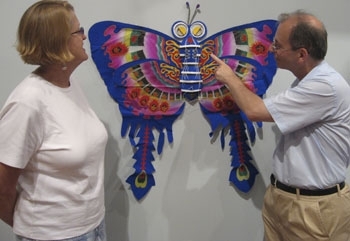 Helen Freismuth, Co-Director of the United Way of Addison County, and Colin Mackenzie, Robert P. Youngman Curator of Asian Art at Middlebury, with a butterfly kite that will be raffled in connection with the silent auction.
Weifang is regarded as the birthplace of kite-making, and the family-run Yangjiabu kite workshops are famous throughout China for the high quality of their products. The workshops produce large numbers of kites to a range of standardized designs, and although no kite is unique, they are all hand-made using traditional materials, bamboo and silk, and are hand painted with a variety of colorful designs. All are in the form of animals and birds and include mythological and symbolic themes. Ranging in size from around 14 inches to over six feet in width, they also include three very long (over 60 feet) "concertina" kites in the form of a dragon, a monkey, and a centipede, respectively.
"I went out to Yangjiabu especially to get to the source of the kites," said Mackenzie. "The skill of the kite-makers is amazing. The way that they can cut bamboo into the thinnest of strips and then bend it into the required shapes is really ingenious. Although we are selling these for decorative display, some of them actually fly quite well in the hands of an experienced kite flyer.
"Kites occupy a central place in Chinese folk culture and it is easy to imagine Chinese children hundreds of years ago flying similar kites," Mackenzie continued. "We hope that the auction of these kites will not only make a financial contribution to the United Way, but will also provide years of pleasure to the families who acquire them."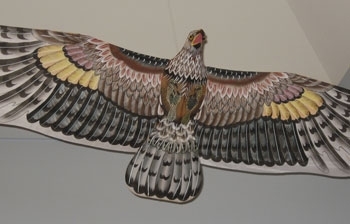 A large eagle kite that is part of the auction.
Bids for the silent auction can be made in increments of $5 and will only be accepted in person; no e-mail, telephone, fax or other form of proxy bids will be accepted. Bid sheets for each available kite with minimum bids will be located in a notebook in one corner of the Johnson Gallery. Existing bids will be declared final at 4 p.m. on Aug. 10. Successful bidders must purchase and collect their kites at the museum Thurs., Aug. 14 or Fri., Aug. 15.
In addition to the silent auction, one kite will be given away through a raffle. Tickets will be available for purchase at the reception desk of the museum. Cost will be $2 per ticket or $5 for three tickets. The drawing will be held at 4 p.m. on Aug. 10 following the close of the auction.
The Middlebury College Museum of Art, located on Route 30 on the southern edge of campus, is free and open to the public Tuesday through Friday from 10 a.m. to 5 p.m., and Saturday and Sunday from noon to 5 p.m. It is closed Mondays. The Museum is accessible to people with varying disabilities. Parking is available in the Center for the Arts parking lot. For further information, please call (802) 443–5007 or TTY (802) 443–3155, or visit the Museum's website at museum.middlebury.edu.