Student-Curated Exhibit Looks at the Art of Germany's First Democracy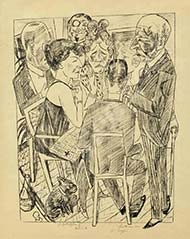 Visual Weimar, 1919–1933
September 2–December 7, 2014
For immediate release: 8/28/14
For further information contact: Emmie Donadio, Chief Curator, at donadio@middlebury.edu or (802) 443-2240
Middlebury, VT—On Tuesday, September 2 the Middlebury College Museum of Art will open a new exhibition titled Visual Weimar, 1919–1933. It will contain 25 works by German and Austrian artists created during the years of the Weimar Republic.
The Republic, Germany's first democracy, was founded shortly after the end of World War I. The Treaty of Versailles, signed in June 1919, officially ended the war and imposed heavy sanctions that plagued the state throughout its brief existence. Aside from the newly dominant effects of modernization—electricity, traffic, American-style mass entertainment—Germans also confronted extreme poverty, inflation, widespread starvation, human mutilation from war, and a sharp increase in crime and prostitution.
These particular visual stimuli, both exciting and horrifying, provoked strong reactions from the artists on display for this exhibit. Visual Weimar includes paintings, drawings, and etchings by prominent artists including George Grosz, Max Beckmann, Otto Dix, Käthe Kollwitz, Erich Heckel, and Lyonel Feininger. Through their work these artists in turn contributed substantially to the highly visual culture of Weimar Germany.
Although many of the artists in the exhibition are labeled "Expressionist," the styles they used and subjects they depicted shifted widely; some, like Grosz, Beckmann, and Dix, were particularly critical of Weimar culture—their works tend to contain moments of daily city life, depicted in satirical fashion—while others like Feininger worked in the Bauhaus as aesthetic pioneers, conjuring up scenes shaped through abstract geometry. The works on display reflect this wide variety, from depictions of the (problematic) bourgeois subject, to prostitutes, to victims of starvation, and the corpse of a World War I soldier, to an abstract woodcut depicting sailboats and a village.
The exhibition was built around a Spring 2014 upper-level German class titled "Weimar Germany and Its Legacies." While studying the literature and culture of the time, students were also given access to the works of art and asked to participate in the organization of the show. Additionally, they prepared short, educational animations with German dialogue as a way to bring some of the works to life. These will be available with subtitles on iPads during the exhibition.
As part of a three-year initiative, Visual Weimar consists of works on loan to the Museum from the Serge and Vally Sabarsky Foundation. Aside from providing a generous grant that supports a two-year Graduate Fellow position and exhibition costs, the Foundation will also loan works for two more shows. Occurring in Fall 2015 and Fall 2016, they will be titled respectively The Naked Truth: The Body in Early 20th Century Germany and Austria and Bloom and Doom: Visual Expressions and Reform in Vienna 1900.
The Middlebury College Museum of Art, located in the Mahaney Center for the Arts on Rte. 30 on the southern edge of campus, is free and open to the public Tues. through Fri. from 10 a.m. to 5 p.m., and Sat. and Sun. from noon to 5 p.m. It is closed Mondays. The museum is physically accessible. Parking is available in the Mahaney Center for the Arts parking lot. For further information and to confirm dates and times of scheduled events, please call (802) 443–5007 or TTY (802) 443–3155, or visit the museum's website at museum.middlebury.edu.