Tires and Insulation are Reborn as 6,000–Pound Sculpture at Hillcrest Environmental Center
For immediate release: August 13, 2007
Contact: Emmie Donadio, Chief Curator, (802) 443–2240, donadio@middlebury.edu
Middlebury, Vt.—Solid State Change, a provocative and original sculpture by artist Deborah Fisher, was installed this week on the grounds of the recently completed Hillcrest Environmental Center, Route 125, on the Middlebury College Campus. The sculpture was created from discarded materials that are not biodegradable and not accepted at most landfill sites—primarily rubber tires and the plastic insulation from copper wire. Working from the ground up, Fisher has assembled strata of these recycled elements, supported by a steel armature and held together with 24,000 stainless steel screws. The result is a 6000-pound organic form that appears to have emerged from the ground.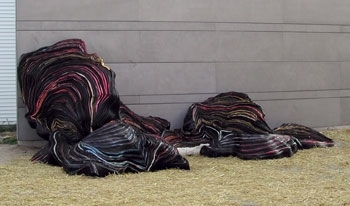 Using a public art model mandated by numerous states, cities and government agencies, the College adopted its own Percent-for-Art guidelines in 1994, establishing CAPP to steer the program. In conjunction with the planned renovation and expansion of Hillcrest, a former dormitory, CAPP began in early 2006 to consider a number of artists who focus on environmental issues. As a result, Fisher was invited to visit the campus last July, to meet with the Hillcrest team, and to return to CAPP in the fall of 2006 with a proposal.
The artist presented her ideas for a site-specific work, Solid State Change, which was inspired by the geology and topography of Vermont and alludes to the metamorphic bedrock beneath Middlebury. Working with architect Steve Smith of the Burlington firm Smith Alvarez and Sienkiewycz, Fisher conceived the sculpture in relationship to the exterior curved wall planned as part of the Hillcrest expansion.