Walter H. Williams, Jr., Untitled (Seated Man with Bowed Head)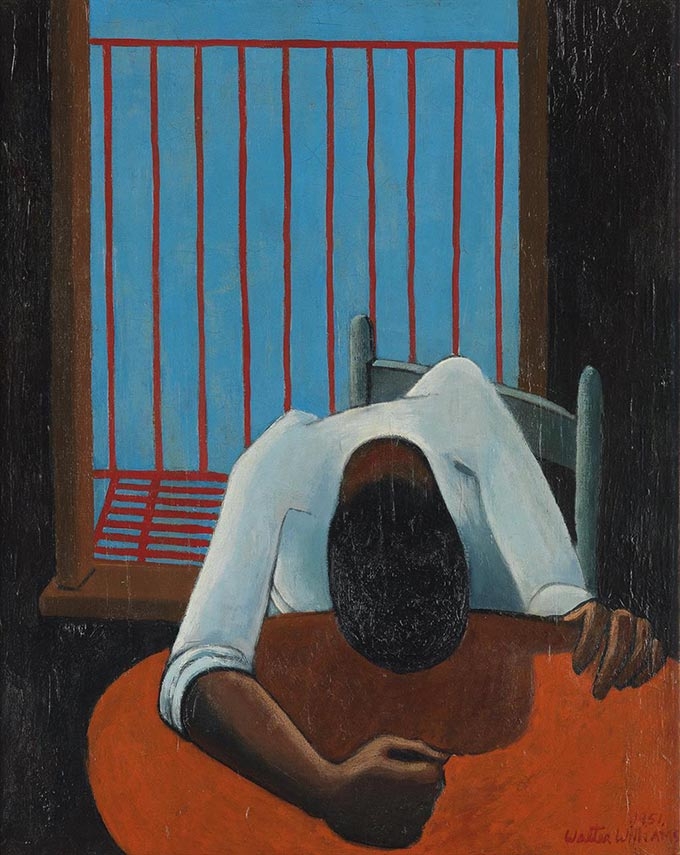 Walter H. Williams, Jr. (American, 1920–1988), Untitled (Seated Man with Bowed Head), 1951, oil on canvas, 30 x 24 inches. Purchase with funds provided by the Walter Cerf Art Fund and the Friends of the Art Museum, 2018.111.
Walter Williams is one of a small group of artists who became expatriate painters in Europe in the 1960s in response to the discrimination they faced as African Americans in post-World War II United States. Born in Brooklyn, Williams was drafted into the army (1942–45), after which the G.I. Bill enabled him to enter the Brooklyn Museum Art School (1951–55), where he studied with Ben Shahn, among others.
Here a despondent tenement resident bows his head and clenches his fist in response to the daily challenges faced by a black person in America. Both the starkness of the setting and the choice of colors—particularly the red fire escape set against a sky-blue background—recall the preferences of his teacher Shahn, who used a similarly vibrant palette in his own tale of despondence, The Red Stairway, which was acquired by the St. Louis Art Museum a few years earlier.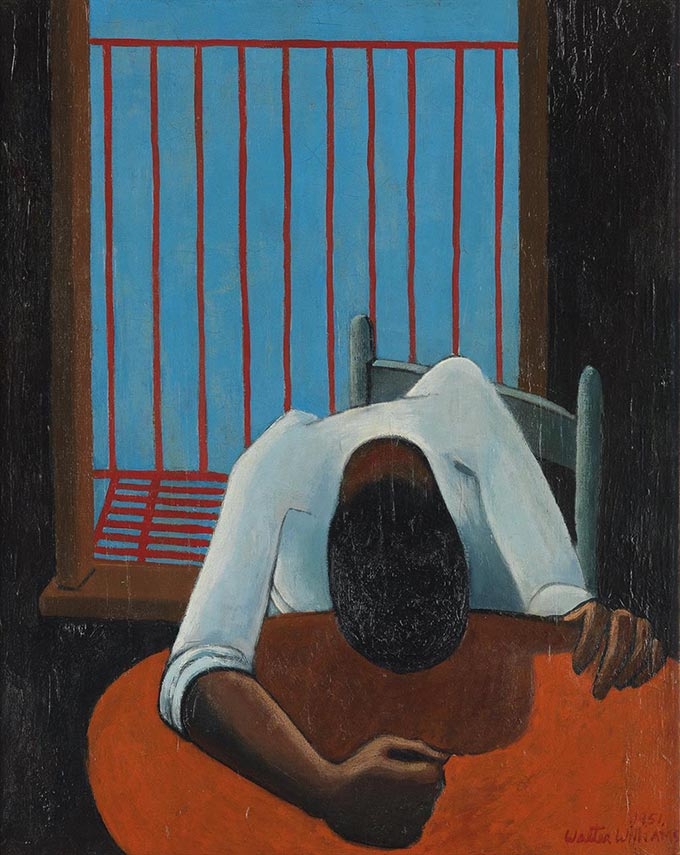 The bold red fire escape has echoes of prison bars separating the man from the beautiful blue sky outside his apartment window. The subject's bowed head speaks to a sense of desperation, even as his clenched fist—tinged in a beautiful highlight—offers glimmers of hope: with the benefit of hindsight, we can read it as anticipating the raised fists of Civil Rights and Black Power movements of the succeeding decade.