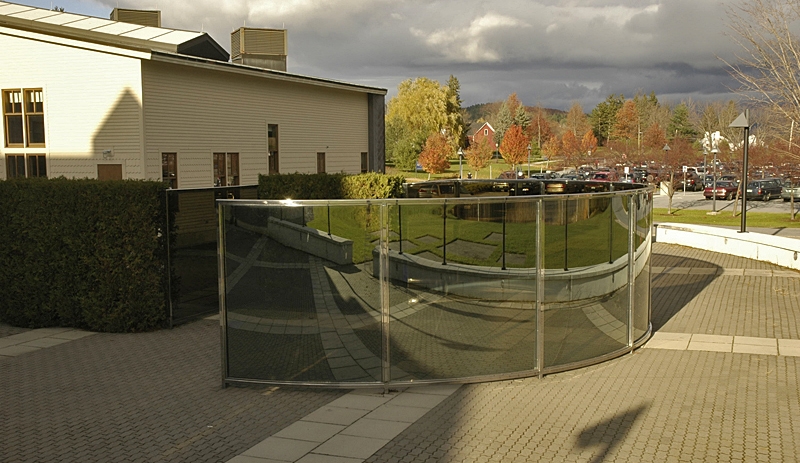 Dan Graham (American, 1942–2022)
Two-Way Mirror Curved Hedge Zig-Zag Labyrinth, 1996
Glass, steel, Arborvitae nigra, Height: 7 1/2 feet, radius: 15 feet
Collection of Middlebury College Museum of Art, Vermont. Purchase with funds from the Overbrook Foundation and the Juliet Lea Hillman Simonds Foundation, with contributions from the Middlebury College Frederick and Martha Lapham Art Acquisition Fund and the Walter Cerf Art Fund, 1996.067. Copyright © Dan Graham.
Location: Courtyard of the Mahaney Arts Center
---
Dan Graham's Two-Way Mirror Curved Hedge Zig-Zag Labyrinth invites active participation while continuing the artist's ongoing investigation of the dynamics of public space. Unlike pavilions traditionally erected in gardens and parks, Graham's do not have any apparent practical function, and they blur the boundaries between architecture and sculpture.
Graham designed this work to be experienced both from outside and within. The translucent, mirrored glass surface redefines the relationships between object and viewer, viewers inside and outside the pavilion, the object and its surroundings. The reflections of sun and skyscape shift with unceasing variation when the weather is beautiful, as well as echoing the drabness of overcast days. The juxtaposition of industrial and commercial materials with living hedges serves to conjoin nature and the constructs of society.
This pavilion was designed specifically for its site on the plaza of the Mahaney Arts Center. Similar pavilions adorn the rooftops of the Dia Center in New York and the San Francisco Museum of Modern Art.