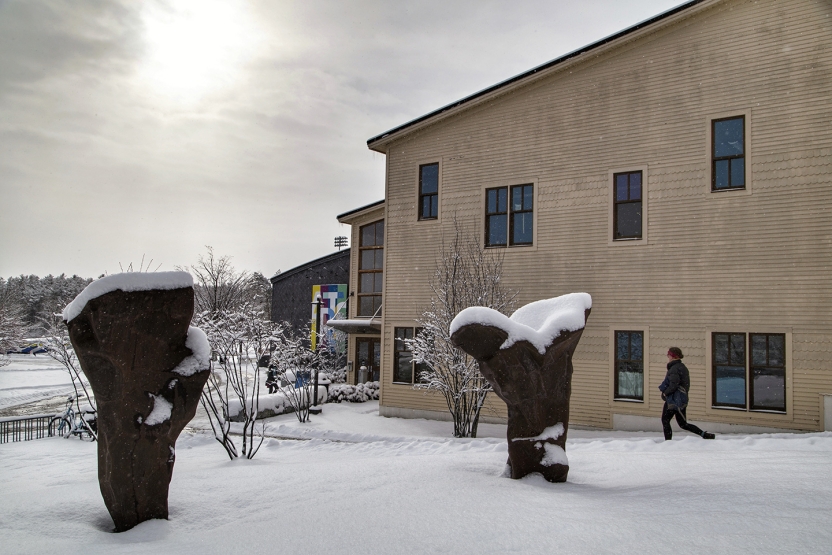 Eric Nelson (American, born 1945)
Commotion: Converse and Grasp, early 1990s
Mild steel, , 82 x 42 inches and 71 x 32 inches, respectively
Collection of Middlebury College Museum of Art, Vermont. Gift of Thomas A. Moser and Virginia Hardy Moser '50, 2017.026.1-2.
Location: Lawn behind Munford House, adjacent to north entrance of the Mahaney Arts Center
---
Visually top-heavy yet grounded in the landscape they inhabit, the two elements that make up this sculptural ensemble reference biological and geological forms. They also evoke human presences engaged with each other: Converse is positioned higher, is expansive, and appears to be addressing Grasp, which is positioned lower, is more self-enclosed, and appears to be receiving.
As is typical of Nelson's sculptural oeuvre, the abstract forms consist of irregular patches of mild steel meticulously welded together. Despite the obdurate material, the shapes appear to be organic. As such they bridge the heroic sculptural expression of Late-Modernism with an animated lyricism more typical of contemporary environmental art.
Eric Nelson was the first tenured Professor of Sculpture at Middlebury College. A versatile artist working in a variety of media, his sculpture, drawings, and photographs are represented in numerous American museum collections and sculpture parks. He lives and works in Addison County, Vermont.