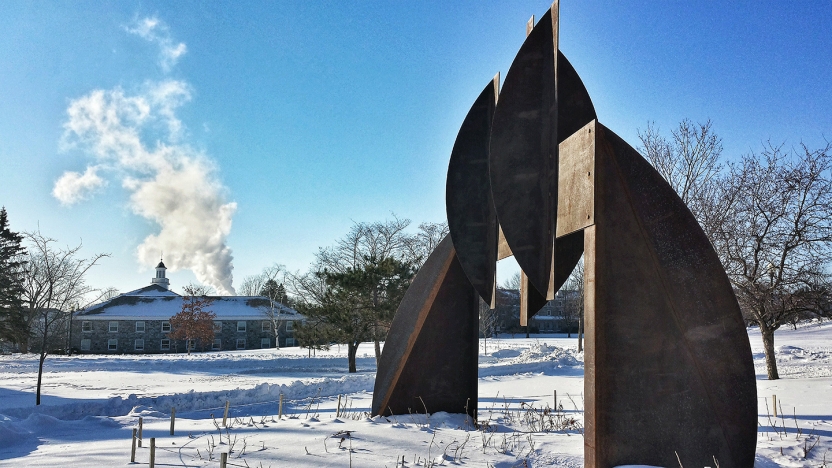 J. Pindyck Miller '60 (American, born 1938)
Youbie Obie, 1972–75, 1985
Corten steel, 15 1/2 x 6 x 15 1/2 feet
Collection of Middlebury College Museum of Art, Vermont. Gift of James and Lauma Katis, 2013.094.
Location: South lawn of Coffrin Hall, adjacent to Le Chateau
---
"Several of the early years of my childhood were spent within walking distance of New York City's Museum of Natural History and the adjacent Hayden Planetarium. Installed on the ceiling of an anteroom to the planetarium dome was a working mechanical model of the solar system. I was mesmerized by this kinetic representation of the various planets and their moons, moving in their respective orbits about the stationary sun. Embodied within this one display were lessons in scale and increment, mechanics, materials and construction, architecture and design, all relevant factors, I would eventually discover, to the making of sculpture."

- J. Pindyck Miller '60
This reminiscence of an early experience of childhood wonder lies at the heart of J. Pindyck Miller's sculptural enterprise. Combining aesthetic perception and an appreciation for the sheer volume of information conveyed by a model of the solar system, the artist became a proponent of articulate formal organization at an early age. Arranging shapes into elements of composition that seem self-contained but also refer to something larger and more significant has always been at the heart of his artistic practice. Youbie Obie, one of the more self-reflexive of his large scale works, refers in its title to the forms that comprise it: an inverted "U" is punctuated by sectional fragments of "O's." As passersby circumnavigate the work, its changing profiles demonstrate a lively syncopation. Seen face-on, in its broadest dimension, the sculpture resembles a gate. Foreshortened when viewed from its narrowest sides, it collapses into arcs and counter-arcs. Placed here, it serves as a dynamic entrance to the northern section of the campus.
In the early 1970s Miller constructed the original Youbie Obie in aluminum, painted white. The material was light enough to permit its transport from one site to another, and it was reconstructed and exhibited at Storm King Art Center, in Mountainville, New York, and at galleries in and around Westchester County as well as New England. In 1985 this Corten enlargement was commissioned by its donors for their home in Greenwich, Connecticut. A trademark designation for steel alloys that produce a raw, unpainted surface that weathers naturally in a warm rust color, Corten became a favorite sculptural medium for artists like Richard Serra and Anthony Caro in the 1970s. It was first used architecturally in 1964 for Eero Saarinen's John Deere Headquarters in Moline, Illinois, and has subsequently been used in the construction of the Chicago World Trade Center as well as the new Barclay's Center sports and entertainment arena at the Atlantic Yards in Brooklyn, New York.
A 1960 alumnus of the college, Miller studied psychology, American literature, and art as an undergraduate. After receiving his degree, he went on to study the techniques of welding and sculptural fabrication at the Silvermine Guild School of Art in Connecticut and at the Brooklyn Museum School. A world traveler, he served in the U.S. Army in the early 1960s, making three-dimensional models and charts for teaching conferences and training annuals. Since 1964 Miller has lived in Putnam County, New York. In addition to making large-scale metal sculpture, he also makes collages and relief sculpture using canvas, wood, cardboard and other diverse materials.