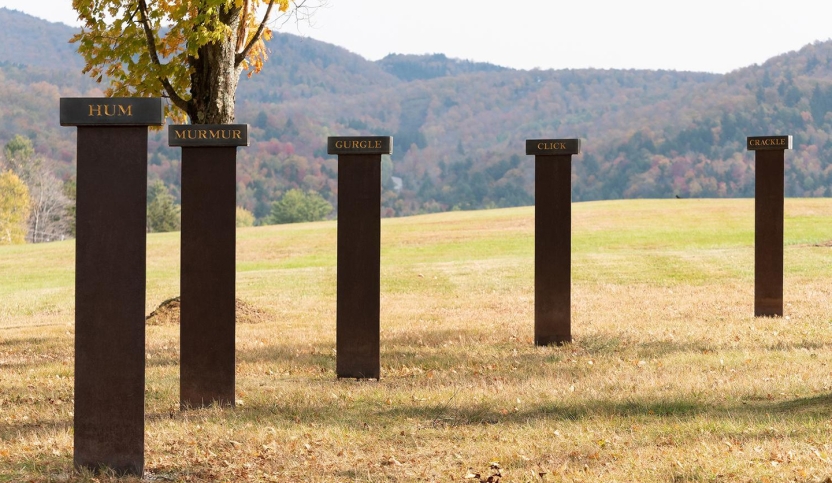 Kate Owen (British, born 1963)
Hieroglyphics for the Ear, 1997
Slate and steel, five stands, each 44 1/2 x 14 x 2 1/4 inches
Collection of Middlebury College Museum of Art, Vermont. Purchase of the Committee on Art in Public Places with funds provided by the Middlebury College Board of Trustees One Percent for Art Policy, 2001.003. Copyright © Kate Owen.
Location: Bread Loaf campus, across the street from Maple Manor
---
The practice of letter cutting has played a large role in society and art throughout history, and is an activity that ties our modern civilization to its ancestral roots. Employing the same essential techniques that have spanned the centuries, London-based letter cutter Kate Owen incorporates the power of language with the permanence of stone carving, so that expressive words are grounded in firm substance.
Hieroglyphics for the Ear is a series of five slates, each with an onomatopoeic word carved on either side. Both the title and the inscriptions of the piece are taken from a Georg Christoph Licthenberg aphorism that declares, "words…which express sounds, are more than mere symbols; They are a kind of Hieroglyphics for the ear." The inscribed words demand a twofold viewing experience: beyond the response that their literal meanings elicit, they exact a consideration of the aesthetic quality of their layout, letterform, and textural presence on the stone.
Hieroglyphics for the Ear is installed in a natural setting, on the pathway linking the Atwater Dining Hall with Nichols House, the residence of the Atwater Commons Faculty Heads.