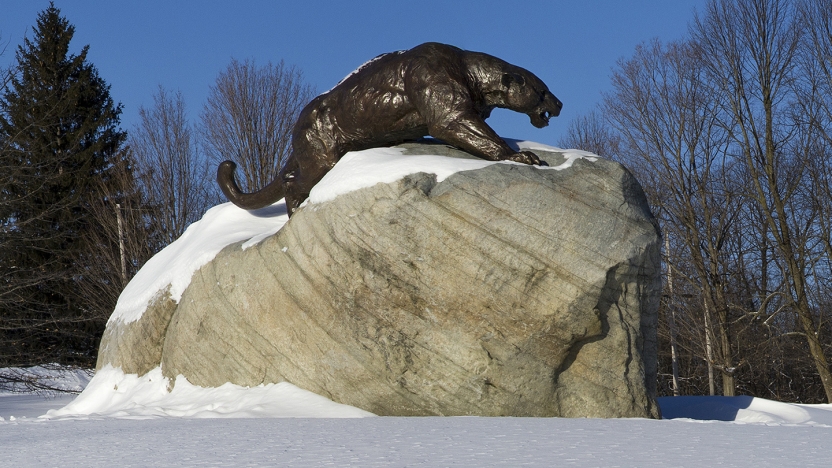 Lorenzo Ghiglieri (American, 1931–2020)
The Middlebury Panther, 1997
Bronze, 4 1/2 x 11 feet (approximately)
Collection of Middlebury College Museum of Art, Vermont. Gift of Mr. and Mrs. Phillip H. Morse and Shelley H. Morse, Class of 1995, 1997.022.
Location: Youngman Field and Alumni Stadium
---
The symbolic function of animals has made them ubiquitous presences in western art. Rulers often commissioned sculptures of their heraldic counterparts from the animal world and used them to represent either themselves or their realms. No image evoked greater awe—from antiquity through the nineteenth century—than equestrian statues of rulers astride a horse.
American colleges and universities typically have animals that serve as their mascots. The black Panther was chosen as Middlebury's after a local merchant established a contest to choose an appropriate symbol for the college in 1922. The sculpture was commissioned from the artist and is sited at the entrance to Youngman Field at Alumni Stadium. Surveying the playing fields, The Middlebury Panther is a fierce beast, apparently stalking its prey from atop a mighty boulder.