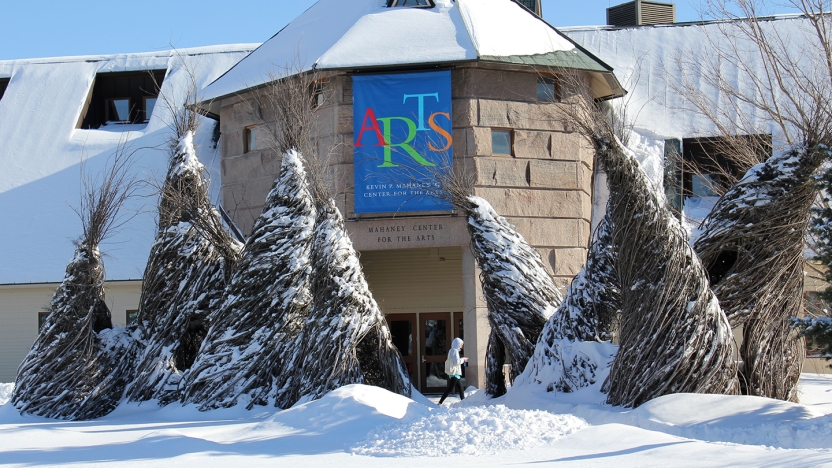 Patrick Dougherty (American, born 1945)
So Inclined, 2007
Red maple saplings and grey dogwood
Commissioned as a temporary deposit by the Committee on Art in Public Places with funds provided by the Middlebury College Board of Trustees One Percent for Art Policy, 2007.
Location: Front lawn of the Mahaney Arts Center, on view 2007–2011
An internationally known artist who has produced site-specific works in a variety of private and public locations around the globe, Patrick Dougherty created So Inclined at the entrance to the College's Mahaney Arts Center in September 2007.
Working in full view of all who passed by, the artist was assisted by more than 250 volunteers from all segments of the community—from pre-schoolers to Middlebury studio artists to retired residents. Captured on video by Daniel Houghton, Middlebury Class of 2006, Dougherty's project was shown in real time on the College's webpage and also drew wide media attention. Using red maple saplings and grey-twig dogwood that was donated to the College and harvested locally, the artist to constructed nine towering interconnected cones comprised of woven sticks. Straddling the sidewalk at the entrance plaza to the building, So Inclined engages the imagination of all who pass by, and those who approach its vaulted interiors find immediate access and shelter.