American Paintings and Prints from Shelburne Museum
–
This exhibition consists of 28 paintings, drawings, and prints from the hundreds of related works in Shelburne Museum's collection. This highly selective exhibition features some of the best known works in the collection, as well as a number of important but seldom seen paintings. While some of these works have come to the museum in recent years as gifts or purchases, the core of this important collection was formed by Electra Havemeyer Webb (1888–1960), the museum's founder. The American painting collection was the last collection at the museum assembled by its founder, as well as a revealing snapshot of art collecting in the 1950s.
By the time Mrs. Webb began collecting American paintings, she had been collecting decorative arts, vehicles, folk art, and historic buildings for over forty years. Her first painting purchases, made around 1950, were ship portraits of side-wheel steamboats painted by John and James Bard and seen as complements to her larger interest in steam travel on Lake Champlain. But by this date the Shelburne Museum had been open for four years, and Mrs. Webb became convinced that the museum should include a comprehensive collection of paintings as part of the holistic educational experience she envisioned for museum visitors.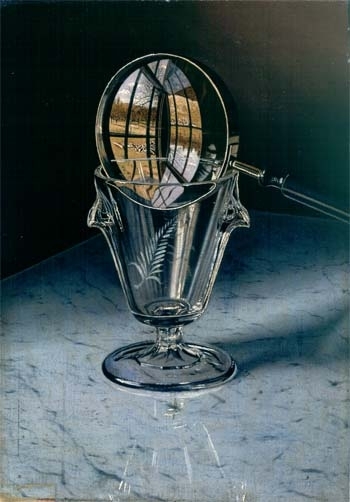 Edwin Romanzo Elmer, Magic Glasses, c. 1891, oil on canvas, 14 x 10 inches. Copyright Shelburne Museum, Shelburne, Vermont.
As the daughter of the enormously wealthy New Yorkers Henry and Louisine Havemeyer, Electra Havemeyer grew up in a lavish Fifth Avenue home entirely designed by Louis Comfort Tiffany. In addition, her parents were among the first American collectors of Impressionist pictures, so on the walls hung paintings by Claude Monet, Edouard Manet, Edgar Degas, and Mary Cassatt, among others. It was this rarified atmosphere that fueled her life–long passion for collecting.
During the last ten years of her life, 1951–1960, Mrs. Webb purchased over 150 American paintings. In addition, she acquired smaller numbers of prints and drawings. Her decisions were strongly influenced by three people: Edith Halpert (1900–1970), owner of The Downtown Gallery, Harry Shaw Newman (1896–1966) from the Old Print Shop (both in New York), and Maxim Karolik (1893–1963), a collector and philanthropist, who occasionally straddled the line of a dealer.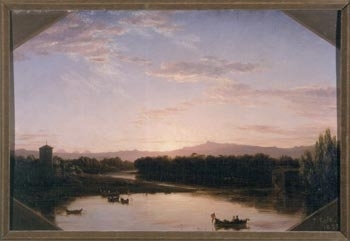 Thomas Cole, View of the Arno, 1838, oil on wood, 17 x 25 1/4 inches. Collection of Shelburne Museum, Shelburne, Vermont, 27.1.2-57
Mrs. Webb got to know Halpert and Newman in the 1940s buying American weathervanes, cigar store Indians, and other carvings from the former, and American prints, particularly those by Currier & Ives, from the latter. Most importantly, both dealers encouraged her to expand her horizons. The vast majority of the American paintings she bought, however, came from Karolik between 1957 and 1960. After one eventful 1957 visit to Karolik's Newport, Rhode Island home, Mrs. Webb purchased sixty-one paintings.
As with any collection assembled in a short time period, the results reflect availability. Although Mrs. Webb wrestled with the challenge of acquiring so many pictures at once, she was clearly motivated by a desire to assemble a diverse and representative collection of American paintings during her lifetime. As a consequence, the paintings should be seen as an important complement to the diversity of collections that comprise the entire museum. In some instances, her acquisitions were brilliant choices, such as Martin Johnson Heade's Orchid and Hummingbirdand Fitz Henry Lane's "Northern Light" in Boston Harbor, both included in the exhibit. At other times she took paintings on approval only to return them. Ultimately, the results of her efforts were unveiled to the public in Shelburne's Webb Gallery exactly fifty years ago.
Other important works in this exhibit include a rare and previously unseen preparatory drawing by Emmanuel Leutze (1816–1868) for his 1862 mural Westward the Course of Empire Takes its Way in the Capitol, A View of the Arno (1838) by Hudson River School artist Thomas Cole (1801–1848), and Penn's Treaty with the Indians (c. 1840–45) by Quaker artist Edward Hicks (1780–1849).
Just before her death Mrs. Webb became intrigued by 20thcentury American pictures. In part, she was encouraged to do so by Halpert, whose gallery exhibited works by Georgia O'Keeffe, Charles Sheeler, and Marsden Hartley among others. Ultimately, it was this expanding horizon that led to the purchase of Andrew Wyeth's Soaring, the largest painting of his career, which is painted from the hauntingly beautiful vantage point of a turkey vulture high above the ground. It was the last work she acquired before her death. Had she lived longer, the museum's founder undoubtedly would have continued to expand the breadth of its remarkable painting collection.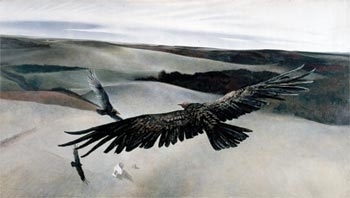 Soaring, 1942, © Andrew Wyeth, tempera on masonite, 48 x 87 inches. Collection of Shelburne Museum, Shelburne, Vermont, 27.2.5-3
The exhibit is unusual for the Museum, as extended labels will be introduced over the course of the exhibit by Middlebury College students taking a seminar on American art. The labels will consider the works in the exhibit from the point of view of how our understanding of the artists and their works has evolved over the course of the 20th century.
The Middlebury College Museum of Art, located in the Mahaney Center for the Arts on Rte. 30 on the southern edge of campus, is free and open to the public Tues. through Fri. from 10 a.m. to 5 p.m., and Sat. and Sun. from noon to 5 p.m. It is closed Mondays. The Museum is physically accessible. Parking is available in the Center for the Arts parking lot. For further information, please call (802) 443–5007 or TTY (802) 443–3155, or visit the Museum's website at museum.middlebury.edu.
Selected from the extensive collection of paintings at the Shelburne Museum, these thirty works represent the wide range of interests of American artists working in both urban and rural areas before 1900. The exhibit, which celebrates the American landscape and its inhabitants as well as artist travels, includes works by Thomas Cole, Edward Hicks, Fitz Hugh Lane, Martin Johnson Heade and George Durrie, among many others.