The Art of Devotion: Panel Painting in Early Renaissance Italy
–
On Sept. 18, the Middlebury College Museum of Art will open an important exhibition focused on early fifteenth-century Italian paintings and sculptures. Entitled The Art of Devotion: Panel Painting in Early Renaissance Italy, the exhibit—which has been guest curated by Katherine Smith Abbott, Assistant Professor of History of Art and Architecture and Associate Dean of the College—brings together fifteen remarkable works from ten different collections, and addresses salient themes such as artistic training and technique, patronage, function, and conservation. The impetus for the exhibition was the Museum's 2005 acquisition of a devotional panel of the Virgin and Child with Saints John the Baptist and Nicholas of Bari, attributed to the Florentine painter, Lippo d'Andrea. Preserved in its original frame and recently conserved, this painting will serve as one focus of the exhibit.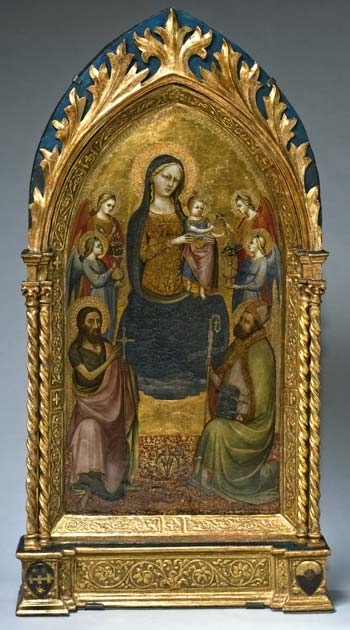 Lippo D'Andrea, Italian, 1377-after 1427, The Madonna and Child Enthroned with Angels and Saints John the Baptist and Nicholas of Bari, tempera on panel, 49 1/4 x 23 3/4 inches. Purchase with funds provided by the Christian A. Johnson Memorial Fund and the Walter Cerf Art Fund. Conservation of this work was made possible by a generous grant from the Middlebury College Arts Council. 2005.056
On October 8 Andrea Rothe spoke about his restoration of this panel painting. You can watch the full lecture here.

At heart a collaborative venture, the creation of early fifteenth-century panel paintings in Italy depended upon a tight network of connections between patrons, painters, woodworkers, and gilders. The product of these interactions was an object that served both as a focus for devotion, and as an emphatic statement about wealth and status. Patrons drove demand for large-scale altarpieces as well as for smaller devotional objects intended for domestic spaces. More often than not, these individuals served as vital conduits, directing the iconography of a given painting, indicating the shape and motif of a carved and gilded frame, and establishing how much money could be expended in the acquisition of such precious materials as lapis lazuli pigment and gold leaf. Paintings such as the Madonna and Child, attributed to the Master of 1419 and on loan from the Ackland Museum of Art at the University of North Carolina, Chapel Hill, underscore this reality: although small in scale, the panel reveals the use of rich pigments and a significant quantity of gold leaf. When displayed in the patron's home, such an object would have confirmed the owner's piety, while instantly communicating volumes about wealth and taste. The same was true for the patron who owned a sculptural bust attributed to the Circle of Lorenzo Ghiberti, now in the collection of the Cleveland Museum of Art. Sensitively modeled and painted to underscore the affectionate relationship between the Madonna and Christ, this work and its near-double, from the Mount Holyoke College Art Museum, were understood to exert a particular impact on women and children. At the same time, the stylistic association with one of Florence's leading sculptors, Lorenzo Ghiberti, confirmed the patron's taste and prestige. Devotion in Renaissance Italy was undeniably a matter of business and craft, as well as an aesthetic and religious experience, and the range of works included in The Art of Devotioncaptures the way in which early Renaissance patrons understood the place of art in their lives.
Tradition and innovation have long been seen as complementary forces in the development of Italian Renaissance art. While surveys of this period tend to focus on the innovative departures of artists such as Masaccio, Ghiberti, and Brunelleschi, this exhibit focuses on their counterparts: artists valued for their knowledge of and appreciation for tradition. They were contemporaries of the artist Cennino Cennini, who wrote Il Libro dell'Arte (The Craftsman's Handbook) around 1390, providing for artists the closest thing to a "how-to" manual for its time. In it, Cennini urges young artists to "…submit yourself to the direction of a master for instruction as early as you can; and do not leave the master until you have to." By apprenticing with an established artist from the age of 12 or so, and by training his eye and hand through constant copying, the young artist learned the techniques of the day, even as he absorbed the style of his master. In this way, artists such as Ventura di Moro, Lippo d'Andrea, and Giovanni dal Ponte carried forward approaches to iconography, composition, and style established by a preceding generation. Because many of the artists represented in The Art of Devotion were close contemporaries, even occasional collaborators, museum visitors will enjoy the opportunity to observe at close range stylistic affinities borne of common patterns of training, as well as intentional emulation.
The materials of early Renaissance artists will be on display in the exhibit, allowing viewers a first-hand understanding of the many layers that contributed to the final surfaces of tempera paintings. Typically rendered on panels of poplar wood, tempera paintings were built up through an exacting, time-consuming method that included layers of gesso and gesso-soaked linen, under-drawings either transferred from prepared cartoons or drawn freely on the panel, layers of gold leaf laid on top of a binder known as bole, and many thin layers of tempera, a pigment that was bound with egg yolk to ensure brilliance, as well as permanence. Additional enhancements, including decorative punchwork in areas of gold leaf (such as haloes) and gilded, low-relief ornaments known as pastiglia, are evident in many of the works in the exhibit. By viewing dry pigments, gesso, gold leaf, paint brushes, and drawing materials, as well as a model for an altarpiece frame, visitors to the exhibit will come closer to understanding exactly how artists fabricated the stunning works on view.
The Art of Devotion includes thirteen paintings and two sculptures intended for a range of spaces and devotional functions. Two large triptychs, one attributed to Lippo d'Andrea and on loan from the Yale University Art Gallery, and another by Ventura di Moro and on loan from Marco Grassi, NYC, reflect the practice whereby fifteenth-century patrons dedicated large sums of money to the creation of paintings that served as a visual anchor in public churches. This activity was both pious and self-serving, as the patrons sought the assurance of salvation through the act of their generosity. Both of these altarpieces depict the Virgin and Child enthroned, flanked by standing saints, some of whom may have been the patron saints of the donors themselves. This altarpiece pair is particularly intriguing from the perspective of connoisseurship, as well. As scholars have labored to comprehend fully the career of Lippo d'Andrea, his works have at times been confused with those painted by Ventura di Moro. In viewing these two large-scale and well-preserved works, as well as three others attributed to Lippo, visitors will have the opportunity to engage the very real mysteries faced by art historians working to unravel Renaissance artistic identities and to secure attributions.
As noted, Middlebury's Virgin and Child with Saints John the Baptist and Nicholas of Bari by Lippo d'Andrea was recently conserved, a process that both enhanced the brilliance of the painting and brought to light several details long-covered by earlier generations of touch-ups and re-painting. Photographs of the conservation process will be on view, and visitors will be introduced to some of the key features of that conservation process. In addition, visitors will encounter questions of conservation throughout the exhibit, as other works on view reveal a range of conservation practices employed in the past. Just as The Art of Devotion introduces viewers to the practice of painting in early Renaissance Italy, it offers insight into the means by which contemporary conservators strive to reveal and preserve the achievements of early Renaissance painters.
The Middlebury College Museum of Art, located in the Mahaney Center for the Arts on Route 30 on the southern edge of campus, is free and open to the public Tues. through Fri. from 10 a.m. to 5 p.m., and Sat. and Sun. from noon to 5 p.m. It is closed Mondays. The Museum is accessible to people with varying disabilities. Parking is available in the Center for the Arts parking lot. For further information, please call (802) 443–5007 or TTY (802) 443–3155, or visit the Museum's website at museum.middlebury.edu.
This exhibition was organized by the Middlebury College Museum of Art. It is made possible in part through grants from the Robert Lehman Foundation and the Samuel H. Kress Foundation. At Middlebury it is supported by the Christian A. Johnson Memorial Fund, the Kireker Family Museum of Art Exhibition Fund, and a generous grant from the Middlebury College Arts Council.