–
For immediate release: 6/25/07
For further information contact: Emmie Donadio, Chief Curator, at (802) 443–2240
Middlebury, VT—On view from June 27 through Aug. 12 at the Middlebury College Museum of Art, Center for the Arts, Rte. 30, are three recent canvases by Rebecca Purdum. The exhibition is concurrent with "MODERN TIMES: Middlebury Collects the Twentieth Century," the installation drawn from the College's permanent collection.
Although she now lives in Ripton, Purdum is an artist known nationally from the time of her earliest solo exhibition in 1986 at New York's Jack Tilton Gallery. Born into a U.S. Navy family in Idaho Falls, Idaho, Purdum moved around a lot as a child. Subsequently, she has studied painting at London's St. Martins College of Art, Syracuse University, and the Skowhegan School of Painting and Sculpture (Maine).
Although they are reminiscent of Monet's expansive series of Waterlilies paintings, Purdum's canvases are more descriptive of water than of any recognizable plant material. She paints what have been called "fields of resonance" and "oracular mists" in a manner that emphasizes direct and total control of the paint surface: She builds layer upon layer of transparent veils of color with her hands, which are protected by rubber gloves. The result of her sustained exercise betrays almost no hint of the artist's presence. Instead there appear richly woven, uneven textures of paint in indescribable, dense hues. Indeed, the artist refers to all the paintings in this installation as painted in "blue non-colors."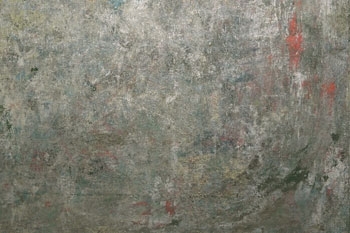 Rebecca Purdum, MOTE (detail), 2006, oil on canvas, 60 x 120 inches. Private Collection. (Photo: Jonathan Blake)
In combination with the modernist survey on view at the Museum's Johnson Gallery (upstairs from Purdum's exhibition), these rhapsodic and luminous works provide the viewer an opportunity for tranquil repose and contemplation. There are many contemporary artists who seek to impress us with their cagey strategies for art making, their clever use of materials, and appropriations from the vast realm of resources in the media and on the Internet. But Purdum sticks to the basics: the artist's own manipulation of the materials of art since the Renaissance: canvas and oil paint. She dispenses with brushes, which makes her art as immediate as finger painting. But its effect lingers in the viewer's imagination long after the viewing ends.
Purdum has received grants from the Joan Mitchell Foundation, the Louis Comfort Tiffany Foundation, the National Society of Arts and Letters, and the Ford Foundation, among other honors. Her paintings hang in numerous private and corporate collections throughout the country and in museums in Cambridge, Massachusetts (MIT's List Visual Arts Center); Ithaca, New York (Herbert F. Johnson Museum of Art, Cornell University); Utica (Munson-William-Proctor Museum of Art), and Fort Worth, Texas. The artist will give a gallery talk on Wed., Aug. 8, at 4:30 p.m. in the College Museum.
The Middlebury College Museum of Art is free and open to the public Tuesday through Friday from 10 a.m. to 5 p.m., and Saturday and Sunday from noon to 5 p.m. It is closed Mondays. The museum is accessible to people with varying disabilities. Parking is available in the Center for the Arts parking lot. For further information, please call (802) 443-5007 or TTY (802) 443-3155, or visit the museum's website at museum.middlebury.edu.