Fairfield Porter: Raw—The Creative Process of an American Master
–
Fairfield Porter (1907–1975) was an artist and critic whose works were grounded in the real world during years when abstraction largely dominated American art. Described as a reticent realist, he painted the world immediately surrounding him: his family, his friends, his studio, and his homes in Spruce Head Island, Maine, and Southampton, New York. This exhibit of thirty-nine works, many of them unfinished, reflects on his working method and creative process.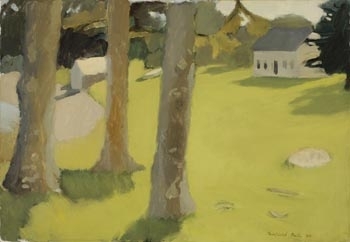 Fairfield Porter, Farmhouse, Great Spruce Head Island, 1954, oil on canvas, 25 3/8 x 36 3/4 inches, collection of the Parrish Art Museum, gift of the Estate of Fairfield Porter, 1980.10.104
In 1949 Fairfield Porter established his home and studio on South Main Street in Southampton, where he lived until his death in 1975. Four years later some 250 works were given to the Parrish by his widow Anne. The bequest included, in addition to major paintings and important works on paper, a large number of works in various states of completion, including a sketchbook, unstretched paintings on canvas that had been stored by the artist rolled-up, and many paintings on various kinds of boards.
Drawing on this vast archive, Fairfield Porter: Raw makes clear that, while Porter was a figurative painter, it was the materiality of paint and the process of painting, rather than content or even a "finished" product, which mattered most to him. "I was beginning to be interested in what you can do with paint, what is the quality of paint, what is its nature," he told Paul Cummings in an interview. "What matters is the painting." William Agree wrote, "Porter refused to make any concessions to either sentiment or traditional canons of finish or painterly quality…He believed that a painting exists in time and changes in time." Porter himself told Paul Cummings, "I think that Ingres's remark that 'I leave it to time to finish my paintings' is true in a very wide and profound way."
As Klaus Ottmann observes in his catalogue essay An Unfinished Quality: Fairfield Porter's Creative Process, a casual, spontaneous, artless, even unfinished look informed much of the artist's work. Porter's biographer Justin Spring described the artist's house and studio as "always in a state of lively disorder." Painter and critic Rackstraw Downes recalls that "as a painter, he was studiously casual," while painter Jane Freilicher, like Downes a close friend of Porter's, once said, "An 'unfinished' quality…was part of his paintings. The same sort of casualness you find in the household you find in his paintings." Many of the works in the exhibition have that unfinished quality, some intentionally, some because they were unfinished at the time of his death. The figures in two of Porter's unfinished paintings from the 1950s, John, Richard, and Laurence and an untitled portrait of a man seated near a lamp, lack facial features. However, in a late portrait of his daughter Katie from 1971-73, which is signed and dated, her facial features, hands, and feet lack definition. Similarly, his Self-Portrait in the Studio (ca. 1950) deliberately leaves out facial details. Two unfinished landscapes from the 1960s reveal Porter's practice of beginning with pale washes of thin paint as he explored color in relation to composition.
In a 1955 ARTNews article "Porter Paints a Picture," the poet Frank O'Hara referred to "a look of spontaneity and effortless felicity" in Porter's paintings and attributed their freshness in part to the artist's use of medium. Porter studied technique and material with French art restorer Jacques Maroger at the Parsons School of Design and became an advocate of Maroger's medium, a mixture of white lead, linseed oil, and mastic, which allowed the brush to move fluidly across the canvas. Porter developed a variant of the original medium and prepared it in his studio according to a complicated formula. He also kept meticulous records of his paint mixtures, making clear that the apparent casualness of his paintings did not reflect an indifference to technique.
Porter's sketchbook pages have been digitized and are shown in the exhibition on a small digital frame. To distinguish finished paintings from unfinished works in the exhibition, the unfinished stretched canvases are hung without frames, while the paintings on boards are displayed leaning against the wall on picture rail moldings. This presentation allows visitors to experience not only the composition and color of each work, but also its "materiality"—canvas, Masonite, corrugated cardboard, and even asbestos or aluminum sheets—affording unique insights into the mind and the artistic practice of this modern master.
The presentation of Fairfield Porter: Raw—The Creative Process of an American Master and its catalogue are made possible, in part, with generous support from the Henry Luce Foundation, the Robert Lehman Foundation, the Herman Goldman Foundation, and James Goodman.
Fairfield Porter: Raw—Audio Files
As you browse the exhibition you will notice that some labels bear references to numbered audio files related to the object nearest the label. Those numbered audio files are available below, simply click to download.