Linear Thinking: Sol LeWitt, Modern, Postmodern, and Contemporary Art from the Collection
–
On Friday, February 8 the Middlebury College Museum of Art opens the exhibition Linear Thinking: Sol LeWitt, Modern, Postmodern, and Contemporary Art from the Collection in its Overbrook Gallery. The exhibit, which was conceived in conjunction with several spring courses in the History of Art and Architecture, includes prints and one sculpture by artists in the museum's collection as well as a temporary wall drawing by Sol LeWitt (1928–2007). With a preponderance of clearly delineated shapes, repeatable patterns, and sharp edges, the works on view demonstrate a variety of twentieth-century modes of art making. The allusive, flowing strokes of Henri Matisse and Pablo Picasso are offset by geometric rigidities imposed by Victor Vasarely and Richard Anuskiewicz. A sculpture by Anne Lilly moves in space according to a complex but fixed configuration of interconnected rods and gears. Joseph Albers's Homage to the Square combines linear thinking with research on color theory.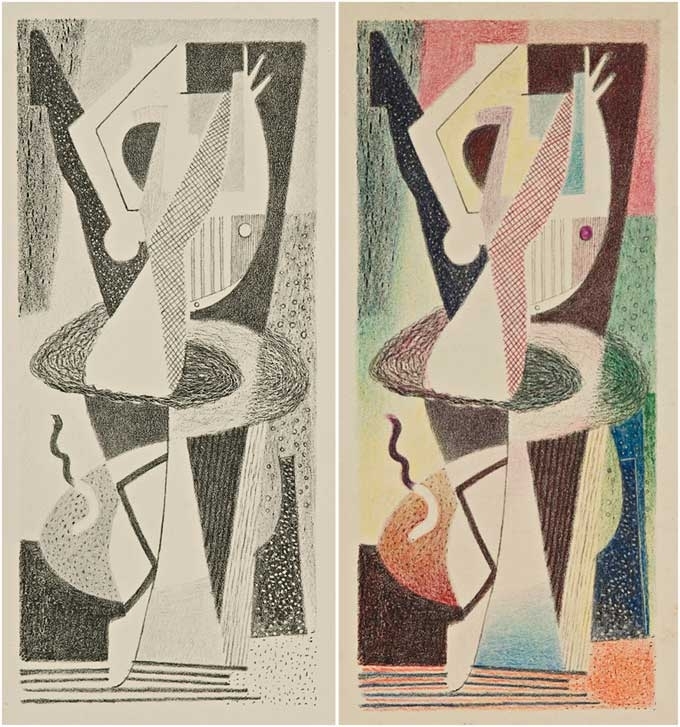 Charles Daugherty (American), Abstraction, c. 1940, lithograph on paper (left) and hand colored lithograph on paper (right), 10 x 4 inches each. Collection of Middlebury College Museum of Art, gift of Linda and Bill Goldstein, 2006.074 and 2006.075
Beginning in the late 1960s and until his death Sol LeWitt was widely celebrated for the extraordinary drawings and paintings that he devised for others to install on the walls of art museums and galleries around the world. A conceptual artist who devised his practice in response to the autographic and romantic self-expression associated with modern art, LeWitt instituted a strategy for making art that would be untouched by the artist's own hand.
LeWitt's Wall Drawing #394, which was first conceived in 1983 at the Musée d'Art Contemporain de Bordeaux in France, is on loan to the museum from the artist's estate and will be installed during the week of February 25 by students in Professor Edward Vazquez's course "Minimalism: Art, Objects, and Experience." The drawing comes with a heavily detailed set of instructions to be followed. It specifies the materials to be used—Caran D'ache, Neo Color II, water soluble crayons, Black #7500—as well as the orientation of each line the participants are invited to draw. The individual draftsman can choose whether to draw a vertical, horizontal, or diagonal line, but each line must be placed within a 12-inch module of a grid that will cover an entire wall of the gallery. Museum preparators will install the grid during the first weeks the exhibition is on view. The wall project, which will take some fifty hours of labor, will proceed while the museum is open to the public.