Picturing Enlightenment: Tibetan Tangkas from the Mead Art Museum
–
September 12–December 7, 2014
Tangkas, scroll paintings of Buddhist figures, function as objects of Buddhist meditation, ceremony, teaching, and historical recounting. The central images—painted with mostly mineral pigments bound with animal hide glue onto fabrics impregnated with a gesso ground—depict Buddha, bodhisattva, other deities, and eminent monks. The paintings are surrounded by fabric mounts comprised of multiple, hand-sewn layers of silks and cottons, suspended with wooden dowels. In some tangkas, a simple field of unpatterned cotton surrounds the painted image. In more elaborate examples, ornate silk brocades encompass the paintings, and full-length silk veils cover the tangkas when they are not being viewed. Fabric "doors," sometimes sewn beneath the images on the mounts, provide a virtual entrance by which to "enter" the paintings' spiritual worlds.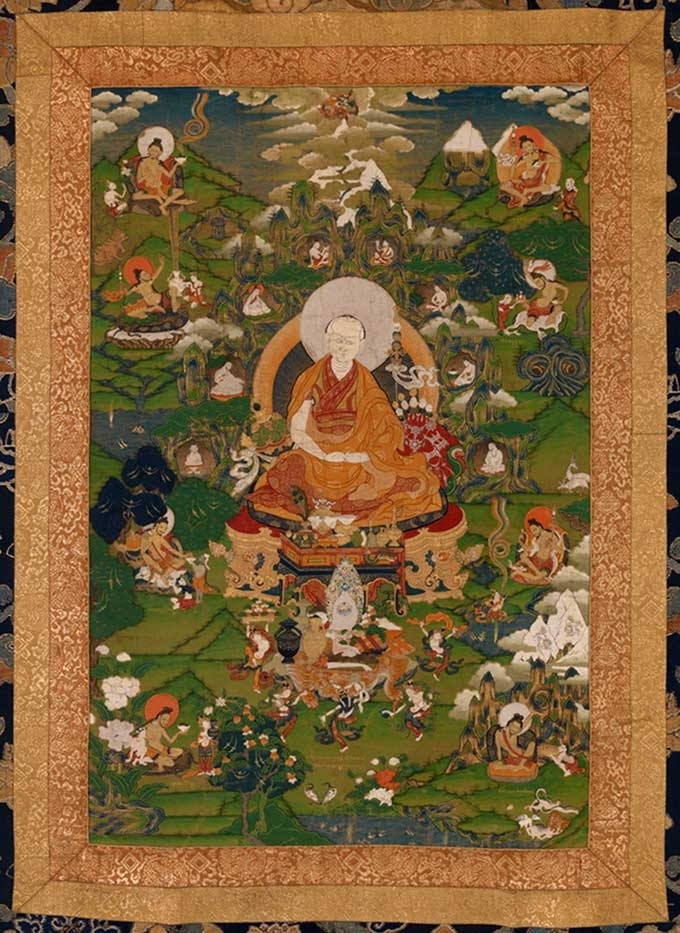 Anonymous, Tibetan, Seventh Dalai Lama and His Chakrasamvara Initiation (detail), late 18th century, colors on cloth, cloth mountings, wooden dowels, 25 3/4 x 17 inches. Collection of the Mead Art Museum, Amherst College. Gift of Mrs. George L. Hamilton. AC 1952.26.
Picturing Enlightenment highlights eighteen tangkas from the collection of Amherst College's Mead Art Museum. So fragile that they have remained largely inaccessible to scholars and museum visitors for nearly six decades, these tangkas, primarily from Tibet, have recently been gently cleaned, stabilized, and repaired. Vibrantly colored, intricately patterned, and ranging in height from two to nine feet, each work rewards close study.
Most of the centuries-old tangkas in this exhibit would have been commissioned by monasteries and temples. Religious leaders would have specified the paintings' subjects, and the completed tangkas would have been displayed in groups, sometimes numbering more than one hundred in a single room. Before and during the painting process, the artists performed invocation rites; when the tangkas were completed, consecration ceremonies invited/compelled deities to inhabit the images. The unnamed painters of these tangkas—like present-day tangka painters, and like painters of Western icons—deliberately employed conservative artistic styles and traditional iconographic forms necessary to religious practice. As a result, tangkas have changed only some supporting elements over the past millennium.