1968: The Whole World is Watching
–
The year 1968 is generally regarded—both globally and in the United States—as one of the most tumultuous moments in American history. Even in a decade of such radical change, 1968 marked a distinct turning point for the attitudes of many Americans. This exhibit takes its subtitle, "the whole world is watching," from the chants of Vietnam War protesters at the Democratic National Convention in Chicago on August 28, 1968, as their battles with police were recorded by the media.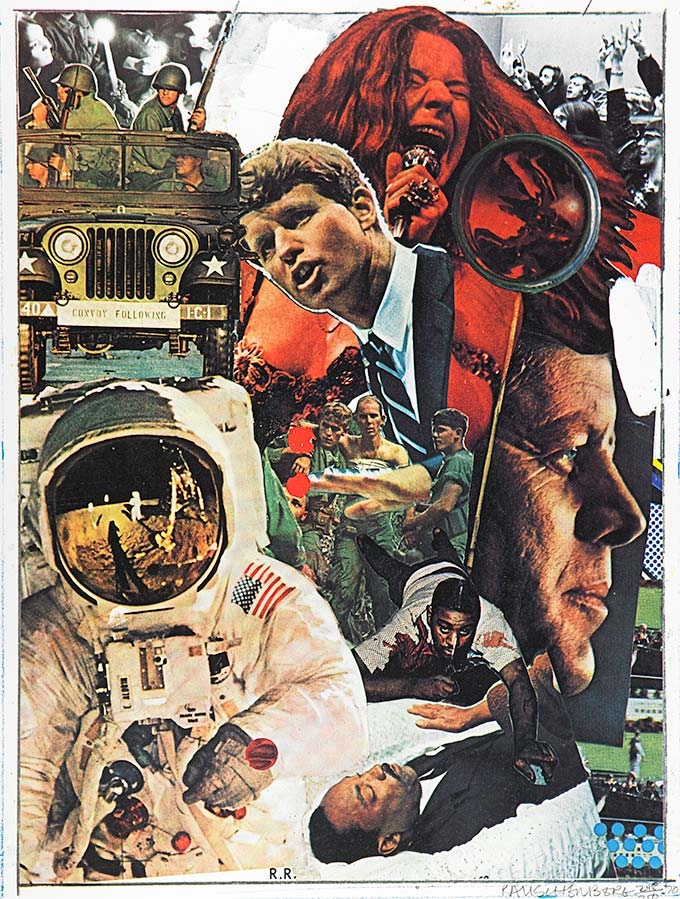 Robert Rauschenberg, Signs, 1970, color screenprint on paper, 35 3/8 x 26 7/8 inches, edition: 203/250.
So, what were these events—in addition to protests at the Democratic National Convention—that the whole world was watching in 1968, and how did they alter life in America? Politically, violent acts such as the assassinations of the Reverend Dr. Martin Luther King Jr. and Robert F. Kennedy, shook the fabric of American society. Simultaneously, the "quagmire" of the Vietnam War dragged on with no end in sight. Student demonstrations at Columbia University seeded a protest movement that would sweep across American college and university campuses in the next two years.
The art world was at once isolated from, and reflective of, the chaos felt in society at large. Art was exploring new media and taking unprecedented steps toward something never seen before. Some artists became activists, pushing the limits of political art. Exhibits, theoretical writings, and radical aesthetic initiatives challenged the premise of modernism, as "a generation of young iconoclastic artists suggested the emergence of a new sensibility." As Craig Owens wrote a few years later, "Appropriation, site-specificity, impermanence, accumulation, discursivity, hybridization … characterized much of the art [of the 1960s] and distinguished it from its predecessors" (October, Spring 1980). All this is to say, the seismic waves rocking American society marked a radical shift in the definition of art.
This exhibition assembles prints, photographs, videos, paintings, and sculpture from the mid-1960s through the early 1970s that reflect some of the more visible divisions within the art world of the time. Also included in this exhibit is a snapshot of Middlebury College in 1968, which, like most American academic institutions, was just beginning to experience the changes that would dramatically transform campus life over the next few years.
1968 was organized by Maddie Hampton '18 and Sophie Taylor '20 who worked as museum interns during the past academic year. The presentation of this exhibition is made possible in part with support from the Christian A. Johnson Memorial Fund and the Charles F. Kireker III and Sarah Kireker Faulkner '79 Fund.