Museum Closed Friday, May 1 for Installation of New Contemporary Sculpture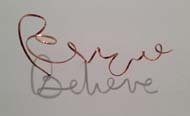 For immediate release: 4/14/15
For further information contact: Richard Saunders, Director, at rsaunder@middlebury.edu or (802) 443-5235
Middlebury, VT—On Friday, May 1 the Middlebury College Museum of Art will be closed for the day to allow for the installation of an important new sculpture in the Boesky Family Entrance Court created by the contemporary Belgian artist Fred Eerdekens (b.1951). The work, titled Some Need, is a wall sculpture comprised of manipulated strips of copper wire that extend outward from the wall. When illuminated by bright light the wire creates shadows that can be read as text.
Eerdekens' work has been described as "the interplay between light, materials, and language." It is simultaneously simple yet artful, and the eight phrases that comprise Some Need form a sequence of words that reflect on human actions—both physical and intellectual.
The Museum will resume its regular hours on Saturday, May 2. Please come and enjoy the most recent addition to our permanent collection.
The Middlebury College Museum of Art, located in the Mahaney Center for the Arts on Rte. 30 on the southern edge of campus, is free and open to the public Tues. through Fri. from 10 a.m. to 5 p.m., and Sat. and Sun. from noon to 5 p.m. It is closed Mondays. The museum is physically accessible. Parking is available in the Mahaney Center for the Arts parking lot. For further information and to confirm dates and times of scheduled events, please call (802) 443–5007 or TTY (802) 443–3155, or visit the museum's website at museum.middlebury.edu.