The Museum's Focus on Maya Continues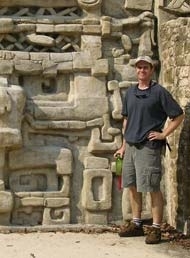 "Recent Investigations at the Newly Discovered Maya Center of Tipan, Belize" | Tuesday, November 8, 4:30 p.m. | Robert A. Jones '59 House
For immediate release: 10/31/11
For further information contact: Emmie Donadio, Chief Curator, (802) 443-2240 or donadio@middlebury.edu
Middlebury, VT—In the continuing series of talks in conjunction with the Middlebury College Museum of Art's exhibition Painted Metaphors: Pottery and Politics of the Ancient Maya, Dr. Christopher R. Andres will speak about his discoveries and excavations at a Maya center in Tipan, Belize. His illustrated talk at 4:30 p.m. Tues., Nov. 8, will be in the Robert A. Jones '59 House, 148 Hillcrest Road, on the college campus. Sponsored by the Rohatyn Center for International Affairs and the Museum, the talk is free and open to the public.
Since its 2009 discovery, the architecture of Tipan Chen Uitz, meaning "Fortress Mountain Well" in Yukatek Maya, has been providing important insights into the turbulent period leading up to the so-called Maya "collapse" in the 8th century. Dr. Andres, with a colleague from the University of Mississippi, made the major discovery of this site during routine summer field work in Belize, which he had been exploring periodically for more than a decade. The most recent excavations received funding from the University of Indiana and the University of Mississippi, as well as the U.S. Department of the Interior Historic Preservation Fund. Working alongside his students, Andres discovered a monumental altar  with  beautifully preserved glyphs—a rarity in Maya ruins in Belize.
A graduate of Middlebury Union High School, Dr. Andres holds a B.A. and a Ph.D. in Anthropology from Indiana University and an M.A. from Southern Illinois University. He has a long-standing interest in Maya archaeology, cultural anthropology, and art history, and has held teaching positions at the University of Indiana and Purdue University.
Painted Metaphors will be on view at the Museum through Sun., Dec. 11.
The Middlebury College Museum of Art, located in the Mahaney Center for the Arts on Rte. 30 on the southern edge of campus, is free and open to the public Tues. through Fri. from 10 a.m. to 5 p.m., and Sat. and Sun. from noon to 5 p.m. It is closed Mondays. The Museum is physically accessible. Parking is available in the Center for the Arts parking lot. For further information, please call (802) 443–5007 or TTY (802) 443–3155, or visit the Museum's website at museum.middlebury.edu.