Modern Times: Middlebury Collects the 20th Century
–
For immediate release: 6/7/07
For further information contact: Emmie Donadio, Chief Curator, (802) 443–2240
MIDDLEBURY, VT— On June 28 the Middlebury College Museum of Art will unveil an exhibition representative of its forty years of collecting contemporary art. It will be the first comprehensive showing of its modern collection since the museum moved to its current location in the college's Center for the Arts in 1992. 
Building a collection of modern and post-modern works has been a major focus for the museum since its founding in 1968 with the support of the Christian A. Johnson Foundation. Beginning with the guidance of Professors Robert Reiff and David Bumbeck and funded by supplemental grants to acquire works by living American artists from the National Endowment for the Arts and matching funds from a newly formed Friends organization, the college purchased major works on paper by the likes of Warhol, DeKooning, Johns, Dine, Rauschenburg, Stella, and Lichtenstein, and a mobile by George Rickey. The latter initiated an ongoing program for Art in Public Places that has turned the Middlebury campus into one of the most noteworthy repositories of contemporary sculpture in New England. The former laid the cornerstone for an indoor collection that, through accumulated purchases and gifts, now represents with significant examples in painting, prints, and delightful small sculptures most of the major movements in 20th century art. It begins with works by Picasso, Matisse, and Miro and goes on to span the century, showing the influences of cubism, expressionism, surrealism, abstract expressionism, geometric abstraction, serial conceptualism, pop, and figural post-modernism.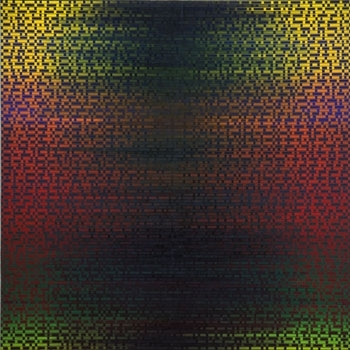 Francis R. Hewitt, Untitled (Size Change Series), 1968, acrylic on canvas, 108 x 108 inches. Gift of Karen and Corin Hewitt. 1995.012
Entitled "Modern Times: Middlebury Collects the 20th Century," the exhibition features a thematic cross-section of works from a collection committed to representing the century's myriad trends and the many paths to our richly diverse artistic present. In addition to those named above, featured artists include Alexander Calder, William Zorach, Edwin Dickinson, Ivan Albright, Harry Bertoia, Chuck Close, Louise Nevelson, Sol Lewitt, Joseph Albers, Alice Neel, Fernando Botero, and Robert Gober. The exhibit will remain on view in the museum's Christian A. Johnson Gallery through August 12.