Paul Strand in Vermont: 1943–1946
–
Comprised of 34 vintage silver gelatin prints, the exhibition is the first devoted exclusively to Strand's Vermont work and it explores the expressive power and insight that mark the photographer's long and distinguished career.
Twenty-eight images in the exhibit are loans from the Philadelphia Museum of Art, which possesses the largest archive of Strand's work. Five photographs belong to the collection of the Middlebury College Museum. Also included is a Deardorff 8 x 10-inch large format view camera, one of the two models Strand used for much of his career.
Paul Strand (1890–1976), who has been described as "one of the greatest photographers in the history of the medium," is perhaps best known for his pictorialist studies from early in his career, his machine photographs of the 1920s, and his 1955 publication Un Paese: Portrait of an Italian Village. But some of his most compelling works were taken in Vermont during the years 1943 to 1946, when he had just returned to still photography after nearly a decade making films. The photographs gathered here tell us a great deal about the artist at mid-career and the two projects on his mind at the time: a 1945 retrospective of his work at the Museum of Modern Art and the book Time in New England (1950).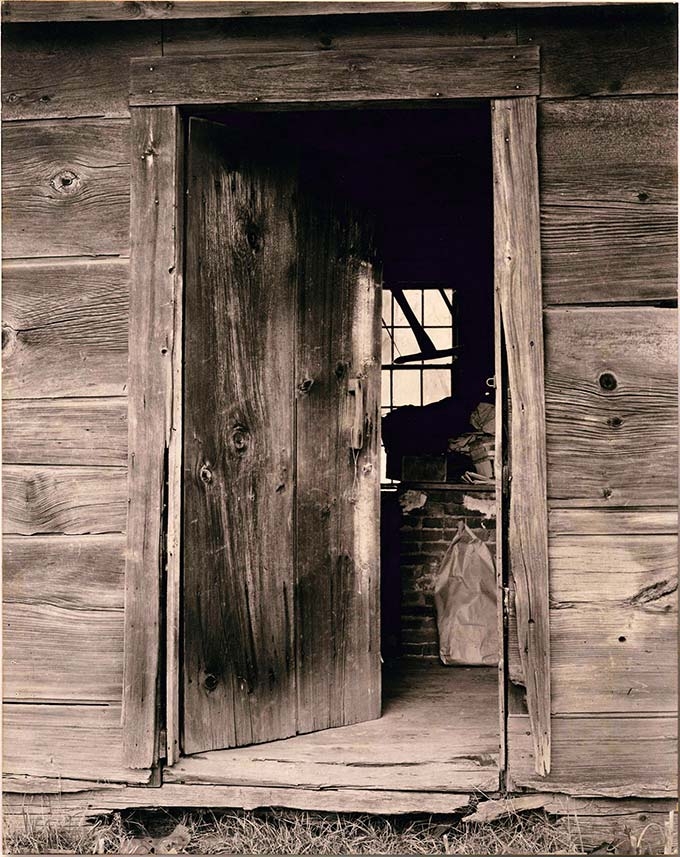 Paul Strand (American, 1890–1976), Slab Hollow Shop, Vermont, 1943, gelatin silver print (vintage), 9 5/8 x 7 5/8 inches. Collection of Middlebury College Museum of Art. Purchase with funds provided by the Christian A. Johnson Memorial Art Acquisition Fund, 2015.021
Since before the American Civil War artists have been drawn to Vermont to depict its environment and inhabitants. Strand focused his camera on the Green Mountain State in a manner that seems to have reinforced a belief in Vermont as home to hardy and independent souls who carved out an existence in an often inhospitable climate.
Strand visited Vermont from his home in Manhattan each year between 1943 and 1946. The impetus for his first two visits was the invitation for his mid-career retrospective scheduled for 1945 at the Museum of Modern Art. The exhibition, Paul Strand Photographs: 1915-1945, which opened at MoMA in April of that year, was the first American retrospective exhibition of works by a living photographer. Bringing together 162 photographs, it included 20 images taken in Vermont during Strand's visits from the two preceding years.
In writing about the Vermont images on view, curator Nancy Newhall wrote that "Strand reached into the essence of New England. The shuttered white church stands on patches of snow like the terrifying grip of an ideal. In the worn doorlatch, the tar paper patch, the crazy window among rotting clapboards, appear the ancient precision and mordant decay of New England. In the glimpse of delicate woods in snow through the side of a shed he expresses its frail and stubborn loveliness."
The exhibition followed a decade in which Strand had been making films. Decidedly polemical, The Plow that Broke the Plains (1936), an indictment of land devastation in the west, and Native Land (1942), which dealt with the struggle of American trade unions, are two of Strand's best known films.
The artist's repeated visits to Vermont during the period 1943 to 1946 produced some of the most profound and memorable still images of his entire career. Clearly the preceding decade devoted to film had honed his vision and enabled him to see with great precision compositions of lasting importance.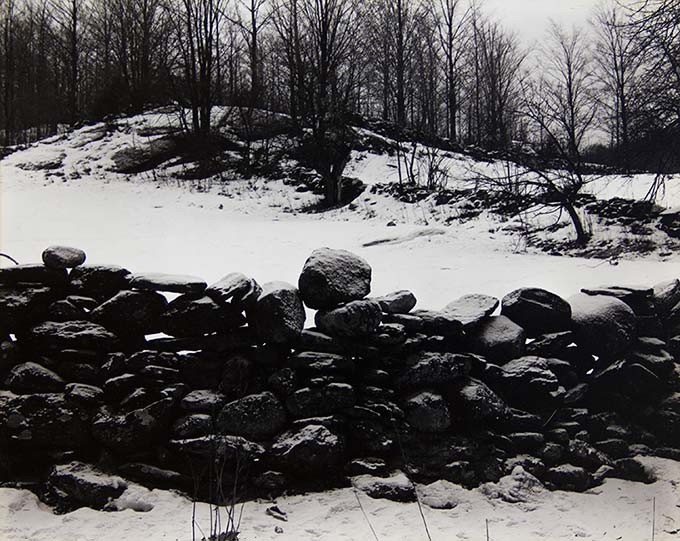 Paul Strand (American, 1890–1976), Wall and Snow, Vermont, 1943, gelatin silver print, 7 5/8 x 9 5/8. Collection of Middlebury College Museum of Art. Purchase with funds provided by the Christian A. Johnson Memorial Art Acquisition Fund.
During Strand's four trips to Vermont he produced perhaps no more than 100 images, but of these a number compare favorably with any work he produced during his entire career. In Vermont Strand was most drawn to record aspects of the weathered farm buildings that dotted the landscape. They fascinated him, as he observed, because "somehow they take on the character of human living." Strand also took remarkable portraits, noting "I like to photograph people who have strength and dignity in their faces, whatever life has done to them, it hasn't destroyed them."
During his first two visits, Strand spent most of his time in the small towns of Dummerston and East Jamaica, just north of Brattleboro. In the subsequent two years, in search of a greater variety of work for publication in Time in New England, he ranged further afield, visiting Bennington and Pownal as well as towns such as Bethel, Waterbury, Stowe, and Strafford.
Richard Saunders, director of the Middlebury College Museum of Art and curator of the exhibit, will deliver a public talk "Paul Strand in Vermont: 1943–1946," on Friday, June 10, 2016 at 2:00 p.m. in the Dance Theater of the Mahaney Center for the Arts.