–
Visual artists have explored the relationships between words, text, meaning, and imagery for millennia. This exhibition—organized in conjunction with the centennial celebrations of Middlebury's Bread Loaf School of English, founded in 1920—features some of those relationships, using works of art by numerous artists chosen from the college's Museum of Art, Special Collections at the Davis Library, and various private holdings.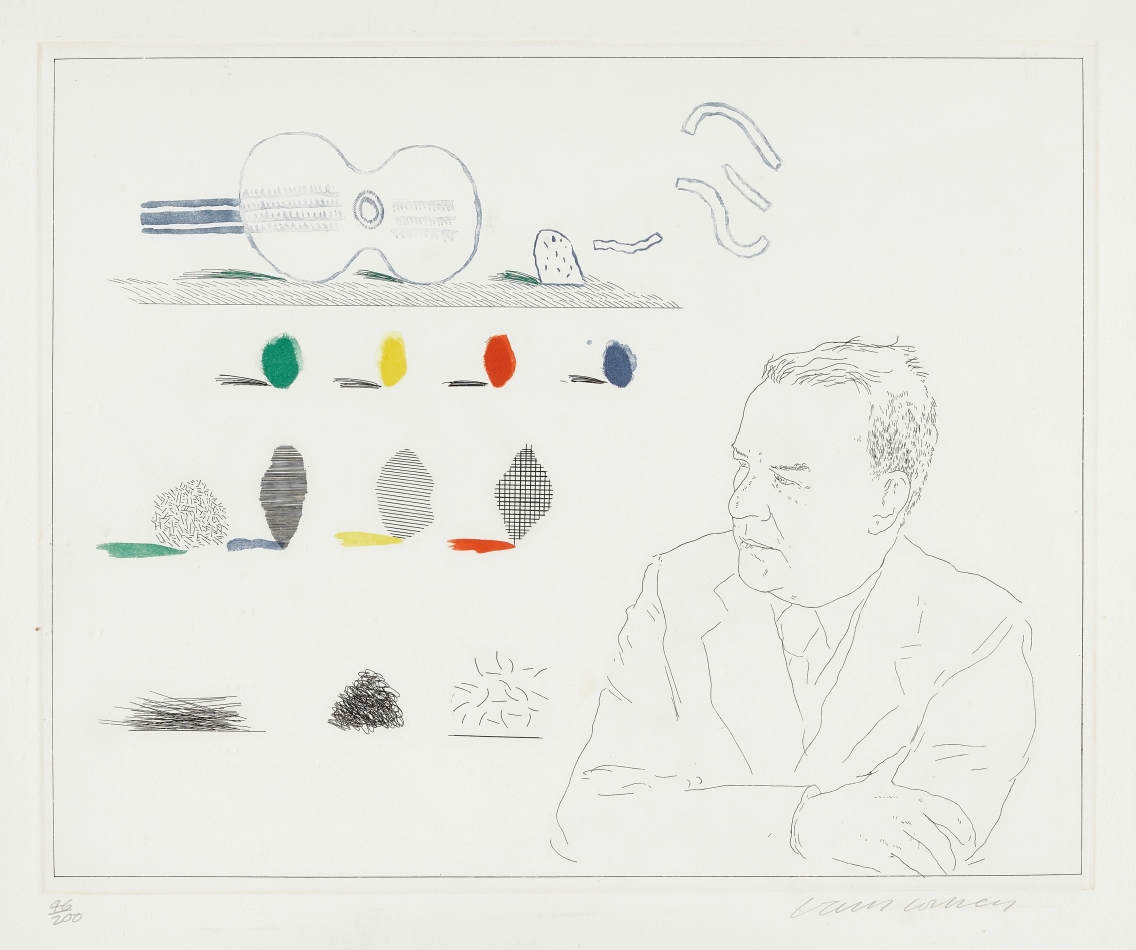 David Hockney (English, born 1937), The Poet [Wallace Stevens], from the series The Blue Guitar, 1976–77, hardground and aquatint etching. Middlebury College Museum of Art.
Artists included range from David Hockney and Yoko Ono to William Kentridge, Roy Lichtenstein, and John Waters, and the works span nearly 3,000 years from an Assyrian relief from ancient Iraq to Fred Eerdekens's 2014 word sculpture Some Need Some Feed…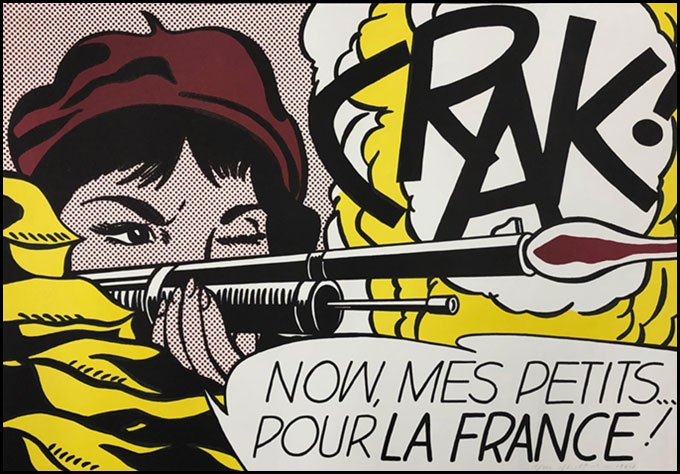 Lichtenstein (American, 1923–1997), Crak!, 1964, serigraph on paper, 18 1/2 x 27 inches.
Collection of Middlebury College Museum of Art, purchase with funds provided by the Friends of Art Acquisition Fund and a matching grant from the National Endowment for the Arts, 1976.149. © Roy Lichtenstein Estate.
The above video, embedded from the YouTube channel of the Museu d'Art Contemporani de Barcelona (MACBA), features a flip book made in January of 1999 by William Kentridge on the occasion of his exhibition at MACBA. The flip book was published in a limited edition of 1,000 copies, of which 100 were signed and numbered from 1/100 to 100/100.
In addition to the works on view within the museum, the exhibit also references art beyond the museum's walls such as: Ben Eine's wall painting on the museum's entry wall; James McDonnell's Ulysses: a Visual schema, in the lower corridor of the Mahaney Center; and Robert Indiana's Love and Vito Acconci's Way Station by the pond behind the Museum Plaza.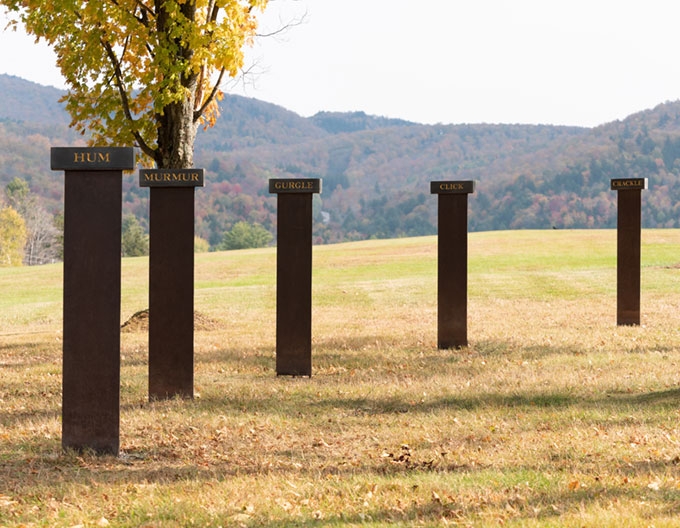 Kate Owen (British, Born 1963), Hieroglyphics for the Ear, 1997, slate and steel, five stands, each 44 1/2 x 14 x 2 1/4 inches. Collection of Middlebury College Museum of Art, purchase of the Committee on Art in Public Places with funds provided by the Middlebury College Board of Trustees One Percent for Art Policy, 2001.003. (Photo: Jonathan Blake)
Further, the Bread Loaf School of English's centennial anniversary is marked by the permanent installation of Kate Owen's Hieroglyphics for the Ear in the grove of trees across from the inn on Middlebury's Bread Loaf Campus in Ripton, Vermont.