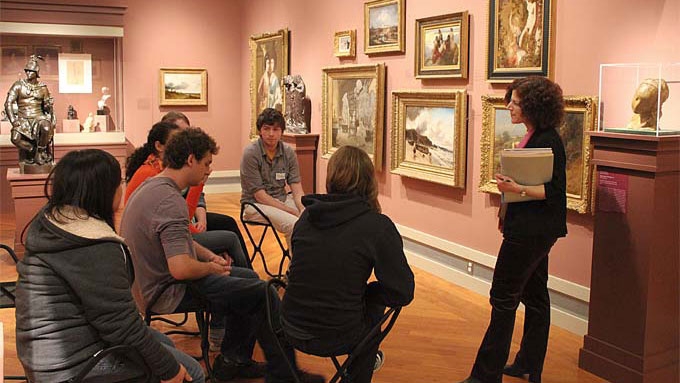 The Museum's collections and exhibitions are a valuable visual and intellectual resource for faculty and students, and the Museum warmly welcomes class visits as well as faculty suggestions and involvement.
Reserve Space Now
Faculty looking to conduct class or group visits in the museum should submit a reservation request through our class/group visit request form.
We have something to offer all faculty, regardless of the field of research, and faculty members are encouraged to bring their students to the Museum for classes, either in the galleries or in the Simonds Study Classroom, and to use exhibitions as points of departure for discussions. We are also available to host and co-sponsor events with individual Commons as well as student groups. Further, we strongly encourage the study of individual objects in the collection, and faculty are invited to contact the chief curator or the registrar for more information on accessing the Museum's collections.
Using the Museum in Your Teaching
The Museum collection includes both Asian and western art from the fourth millennium B.C.E. to the present. Permanent installations of antiquities, Asian art, and American and European painting and sculpture from the Renaissance through the nineteenth century are on view at all times. Our collection of twentieth-century and contemporary art encompasses works in all mediums, with particular strength in prints and photographs. These works are frequently on view in temporary installations, often in conjunction with faculty demand and the College curriculum. A significant collection of public sculpture, overseen by the college's Committee on Art in Public Places, is displayed throughout the campus.
Faculty from a broad spectrum of the Middlebury College curriculum—including courses in History of Art and Architecture, Studio Art, Classics, Religion, Philosophy, English, American Studies, Environmental Studies, Women's and Gender Studies, Film and Media Culture, Theatre, Dance, Geography, College writing courses, and the nine different language disciplines—use museum objects and exhibitions in their teaching. We encourage you to visit the Museum and to let us know how we may assist you in using our outstanding resources.
Please visit our new collections database to browse the more than 6,000 objects in our collection. Also, please view our Faculty Guidelines for Using Museum Resources for up-to-date information on how best to integrate the Museum's collections and exhibitions into your course offerings.