Medieval Music Concert at Middlebury College on Sept. 15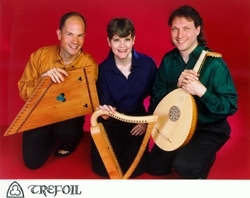 MIDDLEBURY, Vt.-Middlebury College will host a special performance of medieval music by the ensemble Trefoil on Friday, Sept. 15, at 8 p.m. in Mead Chapel on the college campus. The concert is free and open to the public. Trefoil, whose members are Drew Minter, Mark Rimple, and Marcia Young, will perform a program titled "The Melodious Harp: Songs of Medieval France," which includes rarely-heard songs with harp and lute accompaniment. The group will also perform on Saturday, Sept. 16 at Christ Church in Montpelier as part of the Vermont Millennium Music Festival.
Trefoil is a newly formed trio of singers and instrumentalists long active in early music, with experience in ensembles such as Concert Royal, Les Arts Florissants, New York's Ensemble for Early Music, Pomerium, Clarion Music Society, Piffaro, My Lord Chamberlain's Consort, and other groups. Its members are Marcia Young, soprano and harps; Drew Minter, countertenor and harps; and Mark Rimple, countertenor and lute. The Philadelphia Inquirer called the performers "a hearty trio of medieval music specialists" and described their work as an "intricate, enigmatic vocal art."
The trio debuted in New York and Philadelphia in early 2000 with a program of 14th-century French ars subtilior song. The music itself represents many experiments and extensions of the theory and notation of music of the late Middle Ages. There is great rhythmic complexity, with frequent changes of meter, syncopation, and exotic harmonies. Historical writings suggest that ancient manuscripts in which this music is preserved may have been efforts to notate an improvised style, just as has been attempted in our own day in the notation of jazz and swing styles of music.
Trefoil has been invited to give workshops and concerts at Boston College, Temple University, and Vassar College, as well as a series of four holiday concerts at The Cloisters in New York City in December 2000. For its fall programs Trefoil will draw on the Lauda repertoire of 14th-century Italy, characteristically performing the pieces in a variety of vocal and instrumental formats, and accompanying one another on plucked string instruments such as harp and lute.
Drew Minter is among the world's premier countertenors. Widely acknowledged for his significant performances and recordings of the operas of Handel, he has sung leading roles in and/or directed more than two dozen of Handel's dramatic works. Minter is represented on more than 40 recordings on classical musical record labels. His articles and reviews have appeared in Opera News, Musical Times, and Early Music America. He teaches voice at Vassar and Smith Colleges, and is a guest artist on the faculty of Boston University's Opera Institute.
Mark Rimple is an accomplished composer, countertenor, lutenist, and guitarist. He holds graduate degrees in musical composition, choral conducting, and guitar performance from Temple University. He performs and records as a lutenist with a number of early and new music ensembles, and is dedicated to premiering new instrumental works. He also researches and teaches early music theory and notation.
Soprano Marcia Young performs and records with a number of ensembles in the New York area. She is also a medieval and renaissance harpist. Earlier this year she toured the U.S. with New York's Ensemble for Early Music, and appeared as guest soloist in a performance of Handel's Israel in Egypt with Concert Royale and Julianne Baird. Her recordings include performances with Pomerium, Parthenia VII, and other early and contemporary music ensembles.
The concert at Middlebury is sponsored by the College Chamber Singers and Brainerd Commons. For more information, contact Jeff Rehbach of the College Chamber Singers at 802-388-3856 or 802-443-5877.
— end —