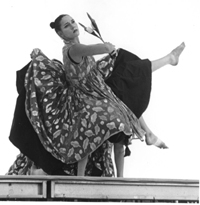 "Let estheticians argue about whether the productions of the Big Dance Theater are primarily choreographic or dramatic. What's beyond dispute is that this troupe directed by Annie-B Parson and Paul Lazar is rich in imagination."
—-The New York Times
The Big Dance Theater to mix literature, dance and music at Middlebury College
MIDDLEBURY, Vt.?Literature will come to life through music, dance and theater in Big Dance Theater's stage production of Flaubert's novella, "A Simple Heart," at Middlebury College Friday and Saturday, April 6 and 7. Performances are scheduled for 8 p.m. both nights in the Dance Theatre of the Center for the Arts on South Main Street (Route 30).
Founded 10 years ago, the New York-based Big Dance Theater company takes a unique approach to its productions using play and dance forms that it says, "saturate dance with theater and theater with dance." Annie-B Parson has choreographed and co-directed numerous plays and dances, including performances at Lincoln Center, and American and European theater festivals. She has also directed and choreographed movies, television and music videos for artists such as Salt n' Pepa and Laurie Anderson. She teaches at New York University's Experimental Theater Wing, and Dance Theater Workshop's Bessie Schönberg Choreography Workshop.
Director Paul Lazar works with Parson and is an associate member of the Wooster Group, an ensemble of artists who collaborate on the development and production of theater and media pieces, often incorporating sound, film and video into contemporary theater.
"A Simple Heart" is a stage adaptation of Gustave Flaubert's short story about a servant's lifetime of devotion to her mistress, her mistress's daughter and a pet parrot. Audiences are treated to a surprise twist as Parson presents the main character, Félicité, performed by two identically dressed actors. The device creates a host of opportunities for visual creativity as the twin characters move in unison until Félicité's death. Marked by sparse dialogue, the story is told in vignettes introduced by lines from Flaubert's prose projected on the backdrop.
"I'm hooked from the start," wrote a critic at The Village Voice of this production. "I'd never have imagined a choreographer could bring off a subtle tale like Flaubert's 'A Simple Heart' as beautifully as Annie-B Parson. Parson finds ingenious ways to render this life into movement."
Tickets are $10 for general admission and $8 for senior citizens. A pre-performance dinner will be held at 6:30 p.m. Friday at Rehearsals Cafe in the Center for the Arts. For tickets or dinner reservations, call the College box office at 802-443-6433.
— end —